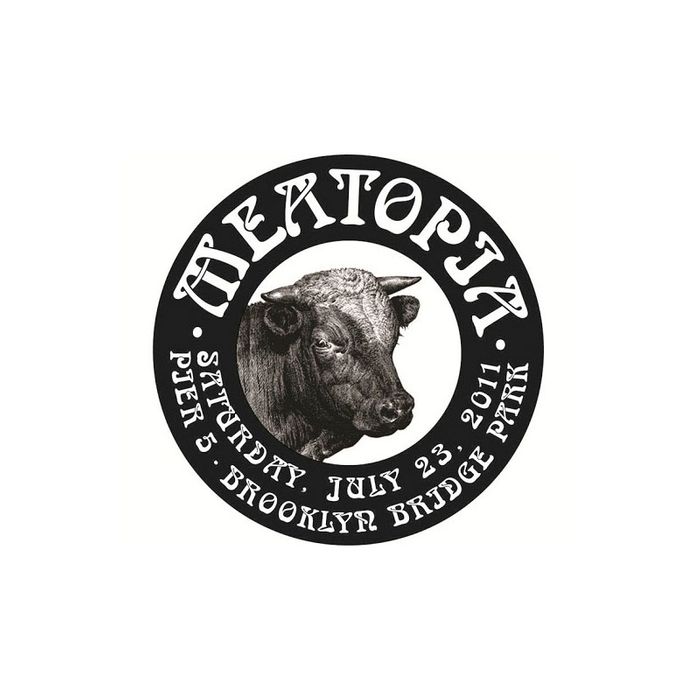 Oh, here's another outdoor food festival: Meatopia is back! Organizer Josh Ozersky won't be working with Jimmy Carbone this year (he has his hands full with the Brewers' Pic-NYC this weekend); instead, he tells us he's teamed with CREaM, the producers of Rachael Ray's Burger Bash: "Believe me, they weren't cheap." In fact, Sir Cutlets predicts the blowout will be "horrifically expensive," since he's paying each chef $1,000 and also providing product — including whole lambs for Seamus Mullen and (we can tell you exclusively) whole Greek lambs for Michael Psilakis. Another thing he's working on? Getting whole buffalo for Mike Cirino of A Razor, A Shiny Knife. "I'm trying to see whether it's in his power to fabricate a cage to cook an entire whole buffalo on site," Ozersky says. "It's a piece of specialty equipment — you can't just go to the barbecue store and get something to cook a buffalo in." True, true. Another exclusive reveal: L.A.'s Ludo Lefebvre will be there, on hanger-steak duty, and he won't be the only out-of-town chef; in fact, we're told this will be a "summit of the great meat chefs in the country." Here, then, is the lineup.

THE CHEFS:

Naomi Pomeroy, Beast (Portland, OR)

Jon Shook and Vinny Dotolo, Animal (Los Angeles, CA)

Sean Brock, Husk (Charleston SC)*

Michael White, Osteria Morini (New York, NY)

April Bloomfield, The Spotted Pig (New York, NY)*

Nate Appleman,Chipotle Mexican Grill (New York, NY)

Floyd Cardoz, North Fork Grill, (New York, NY)

Chris Hastings, Hot and Hot Fish Club (Birmingham AL)

Joey Campanaro, the little owl (New York, NY)

Joe Ng Red Farm (New York, NY)

Seamus Mullen, Tertulia (New York, NY)*

Aaron Sanchez, Centrico (New York, NY)*

Adam Sappington, The Country Cat (Portland, OR)

Amanda Freitag, formerly of the Harrison (New York, NY)

Eduard Frauneder, Edi & the Wolf (New York, NY)

Anthony Goncalves, 42 (Westchester, NY)

Franklin Becker, Abe & Arthur's (New York, NY)

Harold Moore, Commerce (New York, NY)

Ron Silver, Bubby's (Brooklyn, NY)

Serafim Ferdeklis, BZ Grill (Astoria, NY)

Yuhi Fujinaga, Bar Basque (New York, NY)*

Julia Jaksic, Employees Only (New York, NY)

Robbie Richter, Fatty Cue (Brooklyn, NY)

Charles Grund Jr, Hill Country (New York, NY and Washington, DC)

Ricky King, Hundred Acres (New York, NY)

Philippe Massoud, ilili (New York, NY)

Akhtar Nawab, La Esquina (New York, NY)

Daniel Holzman and Michael Chernow, The Meatball Shop (New York, NY)

Noah Bernamoff, Mile End Delicatessen (Brooklyn, NY)

Fred Donnelly, Mo Gridder's BBQ (Bronx, NY)

Eric Johnson, Mr. Bobo's Traveling BBQ Allstars (Albany, NY)

Brad Farmerie, Public (New York, NY)

Scott Smith, RUB BBQ (New York, NY)

Bobby Hellen, Resto (New York, NY)

Robert Newton, Seersucker (Brooklyn, NY)*

Orhan Yegan, Sip Sak and Bi Lokma (New York, NY)

Sam Barbieri, Waterfront Ale House (New York, NY and Brooklyn, NY)

John Schafer, Wildwood BBQ (New York, NY)

Craig Koketsu, Quality Meats, Park Avenue Summer and The Hurricane Club (New York, NY)

*Denotes "Whole Animal Chef"

And several special guest chefs to be announced later!
Tickets for the event, which takes place at Brooklyn Bridge Park July 23, are going for $85 (for unlimited tastings), $130 (for that plus unlimited beer and a T-shirt), and $195 (for that plus an hour of early access and VIP access). Find out more here.