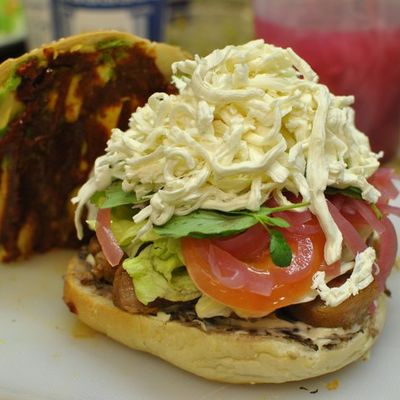 Photo: Courtesy of Cemita's
Owing to yesterday's rain, Zagat postponed its Food Truck Frenzy till Monday. Meanwhile, we have details on two other food blowouts. First, the Brooklyn Flea has announced the lineup for SmorgasBurg, its May 21 all-food event in Williamsburg, and the folks at deal site InBundles chime in to tell us the site's founder, Danny Lyu, is debuting a food stand there. Called Cemita's, it'll serve up (you guessed it) cemitas — sandwiches that combine avocado, white cheese, pickled onions, papalo, mayo, beans, salsa, lettuce, tomato, and meat (including the option of panko-fried chicken) between a sesame-seed egg rolls. Cemita's is just one of the 100-plus vendors that will join the Flea's usual food vendors for the event — see the full roster here, and see the vendors that the Flea is especially excited about below, including new projects from chefs at Queen's Hideaway, Txikito, Momofuku Noodle Bar, and more. Also, Jimmy Carbone of Jimmy's No. 43 writes in to reveal the lineup for Brewers' Pic-NYC, a food and beer fest coming to Governors Island May 29 to 30, from noon till 5 p.m. both days. That festival's lineup is also below.
SmorgasBurg highlights
Queen's Dahn Tu: Liza Queen, formerly of Greenpoint's Queen's Hideaway, returns from 2 years in Vietnam studying street food to debut her banh xeo (a Vietnamese crepe-style omelette), banh trang tron (a shredded rice paper, green mango, and hard-boiled quail egg salad), and bun (rice vermicelli with grilled meat or vegetables).

Shorty Tang & Sons: Casey and Gilley Tang revive the cold sesame noodles their father Shorty made famous at his East Broadway restaurant Hwa Yuan.

La Buena: Alex Raij of El Quinto Pino and Txikito takes her famous gazpacho to market, to eat and to go.

King's Crumb: John Husby, a Momofuku Noodle Bar chef, Shane Feirstein, a Prime Meats bartender, and Mark Goldman debut their homemade biscuits, served with clotted cream and seasonal jams in the morning and fried chicken in the afternoon.

Nana's: Cecile Dyer, pastry chef at Pie 'n' Thighs, covers frozen bananas in chocolate, with coconut, sprinkles, or sea salt.

Tin Mustard: Tin Dizdarevic, a veteran of Craft and La Esquina, launches his new whole-grain mustard.

Speedy Romeo: Justin Bazdarich, a veteran of the Jean-Georges empire, debuts his hand-pulled mozzarella, with toppings such as salsa verde, fig-honey-almond, and oven-dried tomato-basil.

Brewers Pic-NYC lineup
Desi Truck
Familia Camarena
Tequila & Taco Truck
Joy Ride
The Taco Truck
Luke's Lobster
Pizza Truck NYC
Sour Puss Pickles
Bent Spoon Ice Cream
Jimmy's No. 43
Mexicue Taco & Sliders Truck
Rickshaw Dumplings
Izze's Soda
Pizzamoto
East Corner Wonton
Gotham Arisanal Sodas
Joy Ride
East Village Meat Market
The Crepes Truck
Sour Puss Pickles
East Corner Wonton

For more information, visit the Brewers' Pic-NYC and SmorgasBurg sites.