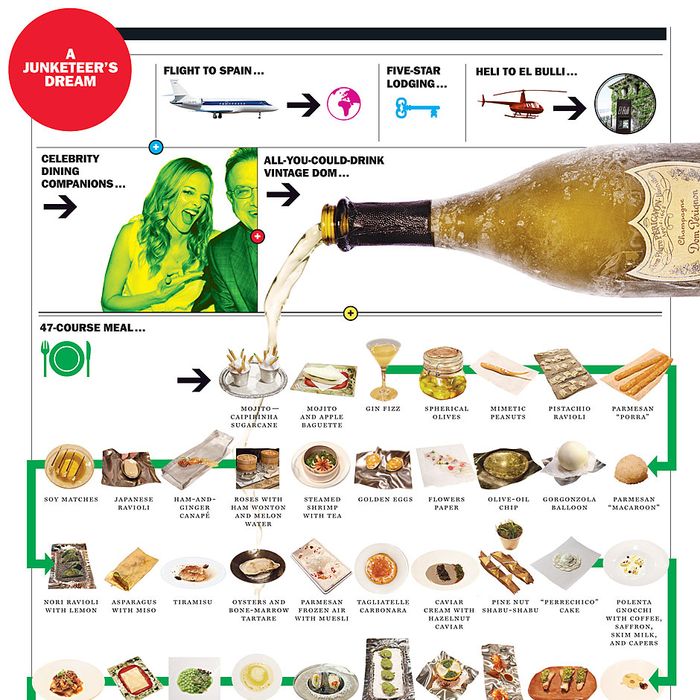 Romera is regarded by some to be in the same league as El Bulli's Ferran Adrià.
Photo: Stephane Compoint (Graham, Geoffory, dishes); David X Prutting/BFANYC (dishes); Danny Kim/New York Magazine (champagne); David Gowans/Alamy (Plane); Rufus Stone/Alamy (Helicopter)
Spain's best-known restaurant, El Bulli, is very famously closing very soon. However, a lesser-known Spanish chef — who is nonetheless considered by some to be a peer of El Bulli's Ferran Adrià — is slated to land in New York next month. Miguel Sánchez Romera is known for earning a Michelin star in less than two years at his at L'Esguard, outside of Barcelona, all the while simultaneously keeping up his job as a neurologist. Now he'll become the chef at the self-titled Romera New York when it opens next month in the meatpacking. According to a soon-to-be-published WSJ. magazine story we got a look at, hotelier Sant Chatwal was "searching the globe for a little-known chef capable of drawing attention to his upcoming Dream Downtown hotel" when some friends told him about a remarkable meal they'd had at L'Esguard. Chatwal flew to the restaurant and after an incredible lunch, knew he wanted to hire Romera.
So what can we expect from Romera New York? Well, first what not to expect: "Romera considers it anathema to send diners home filled with fat, salt and booze," writes Katy McLaughlin in WSJ. — so don't expect a bunch of butter and fatty pork. The "neurogastronomy" comes into play in the way Romera thinks about food: While much modernist cooking focuses heavily on pleasing the eye with color, Romera favors the "color spectrum from ocher to brown," theorizing that that palette harkens back to "primitive man's all-important discovery of cooking meat over fire." Among the sorts of "food you can sink your teeth into," might be "slices of rare ribeye over an apple tatin, served with a mosaic of spices and black-currant sauce," or a "medley of vegetable purees drizzled with a gel the chef extracts from yucca root." Sounds great, but oh, there's one more thing: the price. The restaurant's only option will be a twelve-course $245 tasting menu, which goes along with Chatwal's concession that the project is something of a risk. Still, even that figure is cheaper than chartering a chopper and hiring Heather Graham.
Cerebral Palate [WSJ. magazine] (not yet online)