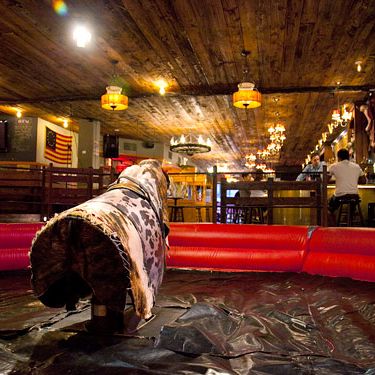 "I got it!" exulted the Eldridge's Matt Levine as he barreled out of a Community Board 3 liquor committee meeting last night. Members voted to approve his plan to turn the now-closed Mason Dixon into a late-night eatery featuring American food favored by LES immigrants. Levine, who is in a partnership with Mason Dixon's landlord, Michael Shah, had been booed last month at a CB3 committee meeting, especially for his intent to close at 4 a.m.; he withdrew his application then and revised it after speaking to condo residents who live above the bar.
Several of the condo residents (David McWalters said they had instituted a "reign of terror" on previous tenant Rob Shamlian) still objected strenuously to Levine's plan, which included cutting the space in half and adding a 22-foot-long bar. One woman claimed the proposed eatery could become a haunt for noisy drunks. The main objection, however, was to Levine's proposed operating hours: 10 a.m. to 2 a.m. on weeknights; 10 a.m. to 4 a.m. on weekends. His proposal passed muster with the CB3 committee with the stipulation that he reduce his closing hours on weekends to 2 a.m. As usual, the full board will take the final vote of confidence and the State Liquor Authority has the ultimate say.
Update: Matt Levine tells us he's "not adding a bar, I am actually cutting the bar in half, doubling the size of the kitchen, and adding seating where the bull previously was." He also claims he wasn't booed at the last meeting as widely reported.