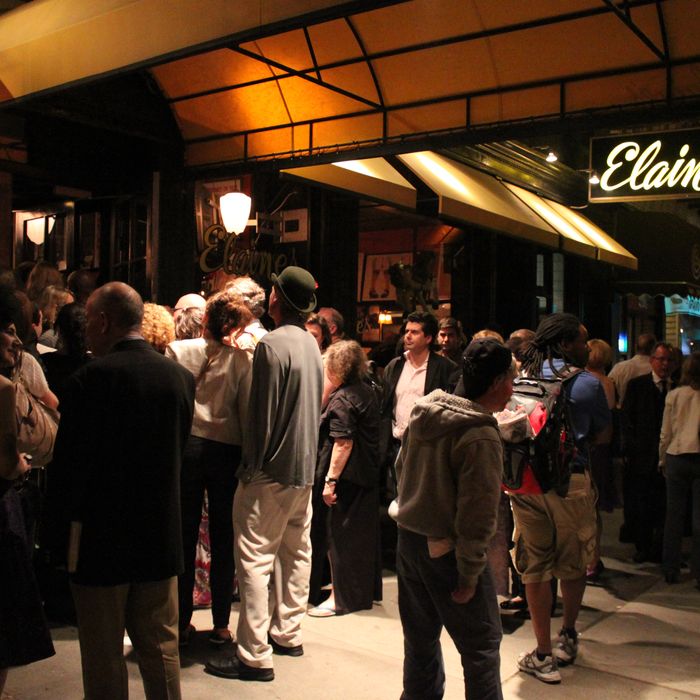 On the Upper East Side last night, the door of the beloved Elaine's was one of the toughest in the city. It didn't matter if you stood in line for hours, had press credentials, lived around the corner for 30 years, or were at the end of a human chain led by Jay McInerney. "The wait outside — Elaine would have been so pissed!" journalist Julia Reed said. People left the restaurant, yet still, the post-Kaufman management only allowed the elite inside. "Why are they going out of business if they have so many fans?" asked McInerney as he waited to enter. Elaine's admirers, one of which returned early from Hawaii for a last drink, patiently waited, unrelenting. Yet, even after the metal storm doors were shuttered over the immortalized yellow script, the proletariat peered inside desperate to put a foot in the celebrated establishment. Perhaps in the old days Elaine would have come out, pointed, and, at least, welcomed a young reporter dying to get the scoop. Fortunately, the lions of old Elaine's are still willing to help out a young cub. Below, Gay Talese, Lewis Lapham, and James Lipton share their memories of Elaine's.

GAY TALESE
What is your favorite memory of Elaine's?
My favorite memory from Elaine's … probably the first time I met her, which was in 1964. I didn't know her, but I was introduced by some writer friend of mine and it was the beginning of a relationship in which she helped to broaden my awareness of New Yorkers, because in this place from 1963 to tonight people from all over the city who had different occupations, sometimes no occupations, came together because she said, "Come on, you are welcome here." And as a result of that entre into her world, we New Yorkers who had relatively little in common could get to know about other people over a drink, over dinner, could get to know their first names, get to know sometimes their last names, and something about them over the duration of three courses. So it was a three-course relationship in a city where otherwise you wouldn't know. Any great restaurant is a place for meeting and communicating — not dining, communicating. This was a very special place because it crossed political lines, athletic, literary, entrepreneurial. People who came here were in advertising and political life, law enforcement, writing, poetry — everything that happens in New York was represented by people that came into Elaine's. What ends tonight is the life of a restaurant that was in a small space, less than 60 square yards. A place where New York was represented fully. It was like the United Nations of emotion. All the people. I don't know what's going to happen to replace it, maybe nothing. That's what we are marking tonight, not celebrating anything, but marking the end of something. But New York is a city of rebirth, so there is certainly not going to be the end of anything in New York, because everything in New York that you think is dead revives by sunshine.
LEWIS LAPHAM
What does this night mean?
Well, it is the end of a story, and it is a story I was a part of for a long time. I know a lot of the dramatis personae in what was a kind of extended improvisation over a period. I was involved mostly in the sixties and the early seventies. There were a lot of wonderful conversations, a lot of dreams that came and went.
But it seemed that a lot came though from the crowd that hung out here …
Yeah, they tended to encourage one another, writers and journalists. Some of them became famous, many of them didn't. But Elaine was always encouraging. She liked talent of all kinds. Like George Plimpton, she had a broad range of appreciation. It wasn't any particular school of thought; it was just a question of whether you were good at what you did. You could be a novelist, you could be a journalist, you could be a playwright, actor, or just somebody that liked to hang out and play cards, and that was okay by Elaine. That sense of freedom to say anything that came to mind and that sense of improvisation and that sense that there was always a chance of discovery. Maybe somebody would tell you something that proved to be somehow enlightening or maybe somebody would introduce you to an agent, or maybe you could advance your career, maybe you could advance your level of perception, or maybe you could embark on your journey of one sort or another. It was filled with a lot of possibility. It had a sense of possibility.
An incubator of sorts. What happens now?
I have no idea. Presumably there will be other places for people of the current generation. Maybe there are places like this in, I don't know, Williamsburg in Brooklyn or even remoter parts of Brooklyn of which I have never been. I don't know. There is no particular reason why a place like this gets to be what it becomes. It tends to be spontaneous.
What were the qualities of the people who hung out here that there was such a high percentage of people who were successful?
In the sixties and seventies, they were young and tended to be imaginative. Maybe you have got the same kind of critical mass in Silicon Valley for all I know. It was the old media. It was print and film and theater. Before the Internet, and I guess now on the Internet you can find a circle of like-minded friends. But in those days you had to go to a place like Elaine's.
JAMES LIPTON
What did you think of Elaine?
I loved her with all my heart.

What do you think of tonight?
It is a very sad night; she will be missed, this place will be missed. My wife, Kedakai Lipton, we have been coming here since the day we met. It is the end of an era, but of course, that is a cliché. The era has been ending for a quite a long time. People used to line the walls in there — Mailer, Plimpton, Vonnegut. They are gone. Now Elaine is gone. It really closes the door on a wonderful time. This restaurant was the equivalent of Gertrude Stein and Alice B. Toklas's home in Paris. It was — with the exception of George Plimpton's home on East 72nd Street — it was the only real literary salon in America and that can't be replaced.
How did she do that?
Two things: the dint of her personality, which was enormous. She was a den mother: "Come over here and meet you, you meet you" she was always putting people together. And the other thing was, that I am quite certain that the American literary community would long since have vanished if not for Elaine. Why? Because she let them run tabs between the advance and the first royalties of every book. That wall of tables was lined with writers who were eating for nothing until they finally got paid. But she would keep America's literary community alive, and eating and writing.
Has there been anything like it since? Or is there anything like it currently?
No, and there won't be anything like it again. With books vanishing off the shelves and going out into cyber space, of course there won't be anything like it. She was, literally the den mother of America's literary community. And they loved her and sometimes they fought with her, but between that advance and the first royalty, this was their kitchen. If that isn't a contribution to American literature, I don't know what is.
How was tonight?
It was extraordinary. All of us were so filled with emotion. Every minute of it. I am now. This is a picture of my wife, it is a Paris Review portrait that she posed for Paul Davis, a nude of her. That hung up behind the bust of George Plimpton. I used to sit beneath my wife's beautiful naked body and feel like a king, and I have it in my hand now, it is not on the wall anymore. It is going home with us. Also, one of my books was in front of it. And [Elaine] proudly put my memoir inside. She and this were a part of our lives, my wife's and mine, and that can't be replaced. We go on, we have splendid lives, we enjoy ourselves, we work hard, people will have successes and failures, it will be as it was before. But without Elaine to commiserate with us or celebrate those events, it is not quite the same.