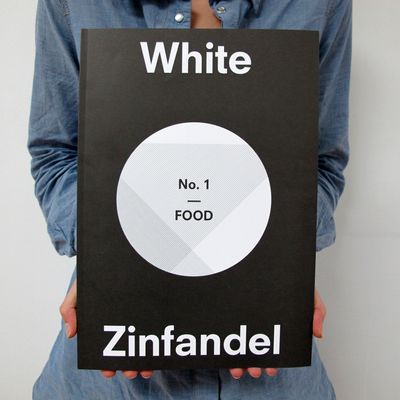 Photo: Courtesy of White Zinfandel
We've seen the food and art worlds collide many times before. Tomorrow, Jiminie Ha of Chinatown gallery W/ ——— is teaming up with Leong Leong Architecture to release the first issue of White Zinfandel, a twice-yearly magazine that charges artists and writers to create works inspired by certain menus or meals. The first issue is based on Food, the pioneering restaurant that Gordon Matta Clark opened in Soho in 1971 along with fellow artists and dancers. "The menu items are a combination of words that are really interesting and very metaphoric," explains Ha. As a result, she says artist interpretations ranged from literal (one artist re-created the assigned dish and photographed the dinner party where it was served) to abstract (Peter Sutherland's take on Mock Chicken Drumsticks consists of stills from PETA casting videos showing sexy vegetarians).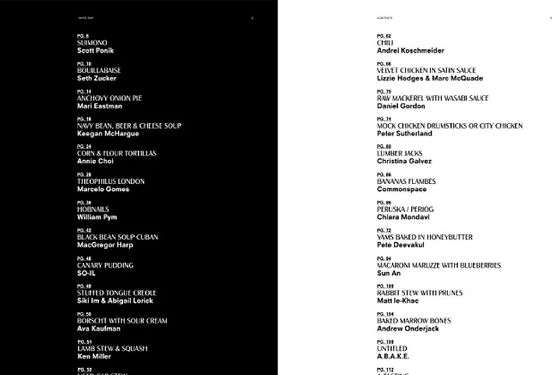 Tomorrow, the issue's editors and sponsors (Absolut backed the magazine's production) will convene in the lobby of the Woolworth building, where Momofuku Ko chef de partie Jonathan Ory will offer up his interpretation of Food's "bone dinner" (it consisted of oxtail soup, marrow bones, and frogs' legs), while Sean Garvey of Revival Vineyards Ko sommelier Beth Lieberman pours the wine. The dinner is private so we have no idea whether white zinfandel will be served, but you can pick up White Zinfandel the magazine for $20 at Project No. 8, the New Museum, Creatures of Comfort, and other locations. The table of contents is below. Oh, and we're told the next issue will be inspired by TV dinners!
White Zinfandel [Official site]