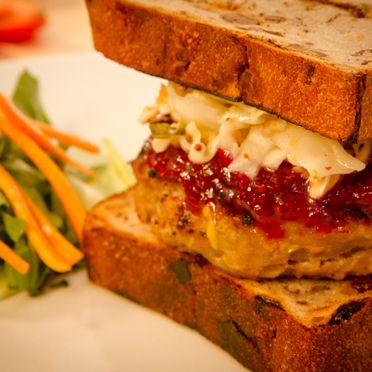 Photo: Courtesy of Savory
There's been a lot of fuss about food trucks, pop-ups, and weekend markets reinventing the classic brick-and-mortar model, but Savory is adopting an altogether different M.O. Working out of the midtown west catering kitchen that the Dessert Truck once used, the delivery-only restaurant started its "midtown preview" ten days ago and is now delivering a 50-item menu of "New American classics" (everything from pizza rolls to caviar). We asked co-founder Dhruv Singh what it's like to open an eatery that doesn't have any seats.
What inspired this concept?
I was formerly a management consultant at McKinsey, where I was a victim of delivery dining. I was ordering in five or six nights a week. We had a large expense budget and I just couldn't get good food. For some reason, this is the one space where New Yorkers are tolerant of mediocrity, whether it's the inconsistency of the food or the consistently mediocre quality of food, or the poor service levels.
Are your partners also coming from the business world?
Andrew Kloch is our hospitality czar — he was an investment banker who went to the Culinary Institute of America. Then he cooked at Jean Georges and then moved into management. From there, he ran food and beverage at Tribeca Grand and Soho Grand, and helped launch the Standard. Jamie Galler comes from Riese Restaurants; he's overseen 100-plus restaurants.
So what are you doing differently from a restaurant that delivers?
We're rethinking every aspect of the experience. We only do our taste tests after the food has sat in a container for twenty minutes and has been ridden around Manhattan on bike. That's why we use Panko bread crumbs on our chicken tenders — they're larger and can stay crispier far longer, and they'll hold heat and when you get them twenty minutes after the fact. Our primary containers are a custom package, which is our partner Andrew's baby — it retains heat as well as the best plastic container, but it's made out of paper. I feel guilty every time I order from Shun Lee or my neighborhood spots because there's so much plastic. I'm looking at the container knowing it's going to sit in the garbage dump 5,000 years. And it has a foil insert, which helps us retain the heat.
Who's your chef?
Our chef is Derek Hunt; he's also one of our founding partners. Derek was classically trained in Italy and has worked with two-star Michelin restaurants. He was a sous-chef at Bouley in the late nineties. Since then he's been operating his own consulting company.
Was the menu planning different than it would've been at a traditional restaurant?
I've personally interviewed hundreds of customers who order delivery three, four times a week and ask them, "What are you thinking when you're ordering?" The most interesting part is that it's all about familiarity and approachability — when people are going out to eat on a Friday or Saturday, it's almost an exploratory experience. When people order delivery, you want the familiar — you've had a tough day; you're tired. We're all about approachability and familiarity with a twist. If you look at our "boozehound," which is what we call our vodka sauce, it's Esposito sausage that has a nice little spice to it. Our mac and cheese has a good bit of ère in it as well.
How much are you saving on rent?
We're definitely saving money relative to a traditional restaurant in rent, but we're giving it back to our customers in the ingredients. Some of the brands we admire and aspire to be — you look at the Apples of the world, it's something that's a little more expensive than a standard computer, but it's approachably priced. We can afford the best ingredients, which is something that wouldn't be possible at a $10 to $15 price point. Our packages are five to eight times as expensive as the usual one, but we still use it because it's the right thing to do.
What about the delivery itself? Are you using bikes or cars?
It turns out bikes are definitely the best way to get around Manhattan. But we have insulated containers and we've customized our bikes so we have racks designed for the exact size of the insulated container. It reduces the slipping and sliding of the food. Our food couriers are really nice, friendly good guys who come to your door with a smile, wearing a tie and a nice vest and jeans. They greet you and say, "I hope you have a lovely day and I hope you enjoy your meal." We have couriers who know our customers' dogs, and we're in day ten.
What are some tricks of the delivery trade?
When we're assembling our Polish — our ale-soaked kielbasa kissed by the grill — it's easy to fall apart in transit. You need to wrap the sandwich in paper first, but you can't cut the sandwich paper the whole way through or you have two independent pieces which will flop around. If you cut it the whole way except for the last half-inch on the very bottom, the sandwich stays together. That keeps the faces of sandwich kissing each other and nothing falls apart.
Any expansion plans?
We're already looking at our second site and have begun to have conversations about our third and fourth sites as well.