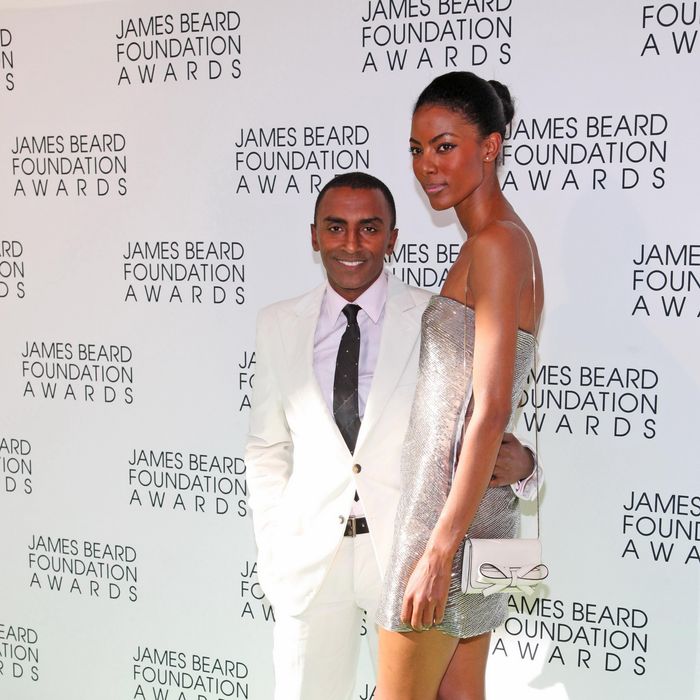 Samuelsson, at this year's Beard awards.
Photo: WILL RAGOZZINO/Patrick McMullan
Sartorially speaking, successful chefs' looks tend to veer more toward "runaway" than "runway." But that's why most of them actually enjoy the rare chance to dress up. So at last night's Beard awards, we asked several well-dressed chefs the most important question of all: Who are you wearing?
And even with plenty of lady chefs in attendance, it still seemed most fitting to ask Marcus Samuelsson first, considering he was wearing, among other things, a black-leather tie with diamond studs. But he told Grub Street that he didn't have help from a professional stylist: "This is called natural style," he assured us. "I'm wearing a white tuxedo by a wonderful man from Italy named Valentino. These guys keep trying to borrow it," he said, pointing to his reps. "But I think only I can pull it off." So does that mean fashion might be in his future, if food doesn't work out? "Please!" he scoffed. "I'm a two-time James Beard winner and have worked in successful restaurants for twenty years! I think food is working out."
For some chefs, like April Bloomfield, the awards were a chance to step out: "I spent all day shopping yesterday, something I never do," she said of her dressy suit ensemble's provenance. "I went to Barneys and got this. I love it! People don't ever get to see me, so I figured I'd go for it. Ken [Friedman] keeps me chained to the stove. Literally, there are chains! I'll show you the marks on my legs."
But Gabrielle Hamilton, the night's eventual winner of the Best Chef: New York City award, said she couldn't wait to get out of her white slip dress and back into her actual whites. "I just want to be wearing ratty clothes in my apron again," she said, referring not only to her Awards attire, but also to the fact that she's been getting dressed up for all of the events related to her new-ish book, Blood, Bones & Butter. "A few more weeks and I'm there. I'm rewarding myself for the book by cleaning Prune. It's all I want to do — lose myself by cleaning and scrubbing Prune, looking like shit. I'm fantasizing about it, in fact."