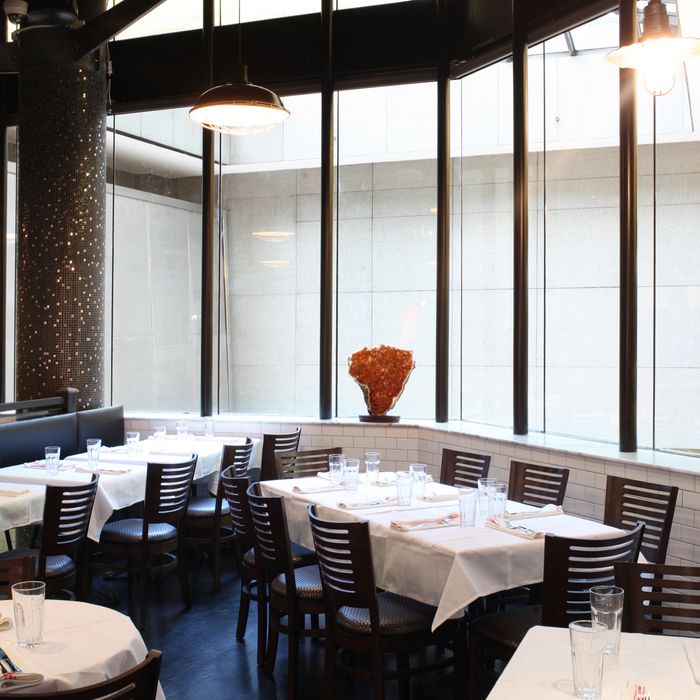 We gave you a first look at midtown east newcomer Gotham 50 a couple of weeks ago — now a publicist sends out a release indicating that it has changed its name to G-50 after Gotham Bar & Grill, in a move that evokes the whole Graffiti-Graffit debacle, filed a cease and desist letter. A judge ruled in the old-timer's favor and now here we are. This might be for the best, since Gotham 50 was a boring name to begin with — they couldn't have at least gone with something historical, like Goat Town? Here's the story, colorfully told by the PR hands at G-50.
Gotham G-50 Bar & Grill
A Cruel Case of Culinary Bullying

At approximately 2pm on Thursday, May 5th, dining juggernaut Gotham Bar & Grill filed a motion against promising NYC newcomer Gotham 50, citing name and menu similarities and other allegations as the basis for a cease and desist order against the 50th street restaurant. Approximately one hour later that day, a Manhattan Federal judge indicated that a ruling would likely issue in favor of Gotham Bar & Grill, and only allowing Gotham 50's counsel, Kevin N. Malek of Malek Schiffrin LLP, the mere overnight chance of less than 18 hours to put together an opposition, interview witnesses, identify evidence and draft papers for submission to the court. The court ultimately ruled for Gotham Bar & Grill.

The result of this unfortunate case of culinary bullying and rushed injustice is that Gotham 50 has been forced to change their name and will now be known as G-50 Bar & Grill. Talk about a "restaurant war" of David and Goliath-sized proportions!

Vincent DeGrezia, a partner and the general manager of what was Gotham 50 and now is G-50 Bar & Grill, says he "looks forward to showing off the new space under the new name." The owner of Gotham 50/G-50 Bar & Grill, Joe DeGrezia says he is "very disappointed by the decision. They are forcing us to change the name the day before we officially open without having had an adequate opportunity to be heard." Joe goes on to say "look at our menu - dishes range from $12-$26. There is no way we could be confused with an institution like Gotham Bar & Grill which charges more than $100 per person! I just don't understand what they are so threatened of."

Not one to rush to judgment (pun intended), it's hard not to wonder if the judge might just be a loyal customer of Gotham Bar & Grill. DeGrezia invites anyone that agrees with the ruling to visit G-50 Bar & Grill - he is confident they will be able to see what the judge did not.