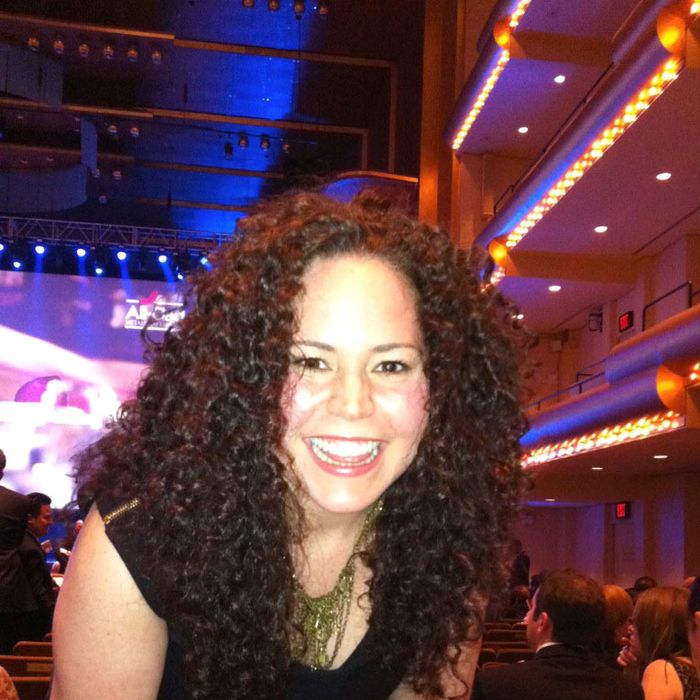 Stephanie Izard, at the Beards last night.
Photo: Courtesy of Stephanie Izard
Two hours before last night's James Beard Awards, where Stephanie Izard's Girl & the Goat was up for Best New Restaurant, Izard and her crew had an important decision to make: where to pregame. It was a more difficult decision than you might think.
The original plan was for Izard & Co. to meet Grub Street at New York's Bar Boulud at 4:30 p.m. But at 4:29, Izard sent a text to the group letting everyone know they should meet at Riposo 72, a bar her hotel concierge said would be a better option. But when she found out that Riposo 72 was closed until 5 p.m., she instructed everyone straight back to Boulud, eight blocks south of Riposo. That everyone was running around in the sun (not to mention stilettos) didn't stress her out. "Whatever, I live in Chicago," she told us. "I don't know where I am, or where to go."
In fact, nothing about the night had Izard too overwhelmed. Not even the all-important question of what to wear. "Someone told me I should have borrowed a dress from a designer or something, but that's just a hilarious idea to me," she says. "That's so not me."
Instead, in the days before the awards, she just went to Barneys and bought herself a short, black dress, with gold zippers on the side. Her look? "I was going for the 'easy access' look. The 'get me drunk and naked' look," she jokes. "Just kidding! I'd call it 'bad-girl' with a little bit of femininity because I wore pearly bracelets too. And my necklace is my favorite thing because my butcher's wife made it. Isn't that so perfect?"
Izard had intended to get her makeup done, too, but in typical chef fashion, there was no time for glamour. "I went from the kitchen at my restaurant, straight to these events, and I'll go right back to the kitchen tomorrow morning. This whole makeup and heels thing, it's not my real life. I never, EVER get dressed up."
In fact, at the restaurant, Izard won't even hire girls wearing lip gloss. "If you're going to interview for a job in my kitchen, don't come in wearing makeup," she says. "That just turns me off. My staff will be like, 'There's someone here filling out a job application, you're going to hate her.' They know."
Even the somewhat daunting task of potentially having to get up and make a speech in front of some of the country's best chefs didn't really faze her: "I seriously doubt we're winning. They always choose the New Yorkers, we're totally the underdogs." But, she confesses, "I did rehearse a speech from bed a few times." Well, there was one thing that she says make her feel a little conflicted: "I want to thank my 'bad-ass' staff, but I'm scared to swear in front on Tom Colicchio. He was always on me for my dirty mouth on Top Chef! Do you think 'bad-ass' is a swear?" We assured her that we've said far worse — and Tom probably has, too.
In the end, though, Izard was right, and Girl & the Goat lost to Jean-Georges Vongerichten's ABC Kitchen, located — where else? — in New York. "We are kinda bummed," she texted us later. A few hours into the after-parties, we invited her to meet up at the one being thrown by the teams from Momofuku and Torrisi Italian Specialities at the Jane Hotel. Her response? "Where is that?"