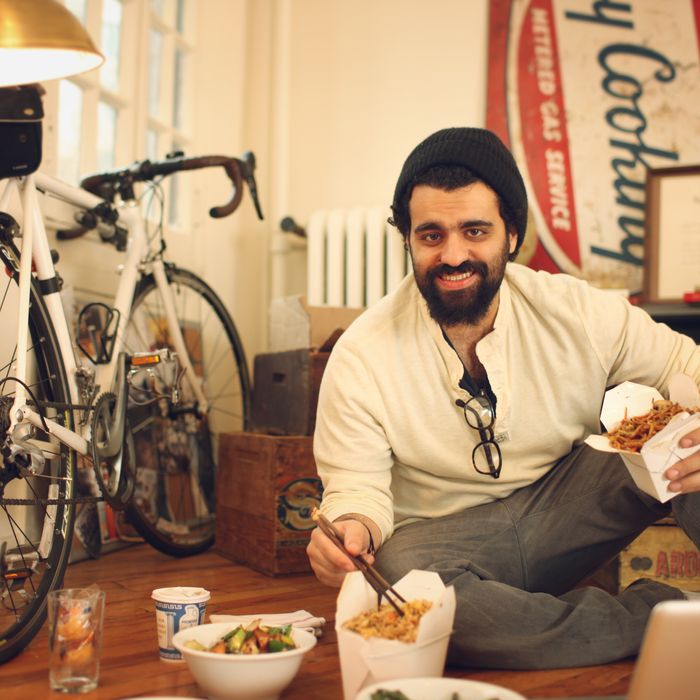 Stulman chows on Chinese food at home.
Photo: Melissa Hom
As the owner of Joseph Leonard, Jeffrey's Grocery, and lately Fedora, Gabriel Stulman says he has a hard time staying in. "It really is so easy, in this industry, to just be working seven nights a week," he laments. "As we have more restaurants now, it becomes easier to find yourself saying 'I haven't spent an evening service at Jeffrey's. I'm going to go work at Jeffrey's all night.' And then Saturday night say, 'Cool, I'm going to go work at Joseph Leonard.' And then Sunday night, 'I'm going to go spend tonight at Fedora.' And then Monday night, 'All right, let me go spend lunch service … ' and it's just so easy to end up working seven days." This week, though, Stulman and his wife (slash business partner), Gina, say they made a point of getting out and about — a task they took on gladly. For stories of mystery pasta and tripe at the Dutch, read on in this week's New York Diet.
Friday, April 29
My day started with a fruit smoothie from Lifethyme grocery. Gina likes to go there occasionally, and she gets these super-healthy green drinks that are … whatever. They're not really for me, but she drinks them. So she got me something — it was the first time I've ever had it, but I loved it. It was a strawberry, bananas, blueberries, and granola, all whipped up and turned into a smoothie. We consumed this in our office while reviewing a lot of the end-of-shift recaps and reports from the night before, which is how most of our days start.
I had lunch at Joseph Leonard on Friday. I had a meeting with one of our GMs, Matt, and we were discussing the Joseph Leonard wine list and planning out all of the changes that we want to incorporate into our wine list over the spring. I think it's important, if the food menu's changing, the wine list should be changing with it. We talked about this while consuming a smoked-trout salad. Matt had shrimp and grits, and I grabbed myself a few forkfuls off his plate, and we had a beet salad as well that we shared. The beet salad was with an herbed goat-cheese mousse, and it's red and golden beets that are diced into a real fine, tiny dice and then put into a ring mold, so it's like a terrine, actually, with olive-tapenade-covered crostini. It was a tasty, tasty lunch.
Friday nights are unique in my household. Both Gina and I are Jewish, and we do our best, as often as possible, to try to stay home on Friday nights, sort of in observance of Shabbat. Since our life gets rather busy, we don't always have the time to be home cooking that Friday-night meal the way my mother used to when I grew up. Usually what Shabbat ends up being is a random set of delivery from around the neighborhood places that we like. That weekend was sushi delivery from Ido Sushi, which is a spot on Seventh Avenue. What we got was nothing fanciful. We got two different sashimi platters with a whole array of … I think we had tuna, we had yellowtail, we had mackerel, we had salmon … just an array of whatever they had that they said was "of the day." Then we had a large portion of the seaweed salad, and we had vegetable gyoza. So we did all that with a bottle of French white, a great varietal called Pic Poul. And we spent the night basically on the couch. I think we watched a bad movie that neither one of us stayed awake for.
Saturday, April 30
We serve brunch at Joseph Leonard and Jeffrey's, but not at Fedora. Pre-service we have this thing, we call it "lineup." I think some restaurants call it "family meal." They're basically the same thing. Everybody sits down, and they eat a meal together, and we talk about any additions or specials of the night, and we do this right before we open the doors. The way we have our services set up is, they open up half an hour apart from each other, so that I can be at both meetings. So basically, what that means is I spent my morning drinking Stumptown coffee, sitting with all the waiters and bartenders, and sticking my fork into all manner of hash-brown specials, fried eggs with this, pancakes on one plate … it's just family meal. Lineup. That's what breakfast was.
Since I stuffed my face with one bite — each — of maybe nine types of egg dishes — and I think there was plenty of hollandaise spread around — I chose that lunch was going to not exactly be full-on. Plus, Gina and I wanted to have a date night on Saturday night, and we thought we'd start dinner early. So for lunch, I really just snacked on barbecued marcona almonds from Jeffrey's.
Gina and I wanted to go eat at somebody else's restaurant, which, again, I feel like another thing that slips away when you get so caught up working in your restaurants. But Gina and I were hell-bent on going to check out Andrew Carmellini's new spot, the Dutch. We did not have a reservation, and we didn't want to call in any favors, so we said to ourselves, "Let's go out to dinner super early, and hopefully we can get some seats." So we got to the Dutch at 6 p.m. The place was packed — good for them. But we were able to snag two barstools at the oyster bar, and we had just an awesome meal. Man, Andrew Carmellini is crushing it.
We ordered the dressed crab — all the crab meat was pulled out, and it was served with a Bloody Mary. I don't even know what was going on in his mind to think of that … genius. Had another dish called "Barrio Tripe." I get it. It was done with a lot of Latin flavors: It had Fritos corn chips on top of it; it had a lime, avocado; it had all this spice and pepper, and I devoured it. I didn't share at all. Then we got another dish, it was a fish crudo. It was called hiramasa. It was a fish I'd never heard of, but the way they described it was accurate, which was that it was sort of like yellowtail. Really good.
Then Andrew sent us out another appetizer. It was spring green beans, but they were all julienned, and it was with peanuts. It had a little bit of spice and heat to it. For mains, Gina had the striped bass, which was served with dirty rice, with chili beans and red sauce. Lovely. I had what they call the Pecan Duck, as in the nut. And I thought it was genius, witty, and super spot-on. It was duck exactly as you'd expect, dusted with pecans. Awesome stuff. For dessert, we had their homemade apple pie, and then there was cooked rhubarb on the side, and it was served with frozen custard. That is just all things good in my life. One of the cooler things: They don't bring you bread with your meal. They bring you a loaf of homemade cornbread with jalapeños and Cheddar in it, which is off the charts. Just so, so good.
For beverages — we do this at Fedora as well — it's called a barrel-aged cocktail. Basically, what people are starting to do, you get a wooden cask, you make a cocktail, and you put it in the wooden cask, and it ages, just like if you would put wine or whiskey in a wood barrel. They had a barrel-aged cocktail. I forgot the name, but they only had one. It was whiskey-based, and it was delightful. Gina started off with a glass of Vouvray sparkling, and then we had a bottle of 2007 Chablis.
To finish date night, we went to Hudson Clearwater. It's got one of these hidden entrances. There's this brick wall with a nondescript metal door, and you open the door into a garden, and then you walk sort of through the garden, where there were people eating, and then there were steps up into a restaurant. It's only been open for about four or five months. We went there and I had a sazerac and Gina had a glass of wine. I thought the place was beautiful, and they make a fine sazerac, and everyone was really kind to us. From there, we stopped by at two of our restaurants for cocktails on our way home. We stopped at Fedora and had a cocktail with some friends that were in the basement, and then we swung by Joseph Leonard and had a cocktail with some friends at Joseph Leonard, and then we called it a night. It was a good night. It was an awesome night.
Sunday, May 1
Sunday started off with that same fruit smoothie, because I really liked it. I discovered something this week that I think I'm going to be having a lot more. That was had over the course of the same lineups, but this time I kept my fork out of all the egg dishes. So I just had the fruit smoothie.
Lunch got skipped on Sunday. It's a bad habit, but I make up for it typically with dinner.
For dinner, we took out our bookkeeper-slash-financial-adviser. We took him out to L'Artusi, where I think I hadn't been in over a year. I had the … it was like tagliatelle. They had one of these names for a pasta type that I didn't recognize, but it was like tagliatelle. It was with all sorts of spring vegetables. There were fava beans, spring peas, asparagus, and it was a sort of, not cream, more like olive-oil sauce. We had a series of vegetables for appetizers. We had the Brussels sprouts that they do with pecorino, and I really love it because they peel off all the leaves, so the leaves got really crispy and fluffy. I love it when people do that. And we had sugar-snap peas that were just really lightly sautéed with a little bit of salt. And then, they make their own ricotta there. There was an appetizer of ricotta with these salty wafers, and that was delicious too.
Monday, May 2
Monday started off with just straight coffee by the cupfuls, with a little bit of milk, no sugar, consumed at Jeffrey's Grocery. We have Stumptown coffee, so it's just drip coffee. No latte, no macchiato. I was fired up. I was going to get an early start on doing inventories and stuff, and that happened. Skipping lunch happened, as well.
I was jazzed by dinner time. I started off by going to the lineup for Fedora. We had a couple of additions that night that I sampled my way through. There was a raw tuna appetizer that was done with bagel crumbs. There was a roasted hake, and I consumed my fair share of that. There was also stuffed squid with homemade sausage.
After that, I went to Jeffrey's, and I met with a gentleman that we're talking to about joining our team. We talked over a couple glasses of Côte de Gascogne white wine. From there, I was waiting for our dear friend Virgil to join me back at Fedora for dinner. He's a friend who travels a lot, and he hasn't been in New York for a few months. Since I only had a bite of the roasted hake during lineup, I decided I needed to have a full portion of that. So I ordered the roasted hake, which is served with creamy polenta and shiitake-mushroom caps. For appetizers, to try to keep things on the lighter side, we had a bowl of lettuces, and we had a new dish, raw arctic char with tobiko and crunchy rice, rolled inside of a pancake. It's sort of like a play on a spring roll or a sushi roll, but it's its own thing. That was a late dinner, and that took me to about midnight.
Tuesday, May 3
Tuesday was another glass of Stumptown coffee, but I was not going to skip breakfast this time, so I had a homemade buttermilk biscuit at Jeffrey's, with cream cheese and housemade jam. I polished that thing off with great pleasure, along with my Stumptown coffee, and I did all that while reviewing the notes from Jeffrey's and Joseph Leonard's Monday night. I knew what happened at Fedora on Monday night because I sat at the bar observing it.
Lunch was on the run because I was basically trying to hustle to get in all of our wine, beer, and alcohol orders before the three o'clock cutoff time that most of these companies have in order to get everything delivered that day. So I went to Corrado café, which is right next door to Jeffrey's, and I grabbed their turkey-and-brie wrap. I took that back to the office and worked that down while I was sitting with Andrew Newman again, because Tuesday is a big financial day.
At night, I ended up just going right through. I went to Joseph Leonard and did evening lineup, but I avoided eating because I was planning on having dinner at a reasonable hour that night, but it did not happen until an unreasonable hour. I realized at about 10:30 p.m. that I had not yet eaten dinner, so I went over to Jeffrey's Grocery, checked in on service over there, and ordered our brisket sandwich to go. Took that home, met up with Gina on the sofa, and I ate my brisket sandwich while she watched.
Wednesday, May 4
Wednesday started very similar to previous days with — shocker! — Stumptown coffee at Jeffrey's. I met this gentleman who has been reaching out to me for the first time, a guy named Jeff Taylor, who is a film producer, editor, all of the above, who found me through a couple of guys that he's been working with.
Later we had Lenny's delivery in the office. I reviewed some new cocktails that we're coming up with for Jeffrey's, and some new café menu items for Jeffrey's. We have a new dish for English peas at Jeffrey's; we have another new dish with farm lettuces at Joseph Leonard; and we've got a new dish with sepia at Jeffrey's. I had the tuna and avocado to satiate me while I was editing all the InDesign files for the menus.