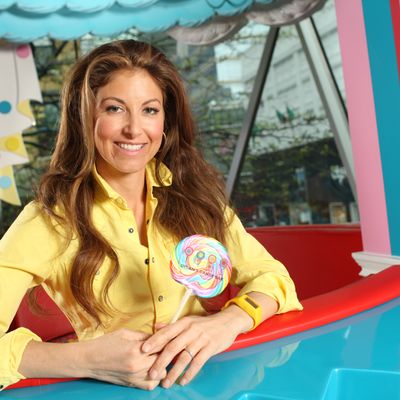 Lauren, at her eponymous candy store.
Photo: Melissa Hom
"I really believe in everything in moderation," Dylan Lauren tells us. Unless, of course, that thing is candy. As the owner of the crazy-popular Dylan's Candy Bar, Lauren probably needs the sugar buzz to keep up with everything she's got going on. Not only has she recently expanded the bar's third-floor ("It's a bigger, better party room. We also have a liquor license — so it's great for adult parties"), she's also launching new branches of the bar in Miami and Los Angeles. On top of that, she'll be co-hosting a kickoff party tonight for this year's New Taste of the Upper West Side festival. And as if all that weren't enough, she's also planning her wedding in June. "I generally have more candy than I had this week," she says. "The wedding definitely affected the diet a little bit." To read about all of the things — both sweet and savory — that Lauren ate this week, check out this edition of the New York Diet.
Friday, May 13
I was at breakfast with my accountant at Burger Heaven. I love that diner. They have great, big egg-white omelettes. So I had an egg-white omelette with broccoli, spinach, and a little cream cheese. I like egg whites with cream cheese. I think it's filling.
I had a wedding-dress fitting by my dad's showroom, and there is a great salad-bar place right off Seventh Avenue and 39th Street. I had salad with asparagus, some hummus, and carrots. And a cup of rice. A little later I had a skim caramel macchiato. That was from Starbucks.
For a snack, I had some watermelon juice from Butterfield's on Lexington. They have this really good, fresh watermelon juice. And I had some of a cinnamon-swirl coffee cake from Starbucks. I usually just pick off the crumbly part. I don't really eat the whole thing.
Dinner was at this taco place, Cascabel. It's a place I would really never go to, but my fiancé and I wanted to try it. I had a kind of Mexican salad with shrimp and beans.
After that we went to 16 Handles to try the mishmash of a bunch of yogurts.
Saturday, May 14
The next morning was a skim chai latte at my store. And a banana. I always have to have my chai latte.
Same watermelon juice from Butterfield later. And I had a spinach salad with beets and goat cheese from Butterfield as well. And I had a Dylan's Candy Bar chocolate square at home, so I had that as well.
I also had a Peep — just one. I got an iced coffee from Caffe Bacio, which I love. If I don't get chai latte from my store, I get it there.
For dinner, I went to Melon's. I have a hamburger, probably, once a month. I don't eat meat usually, but I love Melon's. I grew up going there, my fiancé loves it, and I needed some iron.
Later I had a Pop-Tart. Well, I didn't really eat the Pop-Tart. It was a cookies-and-cream Pop-Tart. I'm kind of a picker when it comes to food, so I picked at the frosting and the cream inside. And I had some raisins. They were out of an oatmeal-raisin cookie. I'm a grazer.
Sunday, May 15
Started with a skim chai latte from Caffe Bacio.
I went to Serafina for a business lunch. I had salmon, and a salad with hearts of palm, corn, and avocado.
After a spin class, I met my friend at Food Emporium, and we were hungry so we had all these little things: cashews, hummus, pretzels, celery sticks, and dried strawberries. It was literally us sitting in a supermarket, being hungry.
We ordered in for dinner. It was from Asia Grill. I had the steamed vegetables with tofu. And then twelve gummy bears.
Monday, May 16
Breakfast was fat-free yogurt and a banana. And chai latte at Caffe Bacio again. And some chocolate clodhoppers — I had a stash in my house.
For lunch, I got a turkey wrap from Grace's Market, but I just had the sliced turkey and didn't really eat the bread. I think bread is the enemy.
Some yogurt, berries, and granola at my gym later, and another skim chai latte at my store. And a few chocolate chips out of a cookie, also at my store, and four red gumballs.
Dinner was takeout from Grace's — a spinach salad with feta and a side of ratatouille.
Later I went to Dunkin' Donuts, because I like the icing there. So I picked at some vanilla icing off of a doughnut. I tend to like the white frosting.
Tuesday, May 17
Skim chai latte, from Baccio again. Then at my gym I had four egg whites with a teaspoon of cream cheese. And a banana.
Later I had some Jujyfruits with a skim caramel macchiato from Starbucks. I studied to be a trainer, and I also studied nutrition. It's fascinating to me. And I love fitness. I work out a lot, so my snacks are usually sugary because I do like weight training and aerobics. I usually have a lot more candy than these days shows. And a lot more sushi or white rice.
For dinner, I ordered a vegetable pizza from Delizia. I ate the cheese and vegetables, but didn't eat the bread. I really think bread and pasta don't work for me. Once I cut them out of my diet I found that even though I get carbs from sugar and rice, they aren't glutenous. And I've found that that's changed my body to cut out the bread and that kind of wheat. Everyone's different. I still eat candy and I still have white rice, so instead of cutting out all my carbs, I pick my battles.
After that I had some vanilla icing off of my favorite black-and-white cookie, from Pick a Bagel. I have to have something sweet after every meal, and I tend to be a picker.
Wednesday, May 18
Breakfast was Japanese white rice with berries. In college, I got a rice maker and I bought lots of Japanese short-grain rice, and I found that because I tried to cut out things like wheat and oatmeal and Cream of Wheat, I still wanted something warm and kind of starchy. The white rice didn't affect me the same way, but it had a good wholesomeness to it. And I've traveled a lot through Asia, and it's such a staple. I just find it very comforting.
I was upstate at lunchtime. We had salmon with grilled asparagus. It was takeout, but I'm not sure where it was from.
And dinner was back in the city at Sette Mezzo. It was grilled fish and vegetables. I tend to eat healthy because I know I'm going to have snacks after every meal, so I try to balance it.