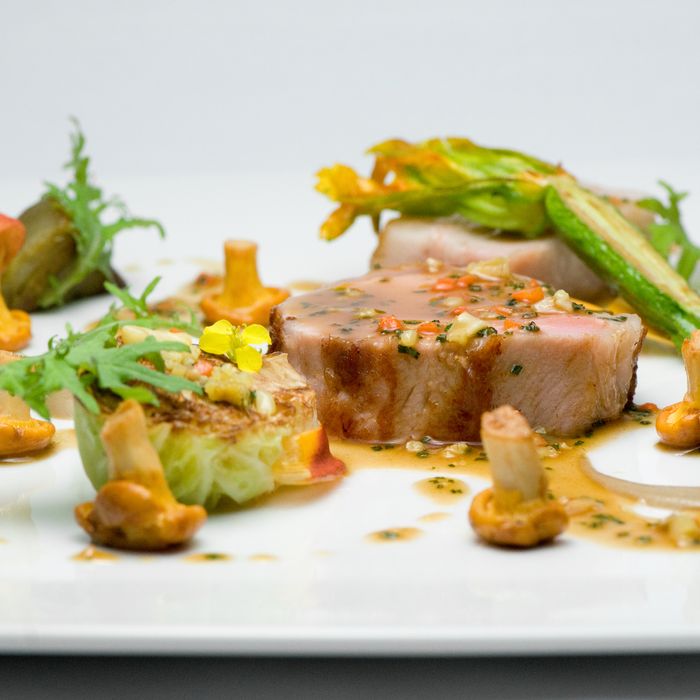 Porcheta pig, artichoke, chanterelles, day lillies, kale, samatha cabbage, and sauce charcuterie.
Photo: Antoinette Bruno
Each week on the Food Chain, we ask a chef to describe a dish he or she recently enjoyed. The chef who prepared the dish responds and then picks his or her own memorable meal. On and on it goes. Last week, Danny Grant of Chicago's RIA mooned over the Guinea hen terrine with foie gras, black truffle, and turnip at Daniel in New York. Now we want to know what's captured the fancy of Daniel executive chef Jean-Francois Bruel. Take it away, Jean-Francois.
Who: Jean-Francois Bruel, executive chef of Daniel in New York
What: Pork plate
Where: Blue Hill at Stone Barns in Pocantico Hills, New York
"The Berkshire pig was pretty impressive. I was raised on a farm when I was a kid. Blue Hill is a restaurant that grows its own protein as well as vegetables. The vegetables are just picked fresh from the garden a couple of hours before they were cooked. You can really taste the difference. The [pig] innards were used for charcuterie, paired with pickled mustard seeds. The jowl was a confit, with extra crispy skin and the meat was very moist; and the loin was roasted. And then you had some braised belly. And then a pig jus with a little bit of sauerkraut. I like food where the product is showcased."
Blue Hill at Stone Barns chef Dan Barber responds:
"Consistently, the thing that we always have is the pig shown off in different parts. So when you get a pork dish, you're getting all different parts of the animal; you'll never just get a loin here. It's served all together — sort of a pig plate. Sometimes there's forms of it that are in sausages, sometimes there's a cured portion; we make bacon from the face a lot. The pigs are raised outdoors in the woods, they move around a lot. Their feed is a high-quality grain mix that is grown mostly by a farmer we're quite close to. Since we've been utilizing his grains, I think the taste of the pork has improved. They're generally happy pigs and they live all winter outside. We slaughter three pigs a week here, so we have a lot of pigs.
We're now moving into crossing breeds — we're crossing Berkshire and Ossabow (the pigs that are the lineage to the jamón Ibérico). The first generation after a cross, you get what's called hybrid vigor. You get this boost of weight gain and fat conversion, and you get a boost in flavor. It's not fatty, it's an infiltration of fat; it's like a well-marbled steak. We're getting a cross with all these characteristics that explode with more flavor. It's such a phenomenon in nature that we forget about. It's almost like somebody is up in the sky encouraging diversity by giving you the benefits of mixing breeds. When you taste a good mixed breed, it's just better in every respect. The breeding to me is the most interesting subject in the world. As much as Jean-Francois loved that pork because we did something good, there's something so much more powerful in raising a good pig — it's in the genetics. This explosion of flavor and intermuscular fat and health and robustness. And the interesting thing is you only get it in the first generation, then it disappears. I think breeding is the next thing."