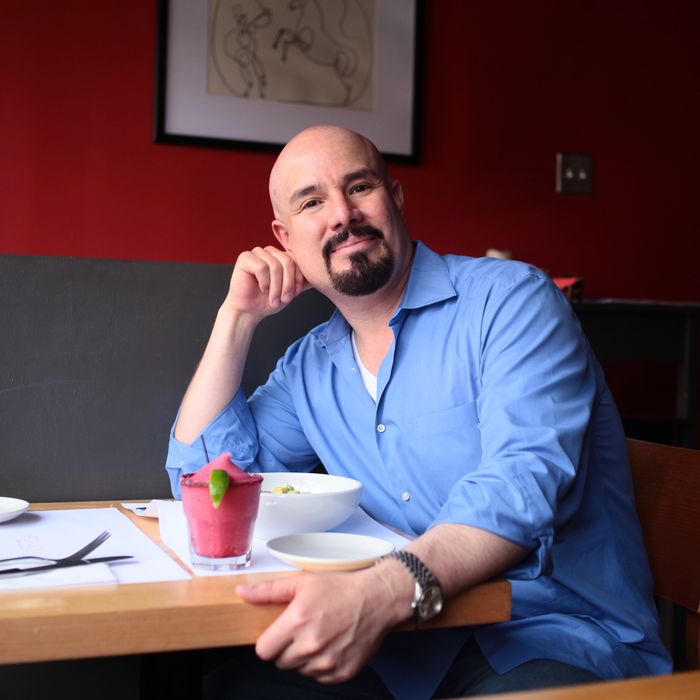 Santibañez at his restaurant, Fonda.
Photo: Stephen Yang
Even if you don't know Roberto Santibañez, chances are good you've eaten his food: He was the culinary director of the Rosa Mexicano restaurants for five years. That is, until he quit the gig to open the always-packed Fonda in Park Slope two years ago. How does owning a 40-seat neighborhood restaurant compare to coming up with food for a chain that serves thousands of people a day? "It's a lot more work!" says Santibañez. "When you have a corporate position, everybody does a little bit of your job." Now, even if you haven't eaten his food in a restaurant, you can give it a go at home — his four-years-in-the-making cookbook, Truly Mexican, was released last month. "I want people to not just look at recipes and wonder what they're cooking tonight — I want people to really read it," the chef says of the technique-focused book. "I think if you do go through the whole book, you can then be very creative with your cooking." But just because Santibañez has devoted himself to Mexican food, it doesn't mean that's all he's eating these days. See for yourself in this week's New York Diet.
Friday, May 20
I have a little nonstick pan that no one's allowed to touch that I use to make eggs for breakfast. Before the craziness of the day begins, I fry two eggs over easy and have them with some oatmeal, toast, and a little salsa, which I always sneak home from Fonda. This time, it was salsa verde cruda — raw tomatillos whizzed in the blender with serranos, onion, cilantro, and garlic. Just a little spoonful totally brightens the whole breakfast.
That day I had to go to the dentist for get some work done. So I spent the rest of the day with gauze in my mouth. I went straight from the dentist to Fonda to get to work, and I was starving, so one of my cooks made me some pasta, intentionally overcooked for my tender mouth. I added Chihuahua cheese and a little smoky salsa that we make here from pasillas de Oaxaca, one of my favorite dried chilies. That made the mushy bow tie noodles tolerable.
I left early from work because I had to catch a flight to Atlanta for the Food & Wine Festival, and by the time I got home, I thought, Jesus, I really need to eat something that's not just a bowl of carbohydrates! I thought about ordering a turkey burger from a place across the street. But I had some spinach and goat cheese, so I made a little salad with some cherry tomatoes, olive oil, and lime juice. I had some nice bread, too. Then it was off to the airport.
Saturday, May 21
I woke up at my hotel and ordered steel-cut oatmeal, which still had a nice bite to it. I added just a dash of milk. I don't usually like sweet things. I don't even put sugar in my coffee, though maybe I should have. It was horrendous. It's really hard to find good coffee when you're not in one of those nice coffee shops. But what are you going to do?
I was giving a presentation on guacamole, so I didn't eat lunch. I have to be careful with things like that because of cholesterol and other heart-related issues. But of course, I knew I'd be sampling the guacamoles I was making — one classic, one with pineapple, and another with blue cheese. Yes, it's delicious! Of course, I had a few bites with chips, to test them before I fed them to the audience at the demo. In Mexico, guacamole isn't typically eaten on chips as an appetizer, but when you've got a good, freshly made chip, I must admit it's very good.
That night, I had a lovely dinner at a place called Holeman & Finch: a little salad, mixed greens with shaved stuff, that was delicious. Lamb paté with cress and chow-chow, a pickled chopped-up relish that they make in the south. It was awesome. Oh, and my favorite! They did this rice mixed with chicken hearts and livers, and topped with an egg. Rice and egg is actually a very Mexican thing to have. So it was comforting, though I would have preferred a fried egg to a poached one. Dessert was fantastic, too: a buttery toffee cake soaked in this molasses syrup. Just a slice of the freaking thing in a bowl with whipped cream falling off the side. I love that. That's how I like to serve things. Presentation doesn't matter so much, because it's so delicious. You could put that cake on the floor and I'd eat it.
Sunday, May 22
I felt terribly guilty about that toffee cake, so I had oatmeal again at my hotel. I told myself that'd erase last night's excess. I mean, if you really think oatmeal will do that, it will, right?
Next I was flying to Chicago for a consulting project and I ate lunch at the airport in Atlanta — at 3 p.m., like a good Mexican. I treated myself to a few small plates at One Flew South. I had delicious pecan-crusted scallops and a smoked-trout bruschetta that reminded me of a Mexican dish: ensalada Russa, Russian salad. But instead of canned vegetables and ham mixed with mayonnaise, this one had nice vegetables and trout.
By the time I got to Chicago, my stomach was barking like a dog. I went to Portillo's, a Chicago institution that now has a bunch of locations. I've always wanted to try it, because the story goes that the owner started in 1963 with a single cart selling hot dogs and tamales. How American! I had been too much of a good boy with all that oatmeal, so I had a hot dog with everything on it — "everything" in Chicago being, like, ten things! — and a tamale. Sure wasn't hungry after that.
Monday, May 23
I woke up at a hotel, so guess what I had? Oatmeal. This time it was mush from a steam tray, along with bad OJ and crappy coffee. This was at 6 a.m., because I was due at a tamale plant. I was helping a company improve their tamales. We had a blast, especially when the guys who worked there popped out for tacos and brought back tacos de lengua, carne asada, and al pastor with a little pineapple.
It came with salsa de chile de arbol that was surprisingly mild. Just as I was thinking, Where's the heat from the salsa? a guy told me to try it with one of the chilies torreados that also came with the tacos. One of those charred serrano peppers per taco did the trick — it was awesome. A few bites of the tamales we were working on, and I was back on a plane.
I got home to New York that night at about 2 a.m., and I was starving. Just about the only thing in my fridge was cheese, ham, and bread. I added a little mayonnaise and mustard, gobbled it, and crashed completely.
Tuesday, May 24
Back at home — no more oatmeal for me. I had toast with almond butter and marmalade. It has to be bitter-orange marmalade. To me, it's not worth eating marmalade of any other kind. It has to be made by a Brit and has to be bitter. Just a thin layer, because I love the flavor of the almond butter. And finally I had some good coffee: dark roast, strong, freshly brewed.
I had to run out to Fonda for a video shoot: I was making guacamole, so I had a few bites, but when it was over, I treated myself to one of my favorite dinners. I stand at the expediter line near the rear of the restaurant, so I can keep an eye on the kitchen, and I hunch over a bowl of brothy beans, chopped white onions, chopped serranos, diced queso fresco and avocado, and a drizzle of cream.
A few days earlier I'd spoken to my mom on the phone and she mentioned that she'd eaten croquettas, and I thought about the croquettas my grandma used to make with leftover chicken. Either she put the chicken on chilaquiles or made croquettas. And I said, oh I miss those! So we put them on the menu as a special. They were very French, but of course she Mexicanized them by making bechamel al a Mexicana with a little serrano chile and an onion-y roux. Anyway, I had a couple, which we roll in breadcrumbs, shape into little football-shaped thingies, and fry. I had to see if they were all right!
Wednesday, May 25
I ran out of my house with a cup of coffee. I like strong roast. I think a lot of people here tend to like their coffee on the lighter side and to me it's … weakish.
I was in a rush and didn't have much time, so I unfortunately had to stop at a Starbucks and grab a bran muffin.
And I didn't eat much at all after that because I was running around. So I was really looking forward to an early dinner when I got home. I was starving. We went to Landmarc, which I really like. I had the skirt-steak salad — simple, simple, simple. I'm not sure if that's the case with the other chefs who you've done this with, but that's part of regular life. You don't need a fantastic mole or a perfectly executed béarnaise every day. You have to be careful.