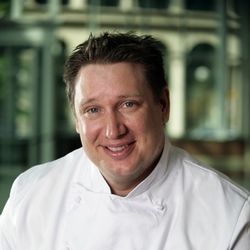 When it was announced that RJ Cooper was previewing his forthcoming D.C. restaurant Rogue 24 at LTO (the new rotating pop-up venue on the Lower Lower East Side), it seemed like a win-win: The chef gets to give his ambitious new endeavor a test run away from the prying eyes of his hometown, and downtown diners who haven't seen a fresh face in a while get a taste of the James Beard Foundation's Best Chef Mid-Atlantic of 2007. But when the D.C. press griped about the move before the wheels on Cooper's tableside liquid nitrogen cart were even oiled, it was clear politics had come into play (oh, D.C.). We checked in with Cooper, now ten days into a stint that ends on Sunday, to find out how he's doing.
How did things go out of the gate?
It was a train wreck in the beginning, because you have 40 people that have never worked with each other. As a leader, you have to see the shortcomings and the pitfalls and that's what we did. After the first train wreck service, I sat down with them and we ironed it out. Service has been good and the food has grown leaps and bounds and we're having fun.
What did you find you had to work on?
It was the timing. The fact that we still didn't have all of our product in because we're in Manhattan and trying to get everything in; making sure the equipment was functional — some of it wasn't; organizing the restaurant like it was ours, in order to make it function.
Was it tricky sourcing your ingredients in a new city?
Richard King, who is the chef at Hundred Acres, who was one of my tournants back in the day, handed me his whole purveyor list. We used four or five people from there, and I used other sourcing contacts around the country — but there's no infrastructure of credit or ordering because it's a brand-new business, so all that had to be done in rapid time. Then we had to start from scratch doing these stocks and scratches, building a menu from nothing. You usually do that in four or five days — here we did it in less than 72 hours.
Was it fair for the Washingtonian to review you on your first night? And what do you think about the critics who say it was a slap in D.C.'s face to preview Rogue 24 in New York?
Some people think it's a competition from city to city, but that's not what restaurants and food is about. It's about the regionality and greatness of the cooks in that region and prospering from that and promoting that region. By coming up to New York and doing this and getting away from the local press and media in D.C. and distractions from my family in order to build out the restaurant, we really honed it to the food and that's what we wanted to do. It was our spring training. I think the food was some of the best I've produced in a long time. As for the whole Washingtonian thing being fair, it's not. Why would you come in on the first day of a pop-up when people have never worked with each other and not come back to see what the changes have been? I don't think that's the spirit of journalism at all.
Obviously, though, you took some of those criticisms to heart. What's the main issue with pacing a meal like this?
It's very simple. The problem is we overthought the balance of it the first night. We made it too simple, and we didn't really think fully through it. What we do is take 8 covers every twenty minutes, so there's 24 covers per hour. So we average sixteen people per hour and pace them at the same time, so the staff is putting up eight plates at the same time. It's a pendulum that goes from one end of the kitchen to the other so that it doesn't put anyone in the shit.
You mentioned the regional nature of some of these dishes. Are yours inspired by a certain place and time?
They're all very personal, starting with the snack dish of chips and salsa and chicharrones. I love cracklins and guacamole and chips on football Sunday. As for the [dish that's inspired by the] terrain of the Shenandoah, it's very personal to me because we ride on motorcycles there almost every weekend and you see the beauty of the foraged food you can get out of the locale. If you look at what Noma in Denmark does to hone into their region and elevate their food in such a modern, eclectic way, that's what we're trying to do here.
Then there's the liquid nitrogen. Would you call yourself a molecular gastronomist?
That's something the press has put on modern chefs using modern techniques to make it into a bad thing, which it's not. Isn't all food molecular? People also describe this type of food as experimental — if it was still experimental, a $600 cookbook wouldn't have been published this year. It's no longer experimental. What we call it is farm-to-craftsman-to-art-to-table. We believe in keeping the nuances of the flavor but elevating them on the plate. And it's got to be fun.
Speaking of fun, you're going to be at the Hester Street Fair when it reopens on Saturday?
We're going to do something called "smoke signal." We're doing barbecue-flavored kettle corn that we pulverize and pack into tubes and cut and dip into liquid nitrogen, and you breathe it and breathe smoke.
To the beat of mushroom jazz, I hear. Why do you like that in the dining room?
It's modern and eclectic, but still it doesn't have that hard beat of trance or techno. You can hear some great little beats and feelings, and it keeps a pace as well. I listen to a lot of jam bands like Widespread Panic, but when you get into the noodling, it gets long.
Have you had a chance to eat around in New York? Who's at the top of your list?
Not yet, but I'm going to try to bail out early tonight to try to eat. I really want to go eat at Mark Forgione's restaurant because I never ate his food besides on Iron Chef. I want to see what George Mendes is doing. That's the great thing about New York: You have everything from Daniel Humm and Paul Liebrandt (the modern finesse guys) to Daniel Boulud and Thomas Keller (the old-school finesse), to George Mendes and Marc Forgione (the up-and-comers). You have a great flow of eclectic-ness here that's fantastic.
Would you open a place here yourself?
I'd love to. I think New Yorkers wouldn't shut someone else out from a different city if the product's right. There's a lot of room to play in New York, and you have a huge canvas in Manhattan and it's not even close to being full.