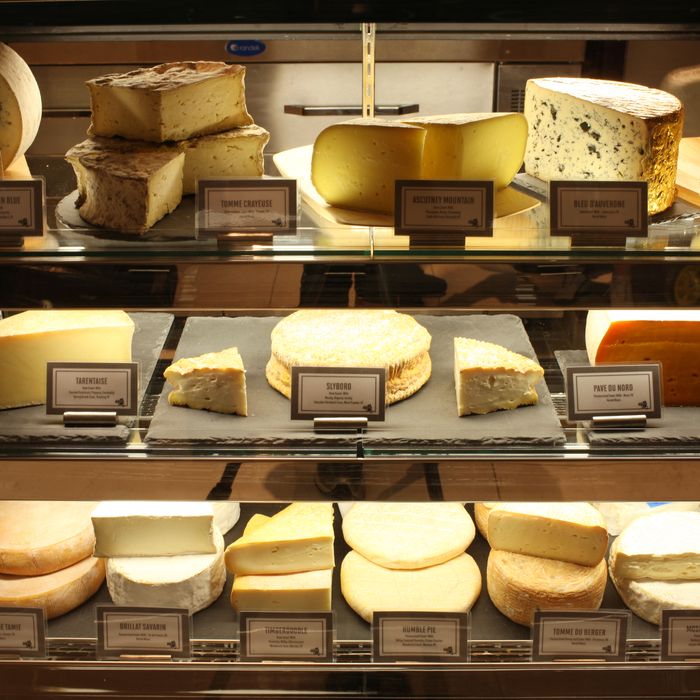 Épicerie Boulud's cheese spread.
Photo: Melissa Hom
Anne Saxelby already supplies more than 120 restaurants, but there is no surer measure of her ascendancy in New York's cheesemonger ranks than her recruitment by Daniel Boulud to curate the fromagerie at Épicerie Boulud, the chef's Upper West Side market-café opening next week adjacent to his new Mediterranean grill, Boulud Sud. Saxelby (along with her partner, Benoit Breal) has for the first time ventured beyond mostly Northeast farmstead cheeses, collaborating with master affineur Hervé Mons on a Franco-American selection that will change four times a year. Picnic season ushers in classics like Brillat-Savarin and St. Nectaire, plus lesser-known wedges and wheels from Maine's Seal Cove Farm and Vermont's Consider Bardwell Farm, which has created a microbatch cheese exclusive to the shop: the raw-goat's-milk Slyboro, washed in local hard cider and aged two months.
There's more to the Épicerie than fromage, of course — there's charcuterie, bread, pastries, and all manner of salads and sandwiches, from a lobster roll to a bánh mì. Here's the preliminary menu. (Extended hours and oyster-bar service launch in early June.)
Épicerie Boulud, 1900 Broadway, at 64th St.; 212-595-9606.
Épicerie Boulud Menu [PDF]