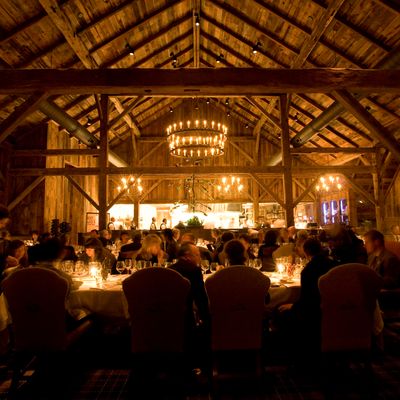 Dinner at Tennessee's Blackberry Farm.
Photo: Kreis Beall & Heather Anne Thomas/? 2008 Kreis Beall and Heather Anne Thomas +1 865-681-6128. All rights reserved unless specifically granted in writing
El Bulli may be closing its doors, but the concept of the food-lovers' pilgrimage is hardly going with it. Some people say the journey is more important than the destination — Grub Street says the journey is bunk if there isn't something tasty waiting at the end. When summer hits and the urge to skip town strikes, it's especially tricky to shake the desire to seek out the most unique, interesting, and, yes, delicious, food around. That's why Grub Street's editors have come together and scoured the country (yes, the whole country) to find a destination in every state that is worthy of your food fanaticism — okay, two in California, since getting Grub Street's San Francisco and L.A. editors to agree on just one place would have been an impossible task. As the Michelin Guide is fond of saying, every one of these stops is worth a special journey.
That doesn't mean Grub Street just plucked 50 fancy places and called it a day: All around the country, "great" food can come in some seriously unexpected places. So whether that means a high-end farm resort nestled in the Smoky Mountains; a tour of the country's best bourbon distilleries; or a way out of the way, hole-in-the-wall chicken shack that serves up some of the best birds in North Carolina, we've looked for restaurants, tours, festivals, resorts, and activities that are well worth any amount of time it takes to get there. (In some cases, that's a lot of time.)
Each and every one of these food-centric destinations has something that our editors find undeniably appealing — so much so that you could say these spots are all must-visits for the elite eaters out there (if not for bucket list purposes, then certainly for bragging rights). Grub Street by no means endorses the idea of hitting all of these spots this summer (though if you do attempt the feat, by all means let us know), but no matter where you find yourself over the next few months, know that there's a journey (and a great destination) waiting for you.