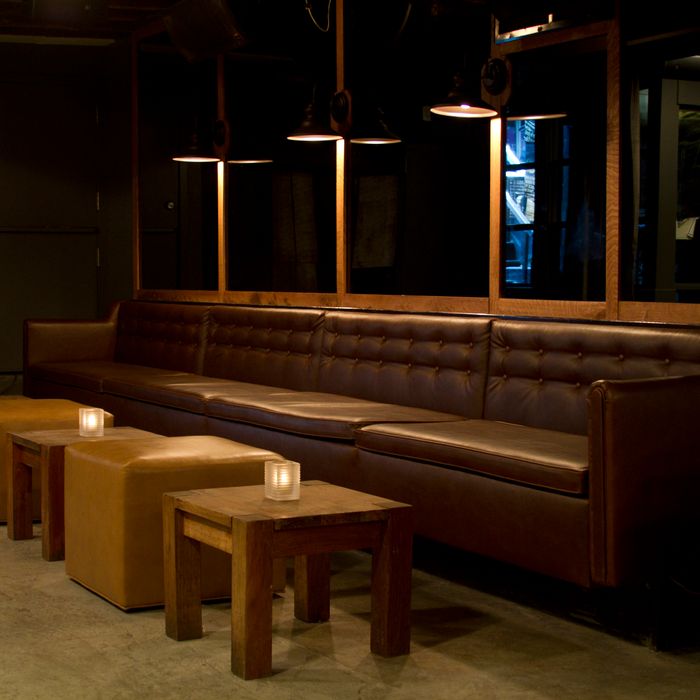 116 Macdougal recently held coed party spot Alibi, but from 1958 to 1971, the subterranean space housed the legendary Gaslight Café, a coffee shop and "basket house" (meaning performers passed the money basket around) that hosted everything from readings by Kerouac and Ginsberg to early performances by Springsteen and Dylan (the latter recorded Live at the Gaslight 1962 there). After a gut renovation, the space has now been reborn as 116. Besides bringing back the original stone walls and ceiling beams, owner Thomas Sullivan (an indie movie and theater producer who also owns Bar 13 and once operated Bowery spot Mannahatta) is hoping to bring back the venue's identity as a performance spot.
Sullivan, who is partnering with his Bar 13 manager Mehmet Erkaya as well as with actor Laurence Blum, wants this to be a scrappier version of Joe's Pub. Though the stage isn't quite large enough to hold a full band, it'll accommodate poets; folk, jazz, and rock combos; and even stand-up comics (Bill Cosby once performed at the Gaslight). Like Minetta Tavern across the street, there's a doorman on duty, and after a booker is hired there'll be ticketed events as well, but Sullivan wants his place to be a "neighborhood bar for the creative class" above all, and to that end there's a two-for-one happy hour from 2 p.m. till 8 p.m. (116 Bar is open till 4 a.m. daily).
Cocktails are by Balthazar barkeep Alex Clark, a Sasha Petraske alum. He's his drink list.
Signature Cocktail $13
Gaslight
House Infused Chipotle Pepper Tequila, Prunier Liqueur d'Orange, Freshly Squeezed Lime Juice, Honey Syrup

Classics $12
Sidecar
VSOP Cognac, Cointreau, Freshly Squeezed Lemon Juice

Manhattan
Templeton Rye, Dolin Sweet Vermouth, Angostura bitters

Martinez
Ransom Old Tom Gin, Dolin Sweet Vermouth, Luxardo Maraschino Liqueur, Orange bitters

Daiquiri
Flor de Cana 4yr Rum, Freshly Squeezed Lime Juice, Simple Syrup. Add fresh fruit for $2

Old Fashioned
Templeton Rye, Sugar Cube, Angostura bitters

Seasonal $12
Tom Collins
Millers Westbourne Strength Gin, Freshly Squeezed Lemon Juice, Simple Syrup, Club Soda

Strawberry Caipirinha
Leblon Cachaca, Fresh Strawberries, Muddled Lime, Simple Syrup

Mai Tai
Smith & Cross Jamaican Rum, Flor de Cana 4yr Rum, Clement Creole Shrubb Liqueur, Freshly Squeezed Lime Juice, Orgeat Syrup

Mojito
Flor de Cana 4yr Rum or Millers Westbourne Strength Gin, Muddled Fresh Mint, Freshly Squeezed Lime Juice, Simple Syrup, Club Soda

Bahar
Reyka Vodka, Muddled Cucumber & Fresh Mint, Freshly Squeezed Lemon juice, Simple Syrup

116, 116 MacDougal St., nr. Minetta Ln.; 212-254-9996