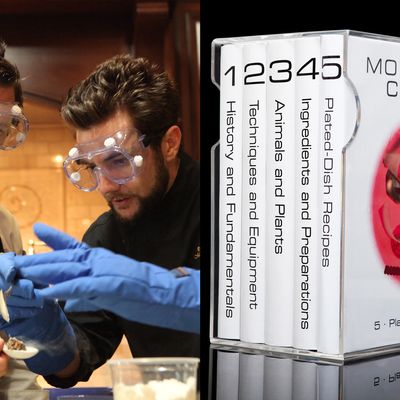 Photo: Courtesy of Syfy and Modernist Cuisine
Next Tuesday will bring with it the season finale of Syfy's Marcel's Quantum Kitchen, the show that follows Top Chef alum Marcel Vigneron as he caters events using all sorts of molecular gastronomy. To celebrate the end of the six-episode season, Syfy will be giving one Grub Street reader a free copy of Modernist Cuisine, Nathan Myhrvold's impossbile-to-find (and almost-as-impossible-to-afford) megabook about all things molecular/science-y/awesome.
How does one go about getting such a spectacular prize? Just tell us the following in the comments: If Marcel could put together a new theme for an episode, which theme would you recommend — and what kind of whiz-bang dish could Marcel make?
That's it! Just leave a theme idea and a matching dish idea in the comments, and we'll pick our favorite one when the competition ends next Tuesday, April 26, at 12 p.m. EST. (Complete contest rules can be found here.) If you need inspiration, check out the season's second-to-last episode tonight at 10 p.m. (9 p.m. central) on Syfy, or head over to the show's official site.
Update: We have a winner!