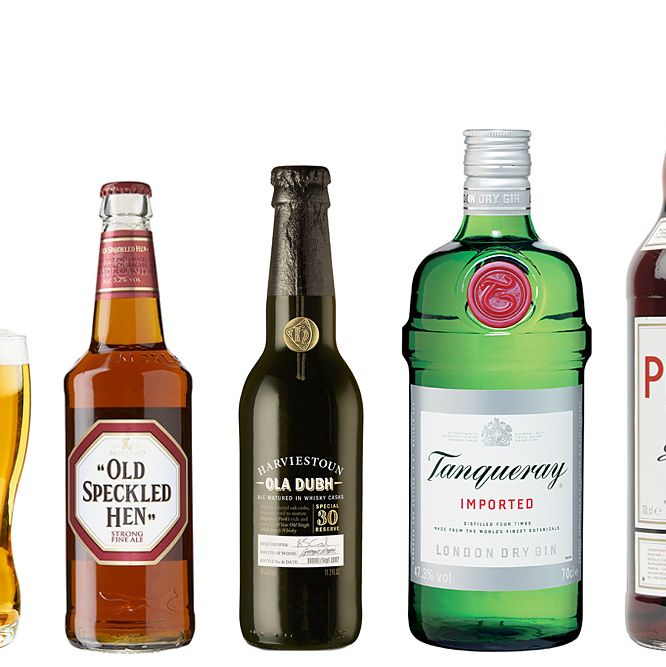 Did you hear? Prince William is getting married to Kate Middleton this Friday. People are pretty excited about it! As such, our colleagues at New York put together this handy guide to wedding viewing. But here at Grub Street, we're only interested in parties where the attendees are sure to be well lubricated. As such, we've put together a guide to some of the city's better (and boozier) royal wedding day celebrations — and it covers the varying levels of royal revelry that will be happening this Friday. So whether you're waking up at 4 a.m., dressing for the occasion, and downing Pimm's cups all day, or you're merely interested in grabbing an Old Speckled Hen and watching the highlights over some bangers and mash, we've got you covered.

The Ace Hotel and The Breslin Bar and Dining Room
20 W. 29th St., at Broadway; 212-679-2222
When: 5:30 a.m.
What: Viewing party in the hotel's lobby with April Bloomfield's breakfast menu, including a full English Breakfast, pastries, booze, coffee and tea.
Price: À la carte
Alice's Tea Cup
156 E. 64th St., nr. Lexington Ave.; 212-486-9200
When: 9 p.m.–midnight
What: A Through-the-Looking-Glass Royal Wedding with cocktails in teacups, pub food like fish and chips and vegetarian shepherd's pie, a viewing of a royal-wedding replay, and a comedy show after dinner. Reservations required! (If you want to skip out on dinner, the screening starts at 10 p.m. and has a $15 cover charge with a two-drink minimum.) Request a reservation by sending an e-mail here.
Plus: There's a raffle!
Price: $35 for dinner; $15 for screening
The Atlantic Chip Shop
129 Atlantic Ave., Brooklyn, nr. Henry St.; 718-855-7775
When: 11 a.m.–midnight
What: An all-day party replaying the nuptials with classic additions to their full English breakfast, like Kedgeree and Yorkshire Pudding. There will be a free Champagne toast to the couple and all-day drink specials, including a Kate & Willy shot!
Plus: For those royal-crazy, they will show a BBC special on previous royal weddings (in between screenings of this year's ceremony) and a royal quiz.
Price: À la carte
The Clerkenwell
49 Clinton St., nr. Stanton St.; 212-614-3234
When: 5 p.m.
What: Serving an English-themed menu, and Pimm's cocktail and Champagne drink specials while replaying the wedding all night.
Price: À la carte
Royal Wedding Party in Dumbo
DUMBO Loft, 155 Water St., nr. Pearl St.; 718-310-3040
When: 4 a.m.
What: Watch the royal wedding on a massive screen at the archway of the Manhattan Bridge, then head over to the DUMBO Lofts for an open bar all day and night.
Plus: expect wedding highlights, clips from other royal events, a D.J., and a raffle.
Price:Tickets are $60 for an all-day pass and $30 for the evening pass, available here.
Jean Georges
1 Central Park W., nr 60th St.; 212-299-3900
When: 5 a.m.
What: Royal breakfast tasting menu, including mimosas and eggs with caviar, live screening of the event, and a takeaway piece of official royal wedding china. Posh!
Price: $149
LYON and Tea & Sympathy Greenwich Ave Party
Starts at 118 Greenwich Ave. and continues all day down Greenwich Ave.
When: Starts at 6 a.m.
What: Live viewing and English breakfast at Lyon at 6 a.m.; scotch eggs and Eton mess at Tea and Sympathy. Also on the block: Johnny's Bar opens at 10 a.m. with special cocktails; Benny's Burritos opens at 11:30 a.m. and will hand out 200 small bottles of gin; Monument Lane opens at 1 p.m. with English cask ale on draft; and when Bee Desserts opens at 9 a.m. they'll replay the wedding and serve cakes
Plus: a raffle ($10 tickets) with notable prizes like round-trip tickets to London, dinner for two at the Spotted Pig, or a Mulberry handbag.
Price: Varies
New York Palace, Drawing Room of the Villard Mansion
455 Madison Ave., nr. 50th St.; 212-888-7000
When: 5:30 a.m.
What: A royal wedding sunrise breakfast with breakfast bangers, eggs and scones, a Champagne toast, and palace party favors.
Plus: They're providing pillows and blankets, so people can snuggle up and enjoy the show!
Price: $150
The Paley Center
25 W. 52nd St., nr. Fifth Ave; 212-621-6800
When: 5:30 a.m.
What: Live viewing party with Champagne, tea, and scones.
Plus: TV trivia of classic real and fictional weddings, and a bridesmaid dress contest for those Kate left out!
Price: Free, but call to reserve a mandatory ticket in advance.
Queen Vic
68 Second Ave., nr. 4th St.;917-753-4713
When: 4 p.m.
What: Wedding cocktails, $4 imported British beers, $3.75 liquor all night. If you dress for the occasion, you'll score some free drinks while watching wedding highlights all night.
Plus: a Royal Brunch menu on Saturday and Sunday from 11 a.m.–4 p.m.
Price: À la carte