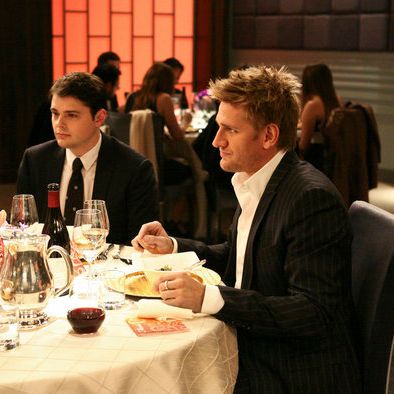 It's hard to look hunky when you're sitting next to Curtis Stone.
Photo: Nicole Wilder/Bravo
First things first: You may have noticed that I'm not Michael Alan Connelly, the person who has been recapping this season of Top Chef Masters. Don't worry, he's totally okay. But I'm going to be popping up as one of the critics in this episode, and the powers that be here at the Grub Street offices thought it'd be hilariously awkward for me a good idea if I recapped the episodes I'm on. I'll go along with watching myself on TV, and then writing about it, if only because it will give me a chance to explain that smarmy pine-nut comment I ended up saying on last night's episode.
Curtis, as is his wont, is waiting for the chefs in the kitchen. Hugh (a.k.a. Hughnibrow) doesn't like the look of things: Curtis is next to a table of edible plants, but Hugh can see that "something else is being hidden." He's right! There are a bunch of bugs, and the chefs will have to create "five-star" dishes with them. Alex Stratta is not happy. Mary Sue seems fine with cooking them (grasshopper tacos are actually kinda good, by the way), but is happy she won't have to actually eat them. Because, yuck, right?
 
Pretty much everyone plays along with the bug thing, and most chefs seem to gravitate toward Asian flavors with their dishes. Except Suvir, who is not having any of this shit: Kill and eat bugs? Fine, you do it, he seems to say. Here's a salad, a jar of worms, and a torch. Knock yourselves out.
 
But that's no problem for our Quickfire judges: Man Woman Wild's Ruth England and her husband, Mykel Hawke, a guy who acts so cartoonishly macho that he makes that warmongering general from Avatar seem nuanced. Mykel loves this. He'll totally torch Suvir's worms! He'll eat scorpions without thinking twice. He'll even say slightly disdainful things about the way Hugh's sunchoke-carrot puree looks ("I think it looks horrible"). OOH-RAH!!
 
In the end, though, Hugh's crickets-with-puree wins, and he gets immunity.
 
Behind the Scenes Fact: There is a sausage place called Wurstküche that's, like, right around the corner from the studio where they shoot the show. I didn't get a chance to try it and I'm still a little upset about that because I have it on good authority that the place is awesome.
 
Challenge time! The chefs are each going to make one dish each for a ten-course tasting menu. The diners are apparently a well-heeled bunch, as each will contribute a hundred bucks to the charity of the chef that makes their favorite dish. Traci's thinking it all sounds a little too easy, at which point Curtis assures everyone that, yes, it sounds a little too easy and things will get trickier as the chefs go along. So, as the cooking progresses the chefs discover that (1) all the water's getting turned off, (2) the chefs will get 30 fewer minutes to cook than they originally thought, and (3) no waiters are coming, so the chefs will be serving everything themselves.
Then! Out come Curtis and the critics: James, Restaurant Girl (a.k.a. Danyelle Freeman), and yours truly. At that moment, I imagine all of America sat glued to their televisions, wondering the same thing: What happened to Ruth Reichl? Don't worry, she'll be coming back. But in the meantime, you have to hear me tell everyone that I was an intern for James at Saveur.
 
Behind the Scenes Fact: When I was an intern there, I had to fact-check a story about a Slovenian horse butcher, which required tracking down a phone number for a woman in Ljubljana who spoke no English, and then asking her about her horse-butchering business. But while doing so, I discovered that this delightful-sounding place exists.
Okay, back to the show. Whoa, did I really just discuss "the addition of pine nuts as a textural element"? For the record, I don't take pine nuts so seriously in real life.
Behind the Scenes Fact: As critics on the show, we're not just sitting there, eating, and talking to each other. We're also all wearing earpieces, and the producers are saying things like, "Alan, is there anything you didn't like about John's dish?" Then, if you're just sitting there eating risotto and you hear that question in your ear, you start talking, and you might end up saying something overwrought, like that you don't like the crunch that the pine nuts "are offering." And then of course that will be the bit they use for the show.
While we critics are all sitting in the dining room discussing the finer points of pignoli, there's a lot of tension back in the kitchen. All of these chefs are used to being the bosses, so the bossier among them — Naomi, Hugh — are, like, extra bossy with each other and just do not get along! Luckily, all the food gets served, including Hugh's panna cotta with chile threads. I could swear that at one point Curtis said those threads reminded him of pubic hairs, but I guess producers edited that part out. Maybe there's a blooper reel in the works?
Okay! Here we go: The chefs are breaking out the wine and the critics are getting down to business. These are the moments that make television history, people!
Curtis heads into the kitchen and summons Suvir and Naomi to the critics' table, who head out looking nervous — but it's a total psyche. Theirs are the two best dishes of the night (that soup really was awesome). So they're fine, and Naomi gets a bunch of money for her charity, despite — or maybe because of (?) — the fact that she's a total bossypants in the kitchen.
So, time for the losers to head out. They are: John for making plain ol' risotto; Mary Sue for making a "one-note" (James's phrase) seviche; and Celina for a sub-par puddin'. The producers thankfully saw fit to edit out the approximately one zillion times that James, Danyelle, and I joked about the way everyone was saying "puddin'." Sorry, people who had to stare at us in an edit bay and do that! I bet you thought it was way less funny than we did.
Okay, who will we send packing? It's … John. Too bad, John! It's back to Mississippi for you.
I'd be lying if I said that I didn't see it coming.
Next week! Contestants from The Biggest Loser stop by, the chefs have to count calories on their dishes, and Hugh gets super pissed at Suvir.