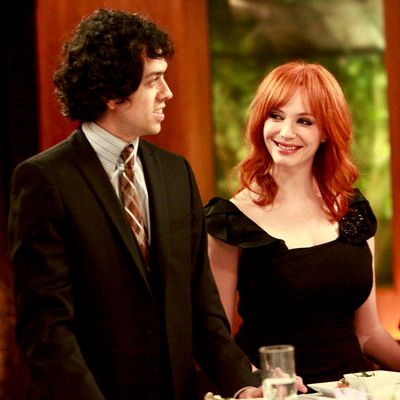 "Stay away from Vienna sausages if possible."
Photo: Nicole Wilder/Bravo
Time-lapse footage of highways and clouds reminds us that time has passed since last week's episode and the competition is advancing, though not as fast as those clouds. In the kitchen, Curtis delivers a bombshell that threatens to derail the entire season: John Rivera Sedlar (who?) has dropped out owing to an emergency. Just when we think we're already one week closer to the finale, guess who's back: Hughnibrow, the salty-scallop man. Applause is showered upon him. "I brought a smaller salt shaker!" he cracks, and George finds this hilarious.
The good times are short-lived, because it's Quickfire time: Make a meatball dish in "just" 30 minutes (nap time). Celina thinks this sounds easy and fun. "So there's probably some kind of twist," she intones. Either she has psychic powers or she has watched this reality program before, because the twist is that they have to grind their own meat by hand. "As a chef, I know this is gonna be pretty tough," says Curtis the Jerk. Oh yeah, they're cooking their meatballs for Kelis, who is somehow a singer and a professionally trained chef who loves meatballs, which makes her the best possible judge for this Quickfire. Sue is obsessed with Kelis: "I absolutely adore her."
The Masters run for the table of glistening meat and fight each other like hungry dogs. Just kidding: They are civil and agree to share with each other. It doesn't matter, though, because none of these culinary wizards knows how to use a hand-cranked meat grinder, and there is gratuitous footage of them messing up. Sue thinks she can win Kelis's heart with a pork-beef combo stuffed with cheese, while John C. very logically attempts to earn respect for the south with his Vietnamese chicken meatballs. Suvir is calm in the face of chaos: "When I drop an onion and look my beautiful shoes, I smile that life is not all that bad."
Again, they have to sit at a table and watch their dishes judged on a television, as though the sight of their non-recognizable faces would sway Kelis's discerning palate. Upon first sight of her, Sue half-whispers, "She's beautiful." Chefs have the worst sense of humor: Several "Milkshake" jokes are made, even though it is actually 2011 now. Kelis is hard to please, but she sides with John's Vietnamese meatballs. The south is vindicated! We wonder if they will do historical reenactments of this glorious day.
The poorly conceived Elimination Challenge involves classic dishes from the sixties, a time when Americans apparently subsisted only on trash foods like coq au vin and beef Wellington. Christina Hendricks from Mad Men shows up, looking lovely as always, because her acting on that show has apparently made her a culinary expert on the time period. Her husband, Geoffrey Arend, shows up, too, because we don't know why. Curtis asks if she is a fan of a not-real "sixties food resurgence" and it turns out she hates everything the chefs will be making. Good luck to all! They'll have to make two appetizer-size portions of their dishes, one classic interpretation and one modern, to serve at the couple's cocktail party the following day. We ponder the new dimension of fame in which culinary professionals cater your social gatherings with food you loathe for the entertainment of others.
Shopping interlude: Nothing happens. We decide it's time for a big glass of wine. Back in the kitchen, there's not enough room for everyone to cook, and Suvir and Sue are pushed aside like refugees. Sue responds by helping everyone else cook their dishes, and Suvir is left with no choice but to deep-fry veal. Alex has never made bread pudding before, but he's confident that he's got a winner on his hands (spoiler alert: nope).
The party kicks off on what looks like a TV set, and Restaurant Girl, James, Ruth, and Curtis trickle in along with the other guests. We spot the guy who used to play Kinsey on Mad Men sans beard. Christina and her husband show up last, because that's what hosting a cocktail party is all about. Meanwhile, there's chaos in the kitchen, and Sue plates only half of her dishes. "Fuck, I'm going home," she cries, leaving us to wonder if the show's editors have just given up on creating suspense or surprise.
The food comes out and most of it looks inedible, but supposedly most of it tastes good. Ruth gives off her Earth Mother vibe but disagrees with everyone else a lot. Hughnibrow comes out and cracks yet another salt joke, and the critics have a good laugh. The fun is over and it's time for Christina and hubby to leave. "Thanks for having us," she says, which is usually what we say to others when we're hosting a party. The fabric of the show's logic rips apart and creates a black hole that sucks in Andy Cohen and Watch What Happens Live!.
In the 60-second spot, everyone thinks it's hilarious that Suvir, with his fancy shoes and pretty pants, has a farm and guns. What a riot!
It's time for critiques, which makes us miss the Top Chef set. Mary Sue, Floyd, and John C. have the best dishes. James says John has created a benchmark version of oysters Rockefeller. Books will be written about this episode because of those oysters, but Mary Sue takes the win for her Japanese-style deviled eggs. Sue, Suvir, and Alex are the worst. Suvir says everyone else is a diva (George); "I had no fire," he explains. Harsh words like "quite disappointing" and "very undelicious" get thrown about like arrows, but, in the end, Sue is sent packing for messing up duck l'orange. She and Naomi share a brief kiss on the lips before she heads out on her own, consoled only by her Kelis albums and the fact that she is a successful chef with her own restaurant.
Next week: Cooking with bugs! Missing waiters! George gets bossy again!