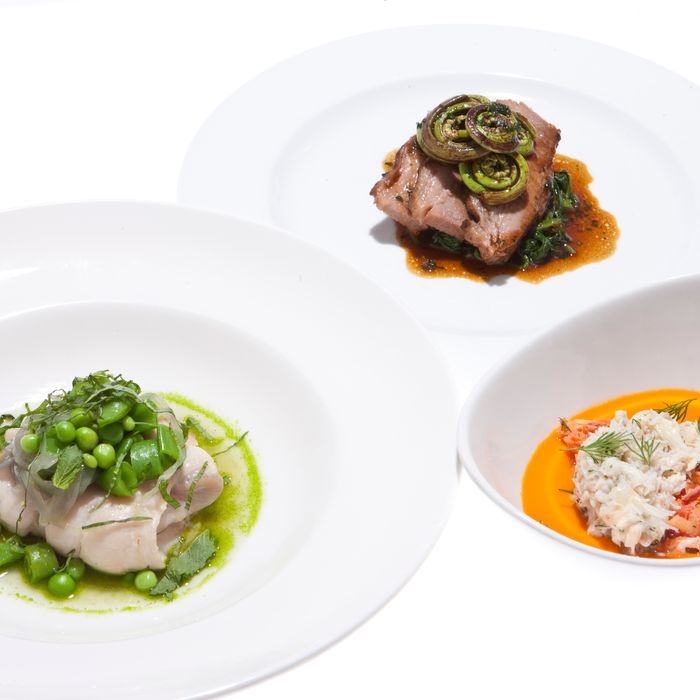 Clockwise from top: grass-fed brisket with spicy fiddleheads and wild spinach; crab salad with carrot slaw; lemon sole with peas, basil, and mint.
Photo: Danny Kim
Not one to let the great pop-up craze pass him by, chef Bill Telepan establishes temporary residency next week at Pécan, a Tribeca coffee shop frequented by his business partner. For four weeks, Wednesdays through Fridays only, the man known to certain Greenmarket farmers as "Lord Telepan" for his pioneering locavorism will cook a $45 four-course prix fixe, featuring three amuses-bouches, an appetizer, a choice of meat or fish, and dessert (wine and beer extra). No reservations are accepted, and parties are seated from 6:30 to 10 p.m. The menu changes weekly; here's a preliminary look at the first two.
WEEK ONE:

BEETS, BUTTERMILK & PICKLED ONION

WHITE BEAN TOASTS & SCALLION

VEAL MEATBALLS WITH ROBIOLLA

FIRST:

SMOKED TROUT WITH CRÈME FRAICHE CUCUMBERS

SECOND:

LEMON SOLE

peas, basil & mint

or

PASTURE VEAL

roasted asparagus & spicy lemon

DESSERT:

RHUBARB STREUSEL TART



WEEK TWO:


PEAS & BACON

MUSHROOM PIEROGI & ASPARAGUS

LAMB TARTARE & BLACK OLIVE



FIRST:

CRAB SALAD WITH CARROT SLAW

SECOND:

HERB CRUSTED SHRIMP

white beans & oregano

or

GRASS FED BRISKET

spicy fiddleheads & wild spinach

DESSERT:

BABA AU STRAWBERRY
Telepan Tribeca, 130 Franklin St., at Varick St.