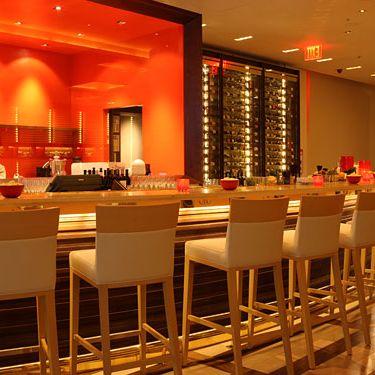 Rouge Tomate.
Photo: Hannah Whitaker/New York Magazine
Calorie counting might be rampant these days, but Grub Street has always felt grateful that the fine-dining arena, at least, is safe from such ghastly practices; we simply don't want to know the numbers on most of these things. Yet now Rouge Tomate (whose motto is the ominous "Health Through Food") has set out to spoil all that, by debuting a tasting menu that promises to be under 1,000 calories.
The lineup of five courses and three amuses actually sounds fine — nothing wrong with Wellfleet oysters with rhubarb mignonette and ginger, or squab with morels, ramps, foie gras, and fava beans — but if it's only 993 calories or some such, we think we won't be able to shake the feeling that something's … missing. And why does Rouge Tomate have to go and make all the other 10 million-calorie tasting menus look bad? Must be the ladies who lunch needed somewhere to eat dinner.
We plan to spend our summer holed up here and here, but if you're anticipating bathing-suit season, Koi also let us know it's added some new spring dishes and cocktails to its "Skinny Menu," including 175-calorie "salmon spring rolls" and 245-calorie Chilean sea bass. Oh, and we hear Applebee's and Denny's have some great low-cal options, too.