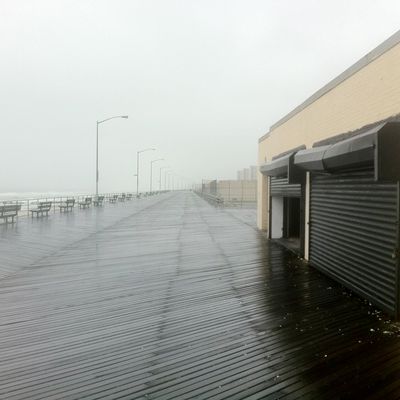 Rockaway Taco still hasn't announced that it'll be taking over the Rockaway Beach boardwalk concessions at Beach 86th, 97th, and 106th Streets, but we hear that a contract with the Parks Department is in the works — and it's not the only thing we've discovered from sources close to the deal. Not only are David Selig and Andrew Field said to be planning a boardwalk satellite at 97th Street that will specialize in seviche and Mexican sandwiches, they've also been talking to folks from Roberta's, the Meat Hook, Caracas, and Sam Buffa of Vinegar Hill House about contributing menus to the concession stands. And Bowery Beef has been seen eyeing the 106th Street stand in hopes of serving roast-beef sandwiches as well as shellfish, including Gloucester lobsters.
With all of this still in the works, the mock-up menus that have fallen into our lap are surely not final, but don't be surprised if this summer's après surf options include hamburgers, hot dogs, and pork rinds from the Meat Hook; a fish sandwich from Roberta's; arepas and empanadas from Caracas; and chicken and clams from Sam Buffa. Not to mention, the stands include the option of outdoor seats — pending the State Liquor Authority's blessing, you may be able to slurp frozen drinks while you watch the waves.
What's more, we hear that Rockaway Taco will be handpicking the twenty or so mobile vendors that will comb the beach — as previously mentioned, one of those vendors may be La Newyorkina. Again, Andrew Field wasn't ready to confirm any of our intel just yet, but he did reveal one thing that'll definitely be new next summer: When the taco shack reopens on May 19, its neighbor DiCosmo's will return as well, but Zack Kreiger will be replacing the Jack's Stir Brew stand (which he ran last year) with his own enterprise, And Coffee. Field is also working with a local outfit, Karen Ann Charters, as well as a Cape Cod tilapia farm to source fish for festive Friday specials.
All very exciting, but who's going to bring back the rice cup?