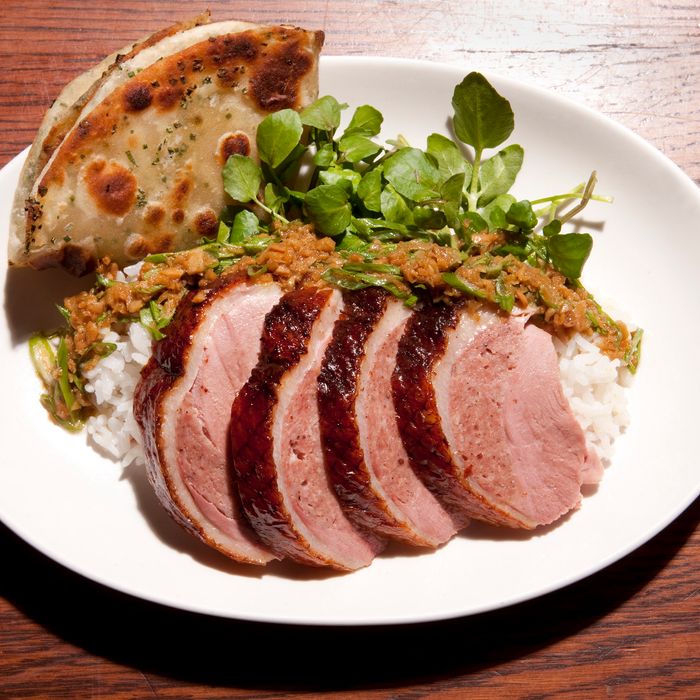 If you've been slumping down in your cubicle today, furtively surfing food blogs and wondering what the new pork is going to be, we can now tell you: It's duck. How do we know? Because David Chang says so. Actually, he's said nothing of the sort. In fact, we're pretty sure he despises this business of the new this or the new that because he's tried to tell us as much on more than one occasion. The man's motto is simple: He likes to cook tasty food, period. If he carried a business card, it might read "David Chang, Tasty Food Technician." But here's the thing: Chang, the pork whisperer, recently sprung for a new five-spit Rotisol rotisserie and has installed the contraption in the recently renovated East Village Momofuku Milk Bar space (Milk Bar, as you know, has moved across the street), and one will find spinning on these spits not pork butts and pork bellies but ducks. Ten of them at a time. And not just any ducks, but Long Island ducklings from Crescent Farm on the North Fork.
The plan, beginning sometime next week, is to serve these toothsome quackers in an all-duck counter-service lunch menu Monday through Friday, replacing the regular Ssäm Bar prix fixe. In addition to the rotisserie setup, the former Milk Bar space has been outfitted with a full bar, beer on tap, and counter-height stools (with actual backs!). In short, you can now think of the two rooms as one well-oiled Ssäm Bar machine, and lunch can be consumed anywhere on the premises. What's on the menu? For starters, there will be roast duck over rice with the optional addition of scallion pancakes or Bibb lettuce; a duck sandwich with duck-liver mousse, duck "mortadella," and duck "pancetta"; and a duck-stuffed-wonton soup.
So how did this happen? The idea is really the brainchild of Ssäm chef Ryan Miller, a North Carolina native and a bit of a duck fanatic. "It's always been one of my favorite proteins," says the young chef, who has cooked at Town, Cru, and Momofuku Ko. "As a kid, I tasted my first duck while visiting New York, and it stuck with me." On a recent Chang-sponsored European tour, Miller took note of the fact that on practically every Barcelona corner, there was a rotisserie, and thus he had a poultry epiphany. "It kind of blew me away," he says.
Aside from all the duck, the new lunch program is a way to bring Ssäm Bar back to its daytime roots: Customers will order from a chalkboard menu and pick up their food (make that duck) at the counter. (Ssäm Bar dinner and weekend brunch will remain the same but occupy both rooms.) Chang and Miller are even toying with the idea of concocting an "old-school" duck ssäm, the excellent and much-missed Asian burrito of sorts that started the whole Ssäm Bar experiment. In this case, though, "old-school" refers to 2006.