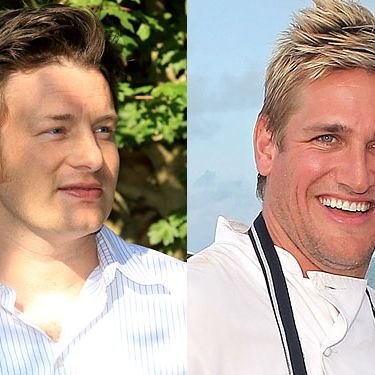 Photo: Chris Jackson/Getty Images, George Burns/Harpo Productions Inc. via Getty Images/2010 Getty Images
A "Page Six" item about Padma Lakshmi was kind of ridiculous: Apparently Padma showed up to a Bravo promo shoot and blew by all the other Bravolebrities without saying "hi," and then she and her entourage just hid out the whole time. It's the usual half-baked "Padma's a diva" stuff, but here's the fun part! This morning's version of the item said that Jamie Oliver was one of the Bravo stars filming the promo — which doesn't make much sense.

Indeed a rep for Oliver tells us that although he was in town yesterday to inform David Letterman that vanilla ice cream contains beaver anal gland, he certainly wasn't at the Bravo shoot, and in the late edition of the Post (as well as in the version currently online), Oliver's name has mysteriously vanished. Oops! Maybe they were thinking of Curtis Stone, who actually is a Bravolebrity? Get it straight, guys! Curtis "The Take Home Chef" Stone is the blond-haired, hazel-eyed guy with the accent who mostly stands around smiling, and Jamie "The Naked Chef" Oliver is the blond-haired, blue-eyed guy with the accent who fills school buses with sand.
Bravo Stars Snicker at Padma [Page Six/NYP]