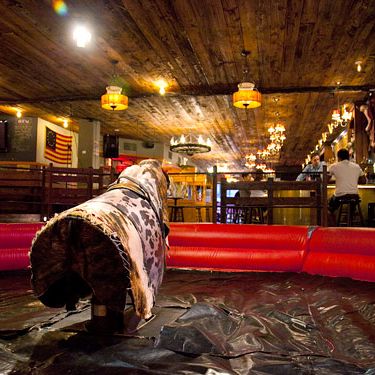 The bull will remain unridden during the week.
Photo: Gavin Thomas
Shuttered since April 8 in the wake of an LES police sting for underage and after-hours drinking, Rob Shamlian's Mason Dixon bar reopens tonight, albeit with a sharply reduced operating schedule — only two weekend nights, Fridays and Saturdays. "I can't afford the extra security" for four more nights, Shamlian told us, noting that "stipulations" from the NYPD's civil enforcement unit required that he retain five bouncers a night to get his mechanical-bull establishment up and running again.
Shamlian said he also had to shell out $10,000 in fines — plus legal fees — and hopes to sell the Mason Dixon space to his landlord Michael Shah, a Manhattan real-estate developer, for $300,000. (Shah is in a partnership with Matt Levine, who in turn hopes to open a late-night eatery in the bar space serving, he says, "the cuisine of immigrants from the old Lower East Side," pending approval from Community Board 3.)
You'll recall that cops also closed Shamlian's Los Feliz for underage drinking on April 8. It reopened ten days later, but Shamlian said he lost $100,000 in business, and another $40,000 when Mason Dixon went dark by court order over two weekends. He contends LES bar owners are united in feeling persecuted and "chased out" of the LES by recent police raids. "It's overkill and it's destroying small bars," he told us in a phone conversation, adding that he and fellow bar owners fear continuing "stings and entrapments."
"We're very stringent about underage drinking," Shamlian, a non-drinker, told us. "But these people are professionals and they're able to able sneak their people in. Bottom line, it's hard to keep out people who want to get in. The police cadets bribe the bouncers, so you're serving the police." (The NYPD's Public Information Office has not responded thus far to Grub's requests for comment. But 7th Precinct captain David Miller let it be known at a community council meeting this month that bouncers often solicit cash payments from minors seeking to get into LES bars.)
Meanwhile, Shamlian's aforesaid landlord Michael Shah told us it was "up in the air" as to whether Matt Levine would get clearance to take over Shamlian's assets to open a late-night restaurant. Levine withdrew his application from a liquor-license meeting of Community Board 3 this month after condo residents occupying space above Mason Dixon — who are suing Shamlian — objected to Levine's plan to have his proposed restaurant close at 4 am.
For his part, Levine e-mailed us and said discussions for his project are continuing, and "we are working with everyone, from the condo board to Rob, and we are hopeful the powers that be can come together."