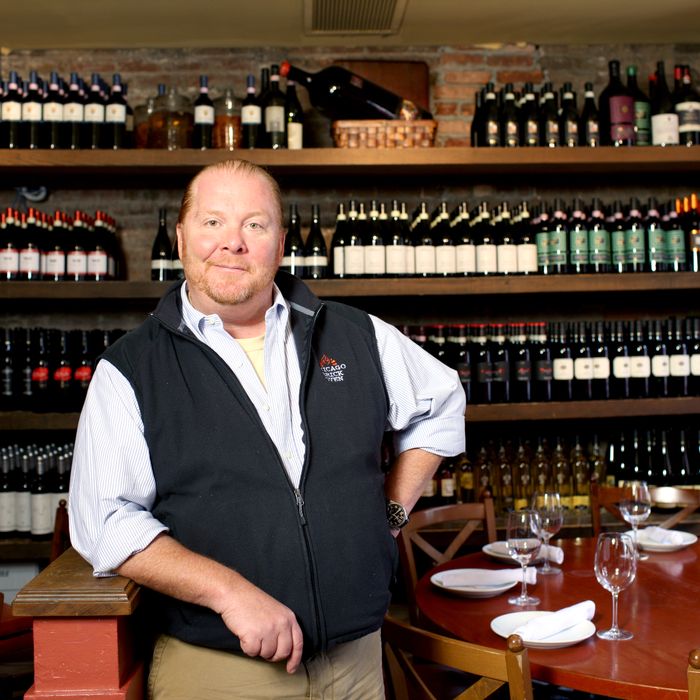 Batali, striking a pose at Otto.
Photo: Melissa Hom
Mario Batali is, of course, no stranger to television — in fact, on Wednesday he made his twelfth visit to The Martha Stewart Show, officially making him the chef with the most appearances. But he has even bigger plans for the medium coming up, specifically, he says, "creating short programming mostly for the Internet, to take over the world of food-production TV in a new and exciting way." If that sounds slightly daunting, well, that's why Batali has enlisted Monster.com's help in finding a media-production coordinator to handle that (you can apply on the company's website). Also on the chef's TV agenda: The Chew, a daytime talk show airing on ABC this fall, hosted by Batali, Michael Symon, Top Chef's Carla Hall, nutrition expert Daphne Oz, and What Not to Wear's Clinton Kelly. "I'm sort of the elder spokesperson, which is a new role for me," Batali says of his hosting duties. "I'm usually the poorly behaved guy at the kids' table." To see just how poorly behaved he was this week, check out everything he ate in this edition of the New York Diet.
Friday, April 15
Last Friday I was in L.A. We had lunch at Spago. I had a tuna salad, and … I don't recall, but it was a lot. We finished with a kaiserschmarrn — it's a puffy pancake of Austrian descent — with strawberries on it.
For dinner, we were at Animal, so we had one of everything. You know, I take a small bite of everything just to see what's going on. It was fun. I was with Jimmy Fallon, Nancy Silverton — it was a party of twelve. A lot of my team from Mozza, and pretty much all the people I work with. We were doing a dinner for the L.A. County Museum. We had done it that night at a luxurious palace in Beverly Hills, and then we went out for dinner after.
Saturday, April 16
We went immediately to our seven-thirty flight. I just had a yogurt and a banana. Every flight I have two bloody Marys — hopefully before you take off. Two's all you need. Two's four in the air, keep that in mind. It's a nice little space and then you kind of fall asleep. Alcohol in a bumpy, slightly darkened room makes me go right to sleep, which I love.
We had a 90th-birthday dinner for my father-in-law at Firebird on 46th Street — it's on theater row. It's this crazy restaurant with murals. It was very cool, we really enjoyed it. There were sixteen of us. We had a little blini-and-caviar station, some passed hors d'oeuvres, then we sat down and had dinner and a couple of speeches. First time there, but we liked it, so we'll go back. His family's from St. Petersburg.
That day, no snack — two Frescas. I snack Frescas. And I almost shoot it, like a half a can at a time. I love grapefruit; I love everything about it. My son got some Ting for his birthday, and I really like Ting because it's bitter grapefruit; it's from the Caribbean.
Sunday, April 17
Breakfast at home. Jay McInerney brought us some eggs and they were like, revolutionary eggs. They're from his farm in Water Mill, and they're just delicious. So we had those scrambled, with a dusting of robiola. And a grilled tortilla, because I kind of made a little taco out of it. And I had a Fresca for breakfast.
Then we went for New Jersey to look for dogs. Not like wandering dogs, but we're looking at this particular race of dog, the Wirehaired Pointing Griffon. We looked at these dogs, and Susi's cousin Lisa has a house right in the country and they had kind of a cool little Italian buffet set up. So we made little sandwiches out of prosciutto, mortadella, mozzarella, hot sopressata, and Italian bread. I had a roasted pepper, ravioli salad, and a stinging cold beer.
Dinner was delivered from Otto: three slices ramp pizza, escarole salad, and one Fresca.
Monday, April 18
Boxing at 8 a.m. I box three days a week and I play squash two days a week. In the morning almost every day, I have a shake with some almond milk and some frozen fruit, and that's my morning routine. I don't really need breakfast. In all honesty, if I have a substantial breakfast, I'm hungry at eleven. And then I'm hungry at one, and then I'm hungry at three. If I just start eating a big breakfast, I eat all day long. So I've found if you just kind of limit it and then try to go vegan-vegetarian until dinner — it's all about calories in, calories out.
I had a little snack at home at eleven: two stalks celery, with hummus and Sriracha. Then I came down here [to Otto] and shot an espresso. If I drink espresso before noon, I get kind of zippy.
For lunch, I ate family meal [at Otto]. Two or three days a week they make a soup and this one was a vegetable one with rice: vegetables and cilantro, and then they put hot chilies and jalapeños on the side. And I had a Diet Coke.
Dinner at Momofuku Noodle. It was my son's birthday, and my kids have no fear ordering lots of food in restaurants. And they ate it all — it was amazing to see. They each had two pork buns. They had a couple of wings each. The asparagus special was really good. They really loved the octopus. So I got like one bite of each plate and then … [makes a devouring sound]. It's a nice way to eat. I have two boys and they had four friends, so it was eight people with me and my wife.
Benno [age 14] made a birthday cake; I had one slice. Benno makes Leo's birthday cake every year [Leo turns 13 this Sunday]. He's a baker, chef. Leo always wears this yellow hat and Benno made a cake that looks just like the hat. Last year Leo's favorite thing was Nutella, and Benno made a cake that looked just like a Nutella jar.
Tuesday, April 19
The boys had a sleepover, so I made them beignets and bacon. But I didn't eat any of those — I try and stay off beignets and bacon. So I had my little shake and a short espresso. We were supposed to go to Coney Island, but it was raining, so we stayed here and played football in the park. And then we went to this cool place — Tacombi. There was no one there; we were the first ones in at exactly noon. So I had a ceviche tostada and a taco de pescado and a taco de pernil and a tamarindo. But these kids must have eaten … they probably each had seven or eight tickets. They were so hungry and so happy. There was no one in there, so you could go and get in one line and in one second you'd have a taco. They were big fans of the egg-and-chorizo ones and then anything that came out of the little mini-bus in the front. The ceviche tostada was my favorite thing. The ceviche was right: It was spicy; it was really clean. The tostada was crisp, not fried-tasting, good. We'll be there a lot.
Then Passover Seder at JoeDoe — the best Passover Seder I've ever had. I had one of everything. They had their take on the Cel-Ray soda. At Katz's deli, the best thing to drink with a pastrami sandwich is this celery-flavored soda, so they made a version of it like a gin and-tonic — delicious. Everything was curated: The chicken liver was more like a mousse-y foie gras-y texture; haroseth is generally kind of oxidized-looking apples — this looked like they must have cut them to order; the horseradish was hot and really felt good. The matzo-ball soup … they serve fried matzo all the time there, evidently. I've only been there in the daytime, for brunch, but they do this fried matzo sprinkled with cinnamon sugar, instead of bread, which makes sense on Passover — but apparently they do it on normal days. And the matzo-ball soup was really good. It was chicken and matzo balls. They call it Jewish wedding soup, like an Italian wedding soup. And then their brisket was braised and then sliced thin and griddled, so it was crispy on the outside — really good. Then we had this little frittata which was kind like a potato-hash-brown-y thing, but it had beef tongue and potato and egg in it; it might have been my favorite thing the whole night.
Wednesday, April 20
I did Martha, so I didn't have anything before I went there. They try to ply you with funny muffins — I didn't have a single one. And I don't need coffee when I do morning TV. I just to try get up and have some Sleepytime tea to calm me down, but I didn't even have that. The first thing I ate yesterday were the asparagus ravioli that I made with her — they were really good. Then April [Bloomfield] and I went to … what's Harold [Dieterle's] newest place on 11th Street? … Oh, Kin Shop. It was delicious. I wasn't very hungry, though, and April was, so she ate a lot and I ate less. The duck laab is unbelievable. It's just like little romaine spears with ground duck and long beans and it's sautéed with a lot of chilies, Thai-style, not very wet — delicious. It just … makes you excited. It was perfect. We're old friends — I helped her open the Spotted Pig. We have lunch maybe once a month and catch up.
I got a mysterious invitation about a month ago from Francis Ford Coppola: "Please join me for dinner." I didn't really know much about it. It turns out he had something in the paper: He had acquired the actual rights to the name "Inglenook." Inglenook is where his wine is being made, but in the jaded past of the Inglenook business stage, a lot people — including jug wine — had bought the rights to distribute wine under the name Inglenook. Now he's exclusive. So I imagine he will come out with probably not just a Rubicon and a Pennino and a Coppola, but he will probably come out with an Inglenook Cellars or something. We were at the '21' Club and drank these killer wines. The first thing we tasted after we had our little aperitivo was bottles of '59 Inglenook, which was as good as any French wine at that level of vintage that I've ever tasted. And it was just exciting to know that this terroir, this dirt, was going to continue to make these great wines. And then we tasted a couple more wines and they were just delicious. And then we had the meal that everyone had: There was a duck salad, there was a goat-cheese salad, then there was a strip steak, then there was a sorbet. I hadn't been there in a long time, and I must say I'd go back. It was very cool.
The Donald was in the dining room with his family … it was interesting. It's a crazy scene up there. I don't really get up there — and I was reminded why not: The traffic is brutal at seven o'clock. I drove my Vespa — it's the only way to get around. The dinner was delicious, the conversation was good. It was a great group of fifteen or sixteen of us in the private wine cellar that's behind the mobile 10,000-pound door that you have to pull a little stake to get in — it was a speakeasy, and they left it as is. I hadn't been there in ten years. It's still a jacket requirement — I'm kind of a short-pants-and-vest guy. But I put on a jacket, a tie, and a little hmm-hmm-hmm. And I always wear the clogs. People like to see them.