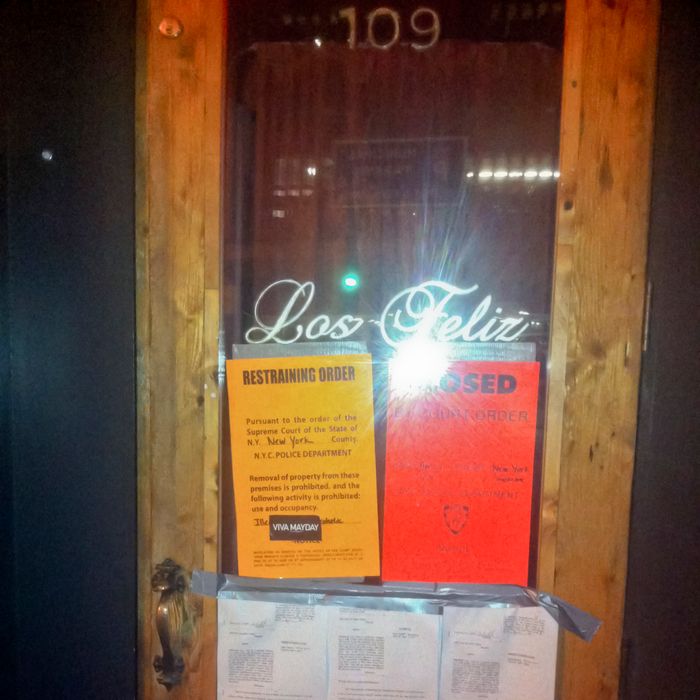 Rob Shamlian's popular Los Feliz taqueria, closed earlier this month by LES cops from the 7th precinct for serving underage customers, reopened Saturday night — with a bitter aftertaste. "Los Feliz has never served underage patrons," head bartender Ben Carrier wrote us in an e-mail this morning. "We were really surprised that the police say they were able to sneak in with underage cadets … There is something amiss when a restaurant with great food, great relationships with the neighbors, no noise complaints, and a responsible policy toward underage drinking gets shut down … You can be sure the police will need to come up with new and more devious tricks than previously used to get an underage cadet past us from now on."
A court order also allowed police to close Mason Dixon, another LES bar owned by Shamlian. It was cited for both underage and after-hours drinking but is expected to reopen soon. We are still awaiting comment from the NYPD's public information office at One Police Plaza. Carrier provided us no details on what his boss paid to reach a settlement with lawyers from the NYPD's Civil Enforcement Unit. But the cost for a bar getting back in business after a police raid can be steep.

Darin Rubell, owner of Gallery Bar, told us Sunday he paid "$10,000 (in fines), another $5,000 for lawyers and added six security guards," in the wake of an undercover 7th precinct sting that led to his bar closing for a week in March. "I'm paying more for my security than for my rent," he said. Gallery was cited for underage drinking and unlicensed security. Rubell said that during negotiations, his attorneys were told that the NYPD could shut down bars for a year under the city's nuisance abatement laws. "So we felt we had to settle," he said.

Police from the 9th precinct cited two East Village bars for underage drinking on March 11 — HiFi and Common Ground. But neither was shut down and both are currently fighting the civil complaints. HiFi owner Mike Stuto would not comment, but Common Ground owner Dan Warren, who also owns West 3rd Common, said he expects a "long and nasty" period of negotiations — and possibly a trial — before a deal is struck.
Earlier: NYPD Closes Rob Shamlian's Los Feliz and Mason Dixon