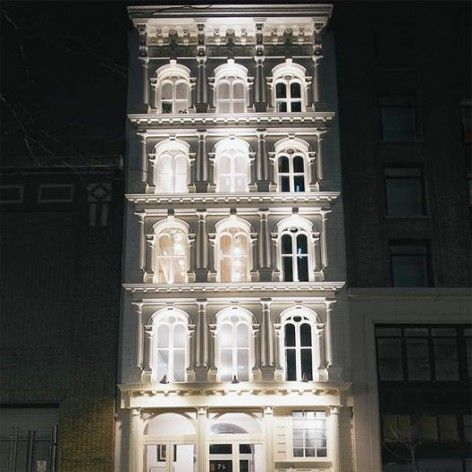 The historic cast-iron building that will house Silver Lining.
Photo: Courtesy Silver Lining
Death & Co.'s financial district project isn't the only haute-cocktail-bar spinoff in the works below Canal Street. Joseph Schwartz and Sasha Petraske of Little Branch are bringing another cocktail-and-jazz drinkery to 75 Murray Street. The 125-capacity boîte is slated for early May and will be housed "down a staircase" in one of the neighborhood's historic cast-iron buildings. Like Little Branch, there'll be a focus on classic cocktails, and Silver Lining will serve small plates to soak up the booze. Also planned: a serious music program coordinated by Little Branch's Vito Dieterle, who will bring in some of the same jazz musicians. Dieterle stresses that it won't be a jazz club, however. Most nights won't have a cover, and "it's not going to be a place where you'll have to shut up and sit down." And unlike Little Branch, the new joint will accept credit cards.