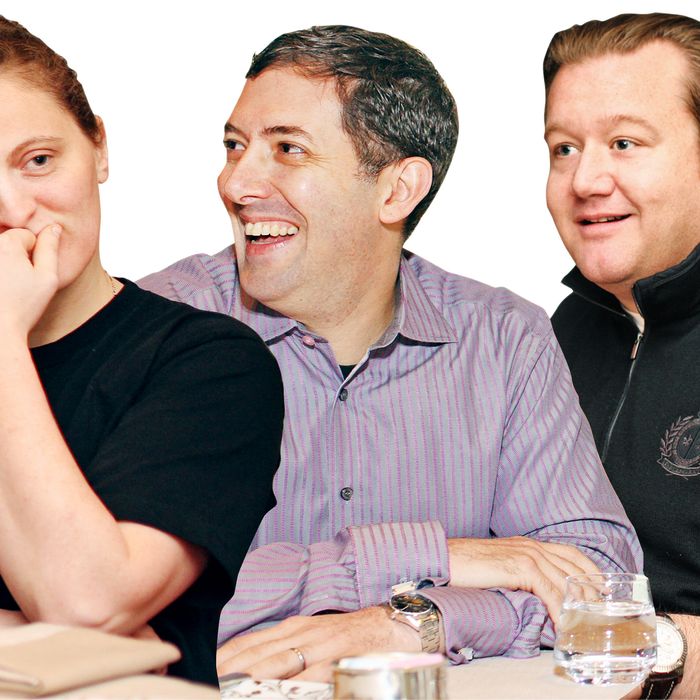 From left: April Bloomfield, Michael Anthony, Michael White
Photo: Melissa Hom
Yesterday, Grub Street was able to wrangle three of this year's James Beard Foundation nominees for Best Chef, New York City: Michael White, nominated for his work at Marea; Michael Anthony, executive chef at Gramercy Tavern; and April Bloomfield, whose nod is for the work she's done at the Spotted Pig. At White's latest, Ai Fiori, we found the three of them engaged in a hearty round of joking about the wobbly table. Of course, White wouldn't stand for such a thing and kept joggling the table all through our hour-long conversation, until finally he was reassured that parts had been ordered and the table would be fixed before any guests were again seated there. It's that sort of attention to detail that has landed all three of them on this year's list of nominees for the James Beard Foundation's Best New York Chef Award, along with Wylie Dufresne of wd~50 and Gabrielle Hamilton of Prune. Read on to hear their thoughts on where the industry is headed, what the awards mean in practical terms, and what they think they did to be worthy of a nom this year.
You're all nominated this year for Best Chef: New York. What does the nomination mean to you, and the industry?

April Bloomfield: I'm pondering.
Michael White: I'll answer it; I'll go first. For everybody at the table, and Wylie and Gabrielle, the James Beard Association is the benchmark. It's kind of our equivalent of the Academy Awards, so just to be nominated is a great honor.
AB: Yeah, I think it's just nice to be recognized by your peers. To be nominated for something, and hopefully it's your hard work, and your passion, and your fire that you're recognized for. And great food.
And practically speaking, what sort of impact does this have on your restaurants?
Michael Anthony: This particular event is probably the most looked-at event in the industry, so it brings a lot of great recognition. And it's evolving, because just a few years ago, the day that the long list came out was not really recognized or noticed by anyone except for the industry. Now it is actually something that hits most major publications, so it's great recognition.
AB: I think it creates longevity there, too, within the career and the lifetime of a restaurant, just to keep it in people's minds.
MW: Exactly. It brings it back to the forefront. We are very fortunate to live in New York City, where food is so much a part of our daily life. Somebody that's in Omaha, Nebraska, somebody that's in Milwaukee, Wisconsin … what an amazing thing for a chef that is outside a major metropolitan area — man, woman, whatever — to be recognized for a craft they have chosen that maybe doesn't get the same light in their chosen city.
AB: And basically be like, Look, I'm doing something fantastic in Austin, Texas, and I'm sure people will go to Austin, Texas, and people will go and eat there, and that's amazing for them and the city. America is bigger than NYC. It's not the center of the universe, and I think the James Beard Awards kind of bring that to the forefront and keep people interested in what else is out there. That's really important. It keeps the craft alive.
What about the actual ceremony? Do you have plans for the night?
MW: It depends who's winning.
MA: I think it's a little nerve-wracking sitting there. The awards ceremony is grueling, and there's a lot of electricity, and as you're sitting there cheering for your favorites and waiting for your category to come up …
MW: It's also nice, the Beard Awards are at such a historic place like Lincoln Center and that obviously adds to the effect and to the nervousness. Just the sheer … there's 138 people that work [at Marea], and I don't mean to be clichéd, but it's everybody's work.
MA: It's a good point. Nervousness is one way to describe it, but it's energy. And I think that probably we understand intensely what it takes to keep a restaurant staff motivated, and so that's a chef's job, to bring energy to work every day. But the injection that you get, that an entire team and an organization gets from the recognition of an event like, this is priceless.
AB: Priceless, definitely. I mean, we wouldn't be here if we didn't have people working hard, who committed their time to believing in what we do. It goes down to dishwashers, prep cooks, cleaners, whatever. They all make a difference to what we do.
MW: I mean this in all seriousness: We will be so happy to pump for whoever wins because we're all friends. And that's the great part about being in NYC, that each of us has a platform in NYC to do the kind of food that we want to do.
Chefs have lately been portrayed as very aggressive, almost cutthroat, so it's interesting to hear you be so supportive.
MA: I think there's a certain drive that every chef has. It's ambition, and sometimes that's confused as being competitive. It's a competitive market, right? But from a personal perspective, there's nothing but respect there. It's enjoyable to get together. It's a chance to step out of the isolation of the kitchen and see the people that you respect.
AB: And learn off each other and grow. To get everyone together in one room of like-minded people that have passion, and get to be able to talk to them when sometimes you might not be able to talk to them, that's a pretty amazing experience.
MW: It only brings better food to NYC.
So after the awards, how does a win affect the business?
MW: It's definitely measurable. Especially after the awards, there's a real big wave that lasts for months on end because of the fact that it's such a nationally recognized award, and therefore the whole country knows about it. So when those people make reservations to come to New York, they've read about it in publications.
MA: I would just add that I think the real value is within the feeling of the team. And you talked about adding the longevity of a business or picking up the overall spirit of the place: The impact lasts for a long time. It lasts a very long time, so there's this euphoric sense of, Wow, somebody is paying attention to us. And your regulars, they feel it. Hey, it's confirmation that they love you, and this is the world saying, I chose this restaurant for a reason.
AB: Yes, I'm sure they have a sense of pride too.
MA: And I think in all of our restaurants, people feel a sense ownership. Of course we want them to come love the food and enjoy the dining experience, but I think there's a bigger sense of … people go to restaurants because they feel connected, and in some cases, it's a challenge from a chef's perspective to always accommodate and nurture that sense of ownership, but I think our restaurants do that very well. Our regular guests feel that. They feel connected to the restaurant. It makes them feel good.
So is there anything you feel like you did this year that singled out your restaurants, or landed you in this category?
MW: We opened two restaurants this year, back to back. We hired 278 people for two restaurants, post-recession. and whatever kind of win we get for a restaurant, there are 138 people that work at Marea, and I know that we've referred back to this, but I do want to say, there's been years that they've been working diligently even prior to opening. So it's a culmination of three years, really.
MA: I couldn't feel more proud of stepping into what may have been one of the most recognized brands in the restaurant industry, so it was the easiest and hardest job in the world. And whether it's this year or the last five years, it speaks to the energy we brought to the restaurant, to a place that was already lovable. We've attracted talented people who are growing within our kitchen. We've graduated great people from our kitchen to create other businesses in our company. It feels satisfying that we allowed our people to have the tools they need to shine, and at the same time, we walk away protecting or enhancing the brand of our company. So yeah, we feel really psyched.
MW: Everybody wants new, new, new, new, new, because that's what sells newspapers. And news has changed so dramatically. Somebody can go to [Michael's] restaurant or [April's] restaurant, take a photo on their phone, and all of a sudden, I just had the greatest blank blank blank at a restaurant and tweeted to 4,000 people, and all of a sudden, it's completely changed the landscape of what we do. It's no longer a blue-collar job. I still think about it that way, though.
MA: Sometimes we skim off the top to say that the new is bright, and exciting, and here is where a lot of attention and energy and focus is being placed. And what's amazing is that's one way for a restaurant-goer to go out and taste something exciting, or somebody who's looking to get that sensation of, Wow, here's a lot of ideas. Here's some hard work happening. But it's not the only way in our industry. I'd like to think it's not just simply the new, flashy, and exciting that creates value and interest in our business. We are celebrating craft, after all, and that's what you get when you eat in all of our restaurants. That's what attracts good young cooks. That's what attracts new restaurant-goers. You can call it a sense of — call it what you want: passion, work, craft — that exists in these restaurants, and I'd like to thing that that's why we're being recognized.
There has been some conversation about Torrisi Italian Specialties being among this year's nominees for Best New Restaurant, that perhaps they don't belong among some of the more fine-dining establishments that the Beard Awards typically recognize.
MW: I mean, listen, Mario and Rich do great food. They're doing something that, from what I can venture, has not be done, in the sense of using Italian-American ingredients that are made in America and making great food. It's something truly Italian-American. They have passion. It doesn't matter what kind of food you're doing. Listen, I got one star at Osteria Morini; they've got two stars.
AB: All food should be celebrated, whether it's casual or fine dining, I think. If it's great food, then you should honor that.
MA: If you ask anyone in the industry where they're interested in eating this year, a huge percentage would have named that restaurant. It's a cool concept, and they're approaching the business in a fun way, in a delicious way. I don't think there's any surprise there.
Is this also a better moment for fine dining than you've seen in the past?
AB: Oh yeah, I think it's definitely bouncing back. I think you'll start to see them puffing up more. There's enough room for everybody, for all sorts of cuisines and patents and ideas. It's all about working together, and making it fabulous and inviting, and hopefully people will get recognized for that hard work and passion, whether it's fine dining, casual, fried chicken, or sushi.
MA: It's value. It doesn't matter what the price point is if there's real value there. It's interesting, because while the economy is bouncing back, customers are more tuned in to value, so even if they're willing to spend a little more money, now we have to be on our game, because that value is recognized. They're not willing to let things go that don't seem like it's worth their time or money.
MW: And from October 2008 to now, people had a long time to understand, and react, and to run our business better and tighter and more efficient. This has been a great learning experience for all of us. Before, it was crazy. You could do anything. You could really charge anything you wanted to charge. The people you're looking at right now, we were all busy during the recession because we give value. And that's not being arrogant; that's adjusting to the atmosphere that we're in. Having secured a lease on a property in Columbus Circle on August 1st [2008], and the whole world came to a screechy holt September 1st, that's scary. Very scary. So you had to react to it, and not change the vision of the restaurant that you wanted to have, but do it in a way where you had to make certain decisions.
Where do you see the industry going? What's the restaurant that you guys are going to open next?
AB: I think casual is going to be at the forefront, because people do want to be comfortable, and I think they want to go to a place numerous times in a week. Their local restaurant within their neighborhood is the place to go. I probably only go to a fine-dining restaurant once a month. Not even that, actually. When I eat out, I go to noodle places, and places that I'm comfortable in and are quite cheap, not because I'm cheap, but usually because it's good food.
MW: You're a Brit, you're cheap.
AB: I'm a big old tight-ass.
And Michael, as you continue to evolve Gramercy Tavern, where are you looking?
MA: It's cool because we've seen people who've grown up in our kitchen go on to get to express their vision and run their own show. There's nothing more satisfying than that, to cheer on a colleague to support them, to see them take off and make their mark.
AB: It's nice to kind of see people bloom and blossom. You kind of keep them there and you nurture them and train them and teach them, you get them to believe in your ideas, and kind of create this monster. And it's also great to grow because you give them the opportunity to grow and take a step up, and them moving up allows for everybody else to move up and grow.
MA: And I think it's really hard to accomplish that. It's easy to think it and to want to do that, but as a chef, you're looking for people that you can collaborate with for a long time, and when you find these people that you really get along with and really feel like they understand you, and they can add to your story — and vice versa — you're reluctant to say, "All right, that's cool. Go ahead." We have a tendency in the business to want to protect those things, and in some cases even hoard them, because it's hard to find special people. But I think we probably all feel fortunate, even if that last few years have been tough, that we work in a time where there is opportunity. I don't think that's the norm for our industry, and that's one of the great things about living and working in New York. There's tons of opportunities to move up.
AB: I think that's the nice thing about being a cook: You never stop learning. You never stop being inspired, even by the simplest ingredient or the simplest bit of fruit or vegetable, whether it's a new producer or a … you just keep learning. You make a mistake, and you keep learning, and it's just fun. We have the best job in the whole world. It's not even a job.
MA: It just feels really sweet when you get it right. For every ten mistakes, when you get that one, you instantly forgotten about it.