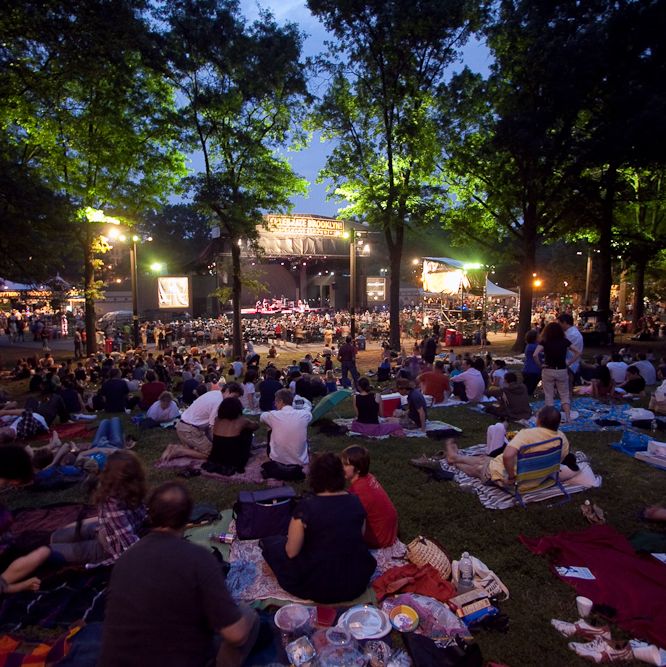 Photo: BRIC Arts|Media|Bklyn
Anyone racing to get to the Prospect Park Bandshell when Celebrate Brooklyn!'s season there kicks off on June 10 might not have to grab a sandwich en route this year: Grub Street has just learned that the Bandshell is overhauling concession options and that the Farm on Adderley will be doling out seasonal bites.
Chef Tom Kearney breaks down the forthcoming options for us thusly. There will be: (1) food on a stick, (2) food on a bun, (3) food in a cup, and (4) Vegetable fries. Though he's still toying with the final menu, "food on a stick" might be salt-and-pepper shrimp drizzled with lemon; "on a bun" could be a lamb slider with salsa verde and grilled onions; "in a cup" might be smoked pork shoulder on a bed of rice; and "vegetable fries" might be a handful of green-bean fries with a buttermilk dipping sauce. The price point? About $4 to 6 apiece.
Kearney tells us he'll also be collaborating with Ample Hills on dessert options. It remains to be seen how good the grub is, but to us it sounds better than clutching a cold sandwich from Pret for the train ride from the city to the park!
For information about the upcoming season itself, head over to the official site.