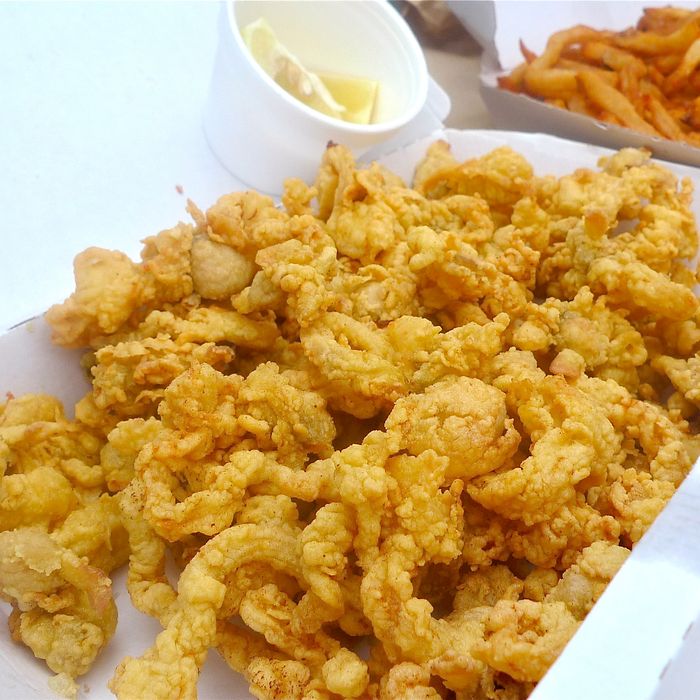 Come Sunday, these babies will be slathered in ramp tartar sauce.
Photo: Hugh Merwin
Red Hook isn't the only place to catch nomadic food vendors this weekend: Expect to see a passel of Red Sox hats at this Sunday's New Amsterdam Market: Food writer, erstwhile Grub Street contributor, and onetime clam-shack cook Hugh Merwin will be serving fried clam belly sandwiches.
Fried clam bellies — as opposed to strips — are "hard to find in the city, generally" e-mails Merwin, and are a grittier, more textured part of the clam.
Clams will be sourced from the Ipswich Shellfish Company in Massachusetts, and Merwin will employ the "New England system" of battering in evaporated milk, and breading in flour and stone-ground white corn from Rhode Island's Kenyon's Grist Mill (in production since 1696!).
He'll serve them on a potato roll with sliced lemon, dill pickles, and tartar sauce made with pickled ramps ("I had to go for it," Merwin says sheepishly), all for six clams apiece.
If you're not a belly person, there are plenty of other spring goodies to consume at this "May Day"–themed market (replete with a Maypole, yikes). Marlow & Sons will be grilling goats and rabbits in a nod to the Roman springtime "Floralia" tradition, and the Morris Grilled Cheese Truck will feature items like "face bacon and ramp butter" gouda grilled cheese, and maple, honey, and ricotta grilled cheese. Cheese, fried stuff, meats, and more: There's no need to leave the market feeling light on your feet, which is fine since it's the only one this month.