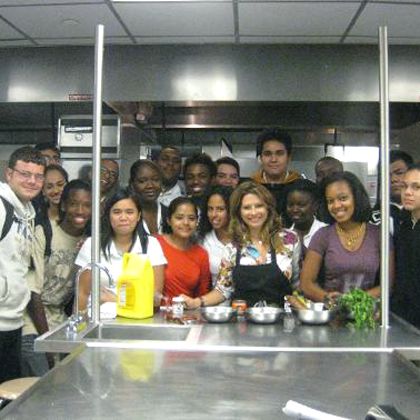 Food Network's Ingrid Hoffman with some of the students.
Yesterday, Grub Street had lunch at an unlikely Hell's Kitchen venue: a high school. Actually, the Food and Finance High School, where a group of mostly eleventh and twelfth graders cooked a seven-course lunch (others, wearing bow ties, served). One of the main courses highlighted the tilapia raised — no kidding — in tanks in the basement, as part of the school's aquaculture program. And we've got info on how you can experience a similar meal for yourself in swanky surroundings: On May 20, the school is holding a fund-raising dinner at Food Network's Chelsea Market studios.
The city's only culinary-focused high school is "not a well-heeled school; it's a city school," as Food Network senior vice-president Susan Stockton told us. Stockton is on the school's advisory board, and she's had a chance to work with a few of the students firsthand when they interned at the network. "They're younger than our normal interns, but I have been very impressed by how seriously they take the position," she said. We found ourselves impressed yesterday as well, biting into course after perfectly executed course: tender squid with salsa verde and fiery chile oil; sweet-and-sour tomato-watermelon gazpacho; sweet roasted acorn squash; and that fresh tilapia, which had been alive a few hours before, among the dishes.
Aquaculture is just one of the things students learn. Both that program and a hydroponics curriculum come out of a partnership with Cornell University Cooperative Extension. Cornell scientist Philson Warner presides over both the fish and the hydroponics "greenhouse," where a head of lettuce, grown without need for chemicals or pesticides, takes just three weeks to mature (our meal, naturally, incorporated many of the plants and herbs grown on site). All students study hydroponics and can choose to focus additionally on that, or do the aquaculture internship if desired.
Sade Aguila, a bright and charismatic senior (wearing Batali-esque orange Crocs), is enrolled in the hydroponics program and has also interned at the Food Network and at Dos Caminos. Aguila, who has been "cooking since [she] was little," recently won Monroe College's Cooking Competition, and with it a full scholarship to the school. Also in orange Crocs: Lazarus Lynch, a well-spoken, confident junior, who's doing a program at the school called EATWISE, a leadership group focused on nutrition. He'll take some of that knowledge to an internship at vegetarian restaurant Candle Café next year and will also intern at the Food Network in his senior year. So is he a Mario Batali fan, we inquired? "Yes, but I prefer his sous-chef, Anne Burrell," Smith immediately replied.
Despite the many opportunities the school provides for students, there's no money in the budget to cover the smaller things that kids from more well-to-do families tend to take for granted — that's where the Food Education Fund comes in. The dinner's proceeds will cover things like scholarship and college application fees, providing paid internships to those who couldn't intern otherwise, and funding other extracurricular activities. And since the dinner is happening at the Food Network, you can expect some of the channel's talent to be on hand, Stockton promised us. (So maybe Lynch will be able to meet Anne Burrell?) But take it from us: These kids can cook.
Tickets start at $200 and are available here.