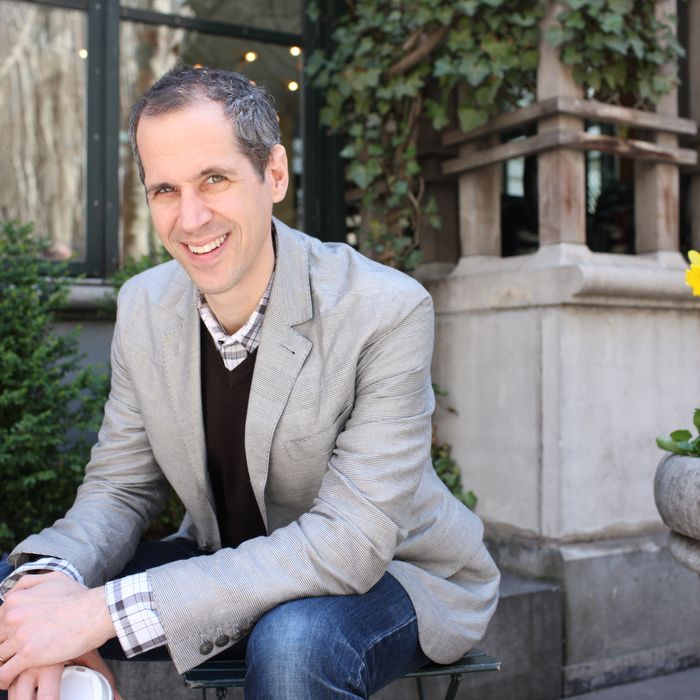 Blumberg, in Bryant Park.
Photo: Melissa Hom
Alex Blumberg, Peabody Award winner, producer for "This American Life," and contributor to NPR's "Planet Money," admits that, even though he makes his living covering the world's economic complexities, personal finance isn't necessarily his thing: "I do know the difference between a trillion and a billion, but I don't know the difference between a dollar and twenty dollars. It's always been that way." But it's not his fault — it's genetics! "There's some study that showed there are certain people for whom it's all emotional. I think they even call it the 'saving gene,'" he explains. "I get no good feeling from saving money." He does, however, get good feelings from high-end balsamic vinegar, great tacos — even his son's homemade baby food. Read all about it in this tax-day edition of the New York Diet.
Friday, April 8
For breakfast, I had a toasted English muffin; one half with just butter, one half with apricot jam. That's the way I eat it, because I like one part to be buttery and one part to be sweet. And I had a half a cup of coffee with whole milk that I made at home, but I had to run out the door, because I had to get on this flight back to Oberlin, my alma mater, to be on a panel. I got a small latte at Au Bon Pain at La Guardia. Not bad, actually.
Then I was at Oberlin for lunch, and we ate this place called the Feve, which wasn't there when I was there, but it was in the building where this old dive bar called the Tap House used to be. So, the Tap House was this crazy, just disgusting dive bar. Back when I was at Oberlin, it was a dry town, so they only served 3.2 beer. So the Tap House, I think it served two kinds of beer, and only in pitchers, basically. It was just disgusting, and now it's beautiful. I had a pulled-pork sandwich there on ciabatta with cole slaw. There was no pulled pork and no ciabatta at the old one. Then there was this place called Gibson's when I was there that I always used to get doughnuts at, so I went and got a cake doughnut — chocolate with chocolate frosting.
Then I had a beer, a Killian's Red, and then we did the panel. There's a bunch of journalists who went to Oberlin, actually, and they invited a bunch of us to come back. We had to rehearse and talk, so actually we didn't really get a chance to eat, because our panel went on at seven, so someone went out and brought back a pizza for us, so I had a slice of pizza up on the panel. It had black beans on it. Black-bean pizza! Pretty tasty, though.
I was starving after the panel, so we went out and I had a Manhattan back at the Feve — they also didn't have cocktails when I was there — and a BLT with a side of tater tots. I don't understand the new hipster obsession with tater tots. They're never as good in practice as they are in theory.
Saturday, April 9
We had to get up really early to get back, so I was in the Cleveland airport and I had a breakfast burrito at this place called Currito, which is, I guess, a chain. It had eggs, cheese, guacamole, I think fried potatoes, tomatoes.
I got in to Brooklyn around 10:30 a.m. I live in Fort Greene, and there's this place called the Choice Market, and they also serve coffee, so I got a coffee from there.
Then we had a group of friends over for lunch, and we just put out a little cheese plate. There's this place called Provisions market in my neighborhood, and they have, I think, a fantastic cheese counter. There's this one kind of cheese, which is really good, called Evalon, and then there's another one called Dumbarton blue. I don't usually like blue cheese, but this one's delicious. And then we had some prosciutto and olives, and a baguette.
I had a couple of bites of my son Calvin's baby food while I was feeding him. We generally make his food — and by we, I mean my wife, Nazanin, I guess. We want to try to see if we can raise a child who won't be super, super picky, and will just kind of eat what we eat, so that you don't have to make a whole separate meal for him. He's too young for a lot of salt, and there are some things he can't eat yet, so it's blander than we would eat, but still good. This was butternut squash and white beans, stewed basically. And a slice of papaya.
For our own dinner, we just had a big salad, with lettuce, carrots, tomato, cucumber, potato, bacon, olives, and cannellini beans, dressed with olive oil and pretty fancy balsamic vinegar. I usually like to put fresh herbs like mint or dill, but we didn't have any. I made myself a Manhattan, with Old Overholt rye and Fee Brothers cherry bitters.
When I first got to New York and started hanging out in bars where it wasn't appropriate to order a pint of Leinenkugel like in Chicago, ordering at the bar was always so stressful. I usually wound up ordering a gin and tonic because it was the first thing to come to mind, even though I don't like gin and tonics. So I made a conscious decision to come up with a drink order, which is the same thing as saying I made a conscious decision to come up with an affectation. My affectation was Manhattans. But over the years, it became a real thing. Now when I order one, I specify which bourbon I want. If they don't have any of the bourbons I like, I'll switch to beer. I'm a dick about Manhattans.
I also had a couple bites from the fancy chocolate bar my wife bought: Askinosie, where they have a picture of the Filipino farmer who grew the cacao on the wrapper. I feel like fancy balsamic vinegar is totally worth it; I'm not so sure about fancy chocolate.
Sunday, April 10
I had Baked granola with apples and two pieces of toast, one with butter, one with apricot jam, and coffee. We brew Yirgachaffe coffee from Fresh Direct in a Chemex, big cone drip filter. And an orange.
We were running around all day, taking Calvin to a doctor's appointment, so we just stopped and got two Vietnamese sandwiches from Nicky's for lunch. They're like, the best Vietnamese sandwiches. And they're like, $4.50, I think. Oh, my wife tells me they're $7. See! I don't know the value of a dollar.
I wasn't really super hungry, but there's this place called Roman's right around the corner, and a couple months ago they started serving brunch on the weekends. They make these delicious, delicious sugared doughnuts; they're like beignets, and you can get them to go. I went there and got a doughnut. Well, two doughnuts actually. Two to an order. I ate them all.
At dinner, we were just exhausted, so we made sandwiches for ourselves. Basically we just recycled the cheese plate. We put prosciutto, cheese, cabbage, tomato, and mint on the sandwiches, with olive oil and vinegar. The mint thing is because that's what they put on the Vietnamese sandwiches, and I never would have thought about it, but it's such a great addition to a sandwich … My wife is saying that they don't put mint on Vietnamese sandwiches. It's cilantro. Anyway, I got the idea from somewhere.
I had a Leffe beer, and we also had chips and avocado dip. My wife made it all. And a chocolate-covered graham cracker for dessert.
Monday, April 11
Breakfast was granola, apples, milk, toast, and coffee. That's pretty much my standard breakfast.
For lunch at work, I went to this place across from my office, Zeytinz. It's one of those midtown places where they have a sandwich line and a salad line and the whole deal. In the back they have this bibimbap bar, and it's $7.95 for this huge bowl, and you can fill it up with as much stuff as you want. My colleague Dave Kestenbaum, who has the saving gene, is like, It's not $7.95 a pound; it's $7.95 for as much as you can eat. So what I do is, I fill it up as high as it will go, and then I just eat it for two days. So I started doing that, too. I also had a poppy-seed muffin. I have a muffin problem.
The day before, I started slow-roasting pork for tacos al pastor. You make this chipotle-and-pineapple-juice marinade, and then you slow roast this pork butt, and it's really delicious. I've tried it a couple times, and this one was actually the first time that it really worked the way it was supposed to work. It was very melty. So we had that with these corn tortillas. $1.29 for a pack of like, 40. And they're delicious. And we had that with cotija cheese, Mexican crumbly cheese, and sliced cabbage, tomato, and avocado. And another Leffe, and two chocolate-covered graham crackers.
Tuesday, April 12
Had the usual: coffee, granola and apples, and an English muffin, half with butter, half with jam. Worked for two hours until Calvin got up, and then I had the rest of yesterday's bibimbap for lunch. Actually, I didn't even finish it. It's a great deal.
One of the "Planet Money" interns is Icelandic, and he and Dave Kestenbaum had just gotten back from Iceland, where there's this really interesting financial story happening. They came back with this Icelandic licorice candy that was great, so I had some of that.
For dinner, we had baghali ghatogh. My wife is Iranian, and it's this Iranian dish. There's a sound in Farsi that's sort of like a "ghuh" sound, and I can't say it. It's a letter, but it sounds like "ghuh," and this dish has that letter three times. It's one of my favorite dishes, so any time I ask for it I have to butcher the name. You chop up all this dill, like four or five bunches of dill, and then you sort of sauté it with beans and onions and garlic. Like, a whole head of garlic. And then you add water, I think, and you put it in the oven, and you put three whole eggs in the water, so that when the water heats up it cooks down and the eggs get puffed up. And we each had a Manhattan.
And I think we had a chocolate-covered graham cracker. That's our go-to dessert. They feel very substantial, but they're sort of small and not very filling. They're so delicious. There's this brand called Nunu, and they're these dark-chocolate-covered graham crackers with salt on them, and they're just so good.
Wednesday, April 13
Granola, English muffin, coffee. Then I had left over tacos al pastor at work for lunch.
It was almost one of those nights where neither of us could get anything together and can't figure out what we want to order. We have resorted to eating dry granola for dinner, but that didn't happen. We had English-muffin sandwiches with smoked salmon, cucumber, tomato, and onion. Oh, and some leftover baghali ghatogh. Pretty lame.