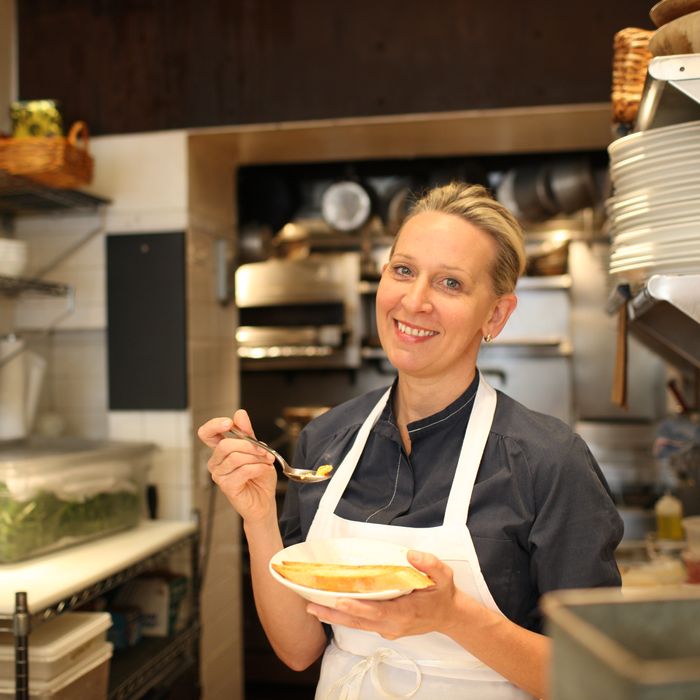 Hamilton, at Prune.
Photo: Melissa Hom
Gabrielle Hamilton, the executive chef and owner of New York's forever-crowded Prune, tells us that hitting the book-tour trail (something most authors dread) for her new memoir Blood, Bones, and Butter was actually a relief: "My benchmark is having worked the brunch shift at 39 weeks pregnant," she says. "And so my joke to myself — for anyone who will listen — is, 'It's not as hard as that!'" Tellingly, the tour must have worked: Just a little over week after the book's March 1 release, it made its New York Times best-seller list debut at No. 2 and is still hanging out in the top ten. Hamilton says that living the life of a best-selling author has been an adventure ("It's vaguely taxing and it's stretching a different set of muscles"), but she says it's also come with another unexpected perk this week: "I've eaten every meal with utensils, sitting down; that's not my normal, so that's civilized." To read all about that civility, read on in this week's New York Diet.
Friday, March 25
Started the day at home. Gorilla coffee, filter drip, with half and half, and leftover cold poached eggs and cold buttered toast crusts left behind by my kids.
Later I had half of a pulled-pork sandwich on a bad, overly sweet roll and some underseasoned, unthoughtful salad put up for family meal at Prune.
There was an impulse buy as I was flying to pick up my kids from school — Chinatown duck, taken off the hook in the window. I went in and got whatever amount of money I had in my wallet at the time. I think I had like five bucks, and said, "Can I please have five bucks' worth of that duck?" And I ate that at dinner.
The rest of dinner was pasta al burro e parmigiano [pasta with butter and parmesan] eaten from the bottom of the pot after feeding it to my kids for dinner. These are the most embarrassing chef's kids you've ever encountered. They're 4 and 6, almost 5 and 7. They eat nothing. The only good thing about it is that the pasta is good, the butter is good, and so is the quality of the Parmesan. But I'm ready to kill myself from eating this meal every night for dinner — I tried to get them to at least try a whole bunch of steamed asparagus with butter and lemon. But they left it there, so I ate it while doing the dishes.
To drink, I had a double negroni — mama's nerve tonic! It's so digestive because of the Campari, the bitter … it's a perfect combination, bitter and sweet. My boys come running into the house, they're naked in the first five minutes. They're rambunctious boys. They're tearing apart the Victoria's Secret catalogue; they are playing computer games. I get them to wash their hands, and then I set the table, if you could even call it that. It's like the kitchen counter. I put the food there, the ice water there, and I'm drinking a negroni through all of that. It makes mama fun and easy to be with. It's not a nightcap; it's a prophylactic.
Saturday, March 26
Had Gimme! coffee, filter drip, with half and half, at home. Is this the time to talk about coffee? No more Stumptown after they charged me $17.50 for thirteen ounces of whole bean. When I asked why it was so much more than equally delicious Gorilla or Gimme! beans, the guy said, "Well, we really pay attention to quality." Ouch. I'm so glad to be in the coffee heaven we are in in NYC right now, where you can now get coffee that tastes of the bean and not just the roast, but on my Gimme! bag it actually says, among other things: "Aroma: hot chocolate cake, Italian leather; Body: buttery with chrome-velvet texture," which just makes me groan and wince.
Breakfast was cold Parmesan omelette and cold toast crusts leftover from the kids' breakfast. I wanted the bacon, but they ate it all. Also had a few bites of cold apple-and-cinnamon-flavor instant oatmeal, and a double Emergen-C. Something was brewing and I cannot get sick. Cannot.
Later I had some French ham, butter, and Dijon on Bread Alone toast.
Dinner at Kin Shop: squid ink broth with hot sesame oil — so delicious and helped burn out the cold that is trying to nest in my chest — grilled quail with yellow curry, and two Manhattans. We shared a dish of "aquatic vegetables" for the table, which we decided should be a question on the SATs: Name four aquatic vegetables. At one point, Anne Burrell walked in, surveyed the room while chewing gum vigorously, then left.
Sunday, March 27
Gimme! Coffee, filter drip, with half and half.
That day I traveled to Chicago for my book tour. I had a cup of chicken-noodle soup and a slice of pizza at the airport. Have you ever been in the Maritime Terminal at La Guardia? It was my first time. Cool and old, and a little sad and tarnished at the same time.
Had some Emergen-C and mini-bar potato chips before heading out to my book event at Publican.
There, I had bourbon. Bourbon's my, when I feel a cold coming on, burn-it-off drink. Also: radishes with goat butter and extra-virgin olive oil, cured meats and pork pie, a delicious little bruschetta of grilled mackerel with pureed fresh chickpeas and orange, a crunchy and perfectly dressed and seasoned salad of little gem lettuce with shaved radishes and fennel and a salty farmer's cheese they make themselves at the Publican, and gorgeous spit-roasted baby lambs. Also some cold asparagus vinaigrette, ramps with harissa and guanciale, and a bite or two of rhubarb bread pudding.
I cracked up to see Paul Kahan outside with bloodshot eyes, reeking of the firepit smoke, and joking that he'd already singed off his eyebrow and lashes on the left side!
And an after-event drink at their taco place, Big Star — one last bourbon.
Monday, March 28
Room-service coffee with half and half.
After some local TV taping, I went to Argyle Street for Vietnamese: Got a huge bowl of very decent pho with all of the tendon and cartilage and tripe and beef balls. This was the definitive moment when I beat back the cold. At first I was worried that I wouldn't pick the best place around there, or that I would miss the coolest place, but since I didn't have any recommendations I just sussed it out on my own and went into the place that looked most intriguing to me. I like to sometimes eat in a town without any expert's "guidance," to decide and discover for myself.
Dinner at the Bristol with Paul Kahan, Donnie Madia, and some friends. We had their housemade charcuterie, a rib-eye steak with red-wine butter, and shrimp with anchovy butter. Ha! An item from Prune's opening menu! We shared a still-warm excellent Basque cake. Excellent wines throughout dinner. I have to ask Donnie what they were; he ordered.
Tuesday, March 29
Room-service coffee with half and half, then back to NYC.
At the airport it was a breakfast burrito — scrambled egg and chorizo. The griddle gal was perfect — surly but efficient. She sprayed the griddle with some crap out of an aerosol can, ladled out a swath of beaten "egg product," which blistered up on contact, then she spatula'd that crap right up into the tortilla and sent it down the assembly line. The girl in plastic gloves added cheese and salsa, and they charged me $4.95.
Back home, and more pasta al burro e parmigiano. That night it was orecchiete, Marco's favorite shape. We also had swordfish with butter-lemon sauce, which Leone miraculously ate with gusto! I had Marco's uneaten portion. On the side were cooked carrots with butter and salt and lemon, but the kids didn't go for it, so I ate them. A few bites of cambozola blue cheese, too.
And a Negroni cocktail. If there are children, there is nerve tonic.
Wednesday, March 30
Gimme! coffee, filter drip, with half and half.
Then I had cold omelette left over from morning family meal at Prune. And leftover cold toast that I dressed up with a schmear of Valdeon blue cheese.
Later it was half a sweet-Italian-sausage sandwich and some nicely dressed, well-seasoned salad leftover from our midday family meal.
Dinner was a kiddie meal. I made a pork chop and roasted cauliflower. I asked them both to take a bite, and they made a mockery. They ate one bite. So there was buttered pasta with Parmesan: penne. Even though it's not very interesting for me to eat the pasta, if I'm cooking it and they're eating it, that's a happy exchange.