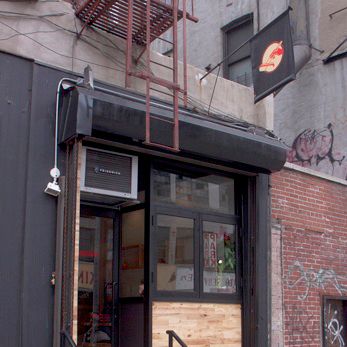 Photo: Courtesy of Asiadog
The good folks over at Asiadog soft-opened their Nolita store today. In addition to their usual Brooklyn Flea menu, they're serving up sides previously reserved for catered events — Korean yam fries with spicy ketchup, wasabi potato salad, and a green salad with sesame-tangerine dressing. Starting Monday (the store's grand opening), there'll be rotating specials that have made past appearances at the Flea, such as the barbecue bulgogi burger, ginger-pork sandwich, kimchee-pancake corn dog, plus other unique corn dogs and new sandwiches using bread from Mazzola Bakery.
Hours will be from noon till 10 p.m. for now, and next week they'll expand to 11 a.m. till 11 p.m. Monday through Wednesday, till midnight Thursday through Saturday, and from noon till 11 p.m. on Sunday. A beer and wine license is still pending, but given that the tiny store's only seating is an L-shaped bench that fits eight, we're thinking this'll be mostly a take-out operation anyway. Here's what to eat.
Asiadog Menu [PDF]
Asiadog, 66 Kenmare St., nr. Mott St.; 212-226-8861