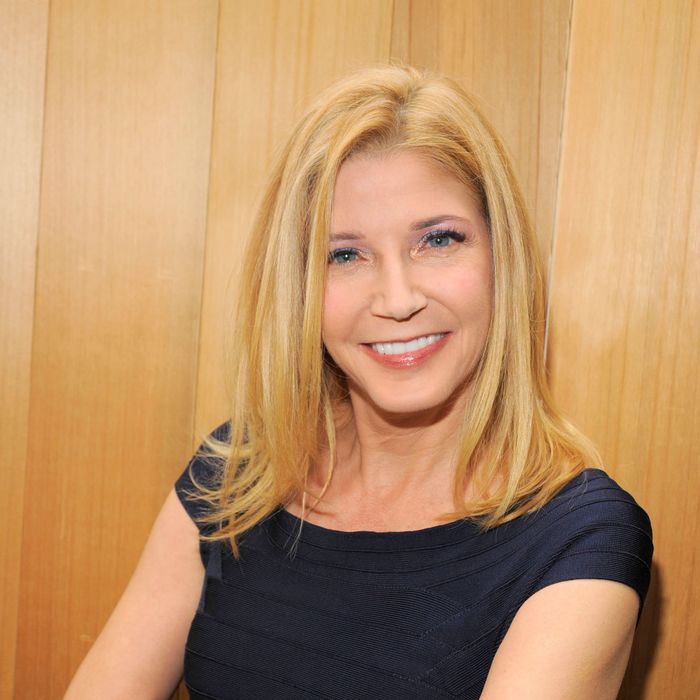 Bushnell, at a release party for her new book.
Photo: Leandro Justen/PatrickMcMullan.com
Naturally, when we spoke with Sex and the City author Candace Bushnell, she was on her way out the door to a fabulous event. The occasion? A party celebrating the release of her new book, Summer and the City. "It came out today. It's all over the place," she gushed, sounding like she was in the process of strapping on a Manolo. But Bushnell also tells us that a new book means a new book tour, and a book tour means no time for food. "It's like, once I start doing the book tour, I know that I am not going to have regular hours to eat," she explains. To compensate, she says, "This is a time when you just need to eat to keep going." For Bushnell, that means lots of steak and oysters. But no Cosmos — she's a Bloody Mary girl now. For more tales of eating on the go, read on in this week's New York Diet.
Friday, April 22
Even as a kid, I never liked breakfast. I just don't like to eat then. I like to get up and work. I think sticking a whole bunch of carbohydrates in your stomach in the morning is probably the worst way to begin the day. A lot of the time I'll eat a banana or a yogurt, or maybe a soft-boiled egg. But my work time is from six or seven or eight in the morning until two or three, so I usually don't eat until I finish working. And then I eat like a pig.

I had another day of running around and doing phone interviews for Summer and the City. We finished at three, so my girlfriend and I went to Knickerbocker. I ate half a dozen clams and oysters, drank a bloody Mary, ate a cheeseburger with blue cheese and bacon, and salad instead of French fries. The bacon is thick and perfectly crisp. We split a bottle of wine.
Then I went home and watched TV, and ate a quarter cup of sunflower seeds and drank two bottles of water. Finished Joyce Carol Oates's A Widow's Story and went to bed.

Saturday, April 23
For lunch, I had a smoked-salmon bagel and cream cheese, probably from Bagel Bob's, which is next door. I happened to skittle by the farmers' market at Union Square and was overwhelmed by choices of delicious ingredients. I willed myself not to cave in by buying gorgeous roses, tulips, and paperwhite narcissus instead. But then I passed a cheese place. I bought Colby cheese and a tub of fresh, sweet cream Amish butter, which calls out for the further purchase of "freshly baked" bread. Then I passed the pork place. I'm crazy about pork and always want to make a pork rib roast, but you need at least six people to eat it and my husband never wants it. So I got Italian sausages instead. I got home only to find that the puppy, Pepper, had chewed up the Al Styron book.
Then Charles came home and cooked. He cooked sautéed chicken breast, and I think we had potatoes and salad. We both cook. We decide if we're going to stay in or go out, and if we decide to stay in, it usually ends up falling on the shoulders of the person who's less tired. Sometimes I'll call him up, and I'll say, "Oh, I'm going to make this for dinner. What do you think?" And then sometimes he'll call up and say he wants this, this, and that. He's a principal dancer with the New York City ballet, so he can always be counted on for something healthy. It's not that he's on a restricted calorie diet, but he's not going to eat French fries. When I was a kid, I used to make homemade candy. I could make, like, Bavarian cream cake. Every once in a while, but nobody wants to eat all that cake.

Sunday, April 24
We went to the McInerneys' for Easter Sunday lunch and had leg of lamb, my favorite. Jay Mac is a really good cook, although he did try to broil pine nuts once and they exploded and set fire to his kitchen. Note to would-be chefs: Nuts can be dangerous!

Charles had gotten up at 8 a.m. to make roasted vegetables. I was trying to sleep, but all I could hear was him chopping carrots, turnips, and fennel. Those are three vegetables I hate, but I pretended to like them for the sake of the Easter Bunny. I made roasted potatoes with garlic and rosemary. I do not skimp on the olive oil or garlic. We ate all those vegetables, and white asparagus, green beans, and then for dessert, we had three different kinds of cake. That's a holiday.
And then I think we came home, and I probably ate some prosciutto, and cheese and crackers, nuts, what else … anything I can find. I'm actually half Italian, so for me, those are things that I pretty much always have. But it's probably not good. Also, earlier, I'd made Easter baskets with the cheapest candy from the CVS. Later that evening, I ate as much of this candy as possible — marshmallow Peeps, jelly beans, and Whitman Maple Eggs. I felt rather less than stellar afterwards.
Monday, April 25
The McInerneys threw a party for Summer and the City at their fabulous downtown penthouse apartment. I was running around all day and ate four cheese and crackers, figuring I would eat at the party. Luckily, there were wonderful tiny deviled eggs, so I consumed about twenty for protein, and strips of candied bacon soaked in maple syrup, which I devoured just for the bacon-ness of it all.
I had maybe two glasses of white wine. If it's available, I'll have a glass of Champagne. Maybe vodka and something, or a Bloody Mary. I'll have a couple of drinks and then I'll stop and drink water, which I know is boring. But you know what? If you don't go to clubs, you don't need to drink until four in the morning!

Tuesday, April 26
Sure enough, there was really no time for food. I got up at 5 a.m. and did 27 satellite-TV interviews for Summer and the City. It's a pretty common thing. If you were an actor and you were promoting a project — a movie or a TV series — you'd go into the studio and then you just sit in a room, and basically talk into a TelePrompTer, and people ask you questions. I got a tiny break and had half a bagel with cream cheese.
I finally finished at one, so I got changed, took off my makeup, and rushed over to the Knickerbocker Restaurant across the street. I ate half a dozen oysters, a steak, and salad. Also, two Bloody Marys, then a 45-minute rest. I think I'm going to eat that every day.
In the evening, I headed out to a Barnes & Noble on Long Island for a reading/signing, which meant I was working from 5 to 9 p.m. and therefore had no time for a proper dinner. I got home at nine o'clock, and I had to go to bed at ten! So I ate a handful of dried fruit and nut mix, and went to sleep.

Wednesday, April 27
I was up at 5 a.m. to do the Today show followed by two more interviews. Today is great, though. It's so much fun to do it. I probably didn't have to get up that early, but I did. All of these places usually have bagels and cream cheese, and some fruit. But it depends on — some people like to eat before they go on, and some people can't eat. If you have to be on, you just don't want to have a lot of carbohydrates in your system. It slows you down, you'll crash. It depends on the person. For me, I've been doing this so long, so I know my body pretty well. I would never recommend that anybody eat the way that I do, but it works for me.
Returned home at noon, walked dog, had my hair blown dry, then headed over to the Knickerbocker again for oysters, steak, salad, and the requisite two Bloody Marys.
That night I went to an event for Gilt Groupe and Summer and the City. They're really nice. They kindly offered to do this event, and we said yes. So I had to dress up! Sometimes, after these events, a slice of pepperoni pizza —' that's go-to for me. I might get home and I might think, Oh, I've got to have a slice of pizza.