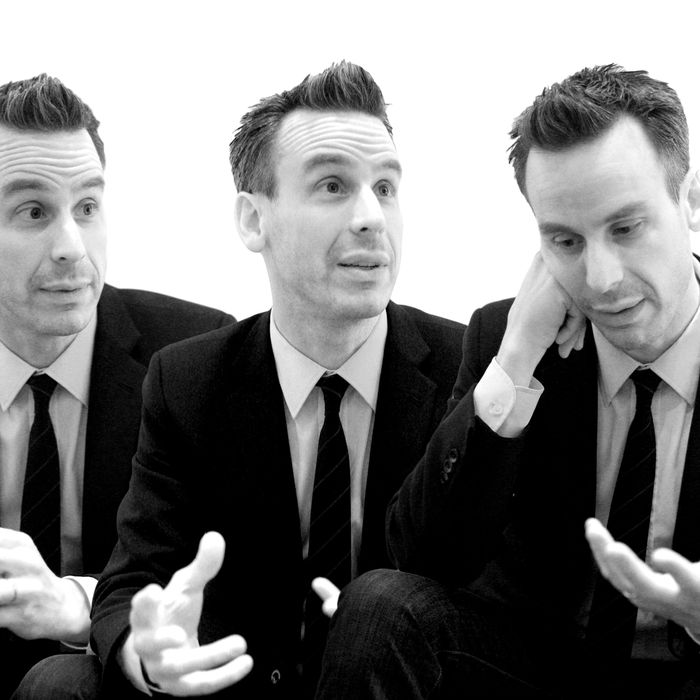 "It's going to be an evolution, and each month you'll see incremental changes."
Photo: Melissa Hom
When it was announced that Adam Rapoport, then the style editor at GQ, would be taking over as editor-in-chief of Bon Appétit, there was a certain amount of intrigue surrounding his appointment. Of course, a few months earlier, publisher Condé Nast announced it would be moving the magazine's editorial operations from Los Angeles to New York, and that Barbara Fairchild — who had been the magazine's top editor for a decade (and had been at the magazine for more than 30 years) — would be stepping down. (Fairchild is now writing for the mobile app magazine Real Eats.) And let us not forget that Condé also shuttered its other food title, Gourmet, a year earlier, making the timing of a complete Bon App overhaul even more interesting. Well, the first full new issue hits newsstands today (Rapoport worked on the previous few issues, but this is the first to officially bear his name as editor-in-chief), the website just relaunched, and there's a big, fancy party at Minetta Tavern tonight. We sat down with Rapoport in his office, and while he was coy about those Gwyneth Paltrow cover rumors, he did open up about the magazine's new look, Aziz Ansari's passion for food, and the way Epicurious keeps co-opting Bon App's recipes for its own site.
The new issue is not quite as different as I expected it to be. I think it's fair to say that the magazine had sort of lost its editorial compass previously, but this doesn't really feel like a complete relaunch. What did you want to keep, what did you want to get rid of?
I think that was the big question — to change it, to reinvigorate it, to sort of recharge it, but to not completely reinvent it. Because we do have a million and a half readers, the goal is, "Let's keep those readers," obviously, and how do we attract new readers?
One of the things I did want to do is keep all the signposts. Keep the "RSVP" section at the beginning, which is popular, where people write in for recipes; keep "Starters" as a section; keep "Fast Easy Fresh". But then if you look at "Fast Easy Fresh," the look is completely different, going into full-bleed, full-page photos.
People always say that a magazine "looks great" before they say it "reads great." So I think you do need to change the photography of a magazine to send a message. And I think one thing we're doing out of the gate is trying to have beautiful photography, but also real, so that it's not shot in some photo studio in outer space. You've got the dish towel, you've got the baking tray. If you look at that Italian desserts story, "Dolce & Italiana," there are beautiful cookies, but they're shot on parchment paper with crumbs. So this notion you can have beautiful graphic photography that's also still real.
It seems simplified, too. More streamlined.
Yeah, I think so. That was one element we wanted to do in terms of looks. I think the photography had gotten away from that. It was a little bit too in-studio looking all the time.
I wanted to make the photography more relatable, but I also wanted to make the edit more relatable. If you look, for instance, at "Fast Easy Fresh," the test kitchen is kind of the engine that drives this machine. The readers should feel like they know the test-kitchen editors. They know Hunter Lewis, who runs the test kitchen, they know Janet McCracken, who came from the old Bon App and moved back east. So I wanted them to have a voice in this section, and these people should be recurring personalities.
[The magazine] always had a lot of great recipes, and the recipes were something people always loved — that I used, my mom used, my sister used, good friends of mine used. But there wasn't a lot of story behind the recipes, there wasn't a lot of explanation, there wasn't a lot of insight. So let's give a bit more background about why these dishes work so well, and what you need to know about them.
Was that the thinking behind adding bylines to all the text, too? That it's not necessarily a magazine talking to the readers, but a person talking?
Well, yeah, it's both. It needs to be more personal. You should know who the editors are, and you should feel like you have a relationship with them as a reader, and you should want to come back to hear what they have to say next month.
The test kitchen is so knowledgeable about food, and they've got so much passion and opinion and insight into cooking. So let's get that into the magazine. It's crazy not to tap into that.
If you look at the first page, it's the "BA Arsenal," and the notion is that these are dishes that we ourselves, as a staff, love to cook, and that we rely on — whether it's a dessert or a drink, a technique, a tool, a kitchen tool. So each month it'll be written by one of us. And these are not necessarily complex things, but they're things that we swear by. And for our "Italy" issue, we're going with affogato as our first "Arsenal" weapon.
If you don't have the issue around a month from now or six months from now, you're still going to understand the technique involved in how to make a certain dish. And that's so crucial.
In an editorial direction, how are you hoping to differentiate yourself from the competitors? There's Saveur, there's Food Network Magazine, there's Food & Wine — what is it you want readers to see and think, This is Bon Appétit?
This sounds a bit like a cop-out, but I think it's up to the reader to decide what differentiates us. In terms of what we're trying to do, I think you get in trouble if your editorial mission is dictated by what other magazines are, or are not, doing. What we're writing about and covering, it's stuff that we as a staff are passionate about, that we're opinionated about, that we really care about. And then also in terms of the look of the magazine, it's gotta be something that makes us excited, that we think is beautiful, that we have fun laying out each month.
Do you think there's reader ennui when, say, in June, they're at the checkout lane and there are four burger covers on the stands? And every Thanksgiving there are a bunch of turkeys?
I agree, it's very true. I think one thing we're trying to do is that the magazine's gotta feel timely. I was saying this to the guys on the corporate floor here, the May 2011 issue can't feel like the May 2009 issue. Like, "It's spring, all right! Here's your asparagus story, your strawberry story."
You still do need those stories, because people still want to cook seasonally and they still need to make Thanksgiving dinner in November, but for instance also having in this current issue the exclusive on David Chang's new app, getting Aziz Ansari on the back page … getting the Missonis in there, having Gabrielle Hamilton's exclusive essay in the magazine, which I'm so proud of and so excited to get in there. It's very "right now."
You're also relaunching the website. How's that going to work in with the overall theme of the magazine?
[Laughing.] I'll know better once it's launched. Two things: Just like the magazine needs more voice, the website really needs more voice. And I do think that whether it's on Twitter, Facebook, the website, it doesn't need to be exactly the same as the magazine. I think it needs to be a sibling to the magazine that, while related, it'll be perhaps a little bit younger, a little bit looser. You have to keep in mind who's reading the website, who's reading your Twitter feed. And I imagine that person is probably a different demographic than the person who's subscribing to Bon App.
Well, who is reading the website? What's the thing that's going to keep them coming back?
My feeling was that it needs to have more of a pulse, more of a heartbeat. It's gotta be a living, breathing thing. That main feed, the blog, needs to be more vital, and it needs to be more tapped in to what's going on with the editors, in terms of what we're loving and hating and eating and drinking right now, and what's going on in the food world. And it should be the kind of site that you come back to daily, not just once a month for your Christmas cooking recipe or your potato latkes … But the blog itself, that needs to be something that if you're at your desk at 11:30 a.m. and you're bored out of your mind, [you think] Yeah, I want to go to bonappetit.com and see what's going on in the food world.
You've got so many smart, passionate, talented editors on this staff, and what's going on in their minds and bellies needs to be on the website.
Are the Bon Appétit recipes still going to go up on Epicurious as well?
Yes. That's an ongoing issue we're trying to get a handle on. For right now, you can get 'em everywhere.
And you still need to have an "editorial reason" to be putting the recipes on your site.
Exactly. If you can figure that one out, you get a job at Condé Nast.
Are you thinking about the new Gilt food site that's in the works? It sounds like it will be editorial integrated with a shopping component.
Yeah, and that's an interesting question. A good friend from GQ went over there at the Gilt Man website, and a lot of those guys, the fashion world, I think they do a great job. It's going to be interesting to see. It's kind of hard to speculate about something before I've seen it.
Can you see Bon App doing that at all, trying to integrate a shopping element into the site?
I think that's the million-dollar question that's been floating out there for a while at Vogue and everything, all the style websites. I think it's a completely logical question, and it seems like we might be heading in that direction, but that's not really my decision to make … Yeah, good question, but I don't have a good answer for you.
What about future branding? Television, books…
It's interesting, we're constantly reminded of how we're not just a magazine, we're a brand. And we've got the magazine, we've got the website relaunching, the monthly app will come out later this fall, we have a big deal with Home Shopping Network to launch a whole line of products. We've already got the Bon App dessert book, and now we're going to have the Bon App grilling book by the same publisher in a couple years' time, like 600 or 700 pages. TV is also one of those things we're working hard on in development phase … I personally love doing TV, and it seems like something you've got to be doing.
Are there cautionary tales from Gourmet, because they might not necessarily have had a lot of mobility on that front?
That's a good question. They did [Diary of a Foodie]. I liked that show, it was a very PBS-style show. It's very different from a Bravo show or a Sundance sort of show, so it kind of depends on what you're going for with the TV shows. Is it mass exposure, is it reflecting the brand, is it to make money, is it just to get the name out there? I think, ultimately, I would want any sort of TV project to be in step with what we're trying to do with the magazine.
Do you see the magazine becoming more celebrity- and personality-driven than it is now?
That's an important thing. If you look in this issue, like at Aziz on the back page or the Missonis … If you read the whole Aziz interview online, it's amazing how much that guy knows, how obsessive he is about restaurants and cooking. And the fact that Missonis are, yes, a big fashion family, but they're still a family. They're very Italian — they still eat lunch together every weekend.
I didn't want to do a story where it's just, "Let's just throw in some cool design, or throw them into some cool loft in Soho, or having a party." That doesn't work. If you're forcing it, if it's just a photo shoot, then that doesn't pass the litmus test. They have to be people who know what they're doing, who care about food, and who fit into the magazine more organically than just a photo-op.
I'm a firm believer that food is about more than just food. And that's a really important element that needs to be conveyed in this magazine. When you go out to dinner, yes, you want good food, but you also want the friends you want to spend three hours with, you want the restaurant that's got the great buzz and energy, that's got the good music playing. It's about all those things. All those elements need to be in the pages of the magazine.
It's kind of a funny situation, going back to what you first asked: If you change a magazine too much, you risk pissing off a lot of your readers. If you don't change it enough, you don't give the press enough to write about. But I will just say that it's going to be an evolution, and each month you'll see incremental changes, and you'll see a freshness, and you'll see some newness.