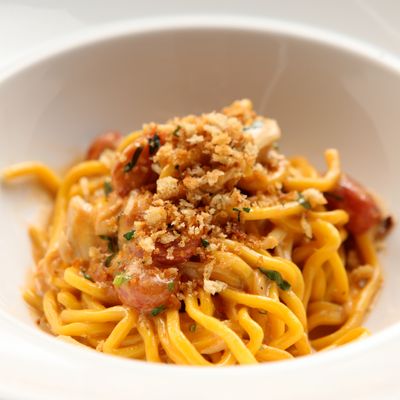 To say that pasta is experiencing a renaissance in America is, of course, an enormous understatement. A plate of spaghetti and meatballs has been an all-American (via Italy, via China) staple for as long as anyone can remember. But in the last few years, a handful of chefs — inspired, at least in part, by Mario Batali's continual march across every TV channel in the land, singing the praises of all things rustic and Italianate — have taken the basic tenets of a plate of pasta (noodles and sauce) and transformed them into the country's great refined comfort food. Yeah, we said it. Sorry, pizza and burgers: Even at your highest-end, you can't compare to the noodles being served at restaurants like Spiaggia, Marea, and Osteria Mozza.
And we couldn't be happier about it. From a chef's point of view, plain pasta is a (cheaply made) blank canvas, onto which he or she can put any combination of ingredients. For diners, a bowl of pasta can be a soulful, sensual meal, both comforting and revelatory in equal measure. That's why we scoured the country — the whole country — and tracked down the 101 best bowls out there.

To assemble the list, we put our Grub Street editors around the country on the case. Then, we reached out to chefs, critics, and food lovers whom we knew around the country — from Ruth Reichl telling us about an amazing "tangle of flavors" served in Manhattan to a restaurant critic in Nebraska praising an outrageous off-menu pasta dish in the tiny town of Firth. (Michael Ruhlman, Eric Ripert, Ludo Lefebvre and Emeril are also on our all-star panel.) We didn't want to limit ourselves only to high-end, truffle-topped luxury noodles, either. This, we decided, would be a list where outstanding penne alla vodka could sit side-by-side with truffled tajarin; simple spaghetti pomodoro would be next to pork-cheek-stuffed ravioli.
Then we narrowed our choices down to dishes that we think are the best of the best: those that signify a chef's true love of the medium. (Or, in the case of something like Tex-Mex Pasta, something so awesomely humble that we had no choice but to include it.) Yet, there was just no way that we could comfortably say any of these were necessarily "better" than any others — so you won't find a No. 1 Best Pasta in the Country on this list. What you'll find instead are 101 dishes that we can honestly say represent the best of everything we see going on in American pasta — and to a larger extent, American food — right now. The list is organized into regions: New York; Boston, Philadelphia, and the Northeast; Chicago and the Midwest; the South; Los Angeles and the Southwest; and San Francisco and the Northwest.
In truth, this list easily could have been 201 pastas, or even 1,001, which means we know we missed some dishes that will inevitably be close to your heart — so comment below and let us know which pasta plates you think should have made it past our editorial chitarra.
Plus, sign up for our newsletter for your chance to win a year of fine dining.