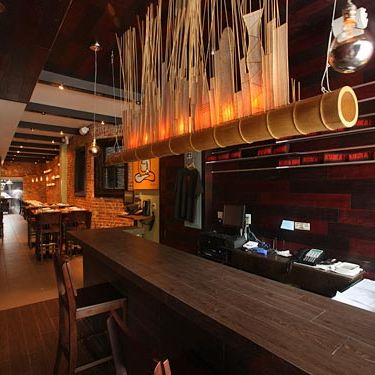 Coming soon: beer, wine, and sake.
Photo: Melissa Hom
Considering that "uminom" means "to drink" in Tagalog, it's only fitting that King Phojanakong's Bed-Stuy Asian-small-plates spot will soon begin serving beer, wine, and sake. Phojanakong was approved for the license a few weeks ago, and once he gets his papers in order he'll be pouring Filippino and Thai brews, and "a nice local beer," along with red and white wines (hopefully) on tap, and ten to fifteen different sakes, plus sake cocktails. Umi Nom already has a bar space, which you can see in the photo.
Phojanakong tells Grub Street he used to bartend before he opened Umi Nom and its LES sister, Kuma Inn, and he's designing the cocktails himself. So far a mix of sake, palm sugar, Thai basil, and kalamansi lime, "a take on a caiphrinha" has been a hit with the staff, so that'll go on the drinks list, along with other quaffs incorporating ingredients like fresh ginger juice, lemongrass, and whatever other Asian-leaning produce is in season. The chef-owner tells us, "I still want to focus more on the food," rather than have a rollicking bar scene, but we're certain the addition of cocktails and drinks will be a boon in an area with few quality drinkeries. Whether Phojanakong will pursue a booze license for the BYO Kuma Inn remains uncertain: "I'm going to wait and see how everything goes with the Brooklyn one," he tells us. Anyway, "kumainn" just means to eat, so not as much pressure there.