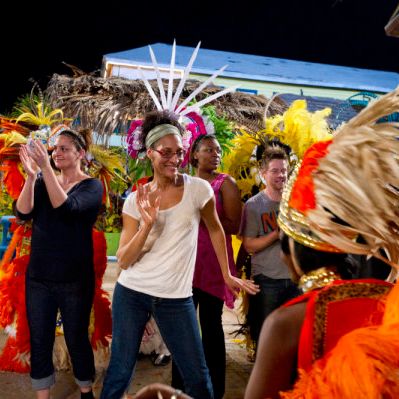 Work it.
Photo: Virginia Sherwood/Bravo
Last night's episode of Top Chef opened with shots of the glorious beaches and colorful houses of the Bahamas — basically, a cruel kick in the face to the rest of us, as it's probably torrentially downpouring/flooding/monsooning as you read this. The chefs had a nice reunion where we almost didn't recognize Richard without his Pauly D hair, and Mike's rounded-out face provided proof that he really did spend the break learning about things like pastries. However, their happy moment together was short lived, as they quickly had to head into Fort Charlotte to do battle.
No, really, it was a battle. Each chef had to cook a (boringly ordinary) mystery ingredient head-to-head with the chef who won their respective season: Michael Voltaggio and duck for Mike I., Hosea and lamb for Carla, Kevin and pork for Tiffany, and Stephanie and veal for Antonia and Richard. Oh, and the winner of each face-off got some pocket money in the form of $10,000. Hosea was happy to be there because he saw this as an opportunity to prove to "all the haters" that he did deserve to win. Considering it looked like he only beat Carla because her burners kept turning off, we're going to keep on hatin'. Sorry, Hosea! Tiffany beat Kevin, securing her first win (seriously) of the season, and somehow Mike I. managed to beat our boy Voltaggio. The three-way Stephanie-Antonia-Richard battle had mixed winners: Stephanie's dish beat out Antonia's only because it was less crappy, so Richard easily took a win over Steph, despite the fact that he seems to have returned to the finale episodes without any of his confidence.
Tom and Padma then gave the chefs their elimination challenge: cook a meal for Bahamian royalty — and don't screw it up, please. Richard's confidence returned long enough for him to announce that he has cooked every fish within 100 miles of the Bahamas and would even chase down a goat and kill it to win, which was a nice image to have in your head if you watched this before you went to bed. Mike just got annoyed that the ladies were playing it too safe. Oh, Mike, don't be jealous of the sisterhood.
After prep time the chefs headed to what they thought was the palace kitchen to finish cooking, but what in reality was local restaurant Twin Brothers, with the king of Junkanoo (a celebration of life and the Bahamas) and his crew dancing awesomely outside. Naturally, Mike danced with one of the scantily clad ladies before heading in to cook. Once inside, Antonia became increasingly concerned with a smoking fryer, voicing her worries that it could burst into flames at the exact moment that it did burst into flames. The timing could not have been better if it were planned. The chefs were more concerned about their food than they were about their lives, but we were mostly concerned that the restaurant's fire alarm sounded eerily similar to the alarm in the hatch on Lost.
The fire department's visit meant that all the food in the kitchen got contaminated with chemicals, and the chefs were all forced to start over. The hasty editing left a lot to be desired: How did they replenish all that food so quickly? How did they clean all the pots and pans so quickly? At what ungodly hour did they finally eat? Dare we say this might actually have been an episode where we'd have liked an extra fifteen minutes? All we really saw were Richard and Antonia taking advantage of the do-over to totally change their dishes.
The Junkanoo crew appeared to enjoy most of the meal (perhaps because they had to wait so long), but the judges were not so thrilled. They only really liked Richard's roasted lamb loin and malted braised lamb leg with turnip "cannelloni," and Mike I.'s sous vide chicken with lobster hash and lobster jus. Eric Ripert, however, did not like the turnips in Richard's dish, and the win went to Mike I. If that clown wins this whole thing, we are going to … [insert your own "or else" here. Best one gets an EP]. As for the bottom, Tiffany's spiced pork tenderloin with dirty rice and curried slaw wasn't exciting enough, and Antonia's fried shrimp with grits and pickled vegetables was dry, and oddly flavored and textured, but in the end the judges couldn't get over the undercooked pork tenderloin Carla served Gail and sent our girl home. We kind of knew it was coming, but still. Boo hoo-ty hoo.
Next week: Bikinied Padma! Sending the chefs off to a non-deserted island! Snorkeling! Richard can't really swim! Sharks?