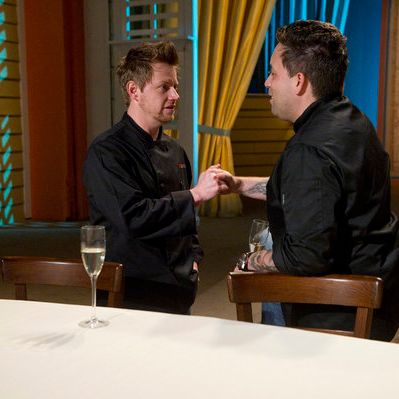 Let's do this thing.
Photo: Virginia Sherwood/Bravo
Last night's Top Chef finale continued the grand tradition of Top Chef finales and got right into the final challenge, though this one was a bit bigger than usual. Padma and Tom asked Richard and Mike to give them a glimpse into their futures and to create their dream restaurants, while promising no twists. So as we predicted last week, a very high-stakes version of Restaurant Wars, though this version was a lot more successful than the usual mid-season challenge.
Of course, when Padma says no twists, that just means the twist comes up pretty quickly, as Top Chef simply does not know how to function without twists. All the chefs of this season were back, including the ones who went home early and whom we didn't even remember, and they had to make an amuse bouche for Richard and Mike, at which point our finalists would pick their sous-chefs. Naturally, our finalists didn't get to see the cooking and had to choose their sous-chefs blindly, based on taste alone. But you know, no twists. Mike and Richard tried their hardest to figure out which dishes belonged to Asian Dale, Angelo, and Jen, because duh, while Mike tried to avoid Marcel at all costs. Richard ended up with Spike, Antonia, and Angelo; Mike got Tiffani, Carla (who won the fan-favorite award, hooty-hoo!), and Jamie, who made his face fall like Christmas was canceled. Hope everyone else had fun Jet Skiing!
During prep, the chefs looked to be in pretty good shape, with both leading their teams fairly well. Richard, despite the comfort of liquid nitrogen, worried about his proteins and dessert, while Mike insisted that he was calm because all of the pressure was on Richard. Actually, Mike, half the pressure was on you, but okay sure. Richard rightly pointed out that Mike's strength and weakness are the same: confidence and swagger. Also, snarky jerk faces. But to be fair, he did seem to really pull out the leadership skills with almost no dickishness, unlike he has throughout his two seasons. (Side note: Did anyone else notice how they cut Gail off in her promo for the after-show? Think she gave the winner away?)
This being a bigger finale challenge than usual, we had two groups of judges last night: Group one consisted of Lidia Bastianich, Hubert Keller, Alfred Portale, and Bill Terlato, dining with Padma. Group two was made up of Art Smith and Curtis Stone dining with Tom and Gail. Group one started off at Richard's restaurant, Tongue & Cheek, while group two kicked their night off at Mike's restaurant, Iz.
Both groups of judges preferred the first half of Richard's meal: a refreshing and creamy amuse bouche of raw oysters with crème fraîche pearls; a harmonious first course of raw hamachi with fried veal sweetbread, garlic mayo, and pickled celery; and a second course of pork belly with black-cod cutlet, bone marrow, beets, Brussels sprouts, and kumquat. While they loved his beef short rib, they didn't think it was very creative, and his foie gras ice cream dessert fell flat for the first group of judges.
The favorites were switched over in Mike's meal, where the judges didn't totally love the mozzarella in his first course of mozzarella, truffle, and chocolate vinaigrette; and didn't like the long wait between that and his second course of halibut with kumquat marmalade, cauliflower puree, and pancetta crumbs. However, they absolutely loved his braised pork shoulder with roasted cabbage, turnips, and a pepperoni sauce that Gail just could not get over, and preferred his dessert of a rosemary-caramel custard and pine nuts with citrus, celery, and apple.
Judges' table appeared mostly nitpicky, which should be the case considering these are supposed to be the best two chefs. Mike and Richard emerged from the stew room to cheers from their families and all the other chefs and Jen's crazy hair. Despite the judges seeming to be split down the middle, it was fairly clear through the discussions that everyone liked Richard's meal more, and they declared him the winner. Yay! Mike tried to ruin the moment by saying that he still thought he beat Richard, but he couldn't conquer everyone's incredible happiness for Richard, including that of his very sweet and surprised uncle. Anyway, kudos for a much-deserved win and a pretty good season overall.
Next week: There is no next week! Well, there's a reunion, if you're into that sort of thing. Thanks for sticking with me through all these episodes in this longer-than-usual season (including Gail, who apparently reads these — Hi, Gail!). Grub Street will be recapping Top Chef Masters, but I'll see you again when regular Top Chef is back! Hooty-hoo to all, and to all a good night.