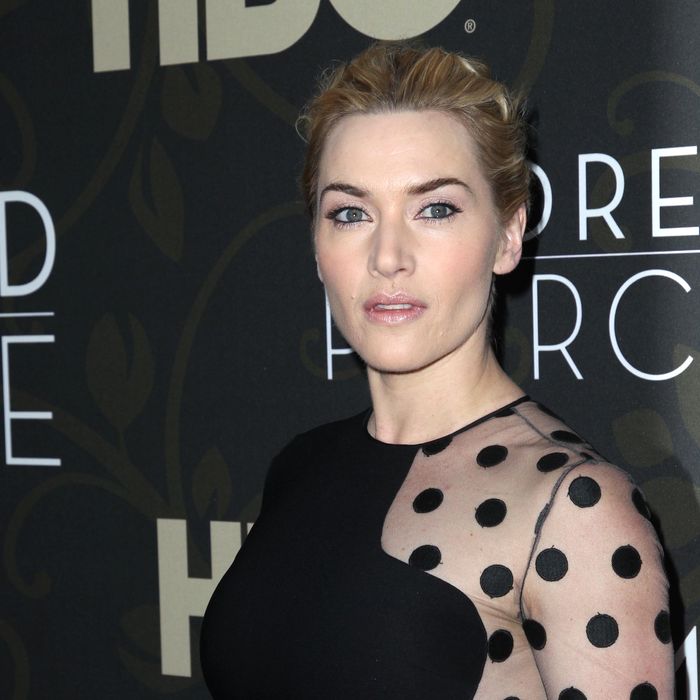 The chicken expert, at last night's Mildred Pierce premiere.
Photo: JIMI CELESTE/Patrick McMullan
Kate Winslet had a head start in preparing to play Mildred Pierce, who sells homemade pies for extra money in the new Depression-era HBO mini-series. "I cook anyway, so I was very fortunate with that. I was working with the culinary experts, and they just could see that I'm obviously used to being in the kitchen," Winslet told us at the premiere on Monday. "And that definitely did help, I have to say, especially when I had to do things quite swiftly and deftly in the kitchen and make it look as though she had been doing it for years." But her character opens a chicken-and-waffle restaurant, so to learn how to convincingly cut up a chicken, Winslet enlisted her friend (and, as of this afternoon, the father of a brand-new baby boy) Tom Colicchio.
"He really actually came up with a particular way of portioning up the chicken that isn't really done so much these days, so it didn't look too contemporary," Winslet explained. "We didn't want it to look like I had been taught by a culinary expert, and Tom was very good at being aware of that, and how important that was for the character."
The lessons stuck: "I never buy chicken in pieces anymore, I always buy a whole chicken," Winslet said. "I'm like, I know how to do this!"
Later in the evening at the Plaza Hotel after-party, Colicchio talked to Grub Street about the lessons. "She called me up and said, 'I'm preparing for a film, and I need help. I said, 'I don't think I can help you, Kate,'" Colicchio told us, laughing. But she needed him to teach her how to cut up chickens. "She's actually a pretty good cook, and so she could handle a knife, but she said, 'I want to do it like a real pro.' And so she and [director] Todd Haynes came to the house, and we cut up chickens for the afternoon."
Colicchio told us Winslet was a quick study, and then explained his method: "There's a certain way to cut it; in fact, if you look at the thigh and the leg, there's a line. If you turn the chicken over so the side that's sort of facing the hip is open, there's a line, and if you hit that line, you'll go right through the chicken, you'll never hit the bone."

Colicchio did not consult on pie baking for the series, however. "We didn't work on pies, and it's a good thing because I'm not much of a baker." Despite her proficiency in the kitchen, Colicchio says that Winslet has never cooked for him. "She said she's too embarrassed."

And while he has not been inspired to add a Mildred Pierce—style chicken-and-waffles dish to his restaurant menu, he's thinking of making it a theme party. "We should probably do a chicken-and-waffle night and watch one of the episodes," he said. Or maybe it'll be a recurring event. "Like every Sunday in the restaurant we'll have chicken and waffles," he said, warming to the idea. "I'll have Kate make them. [Laughs.] Yeah, Kate, where are you?" he said, looking at the movie star standing nearby. "You're going to come in; you're going to make them."