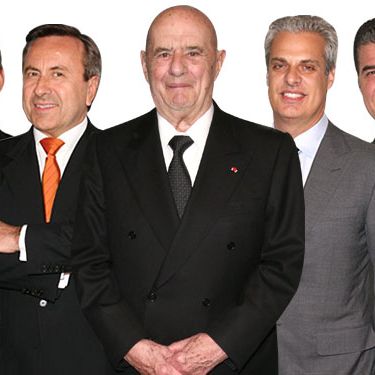 From left: Thomas Keller, Daniel Boulud, Paul Bocuse, Eric Ripert, and Michael Chiarello
Photo: Danielle Berman Photos: Patrick McMullan
It was a confirmed love fest for Paul Bocuse last night at the Culinary Institute of America's Leadership Awards Gala. Bocuse was named Chef of the Century by the CIA, and that seemed to sit well with just about everyone in the room — including such icons as Thomas Keller, Jacques Pépin, and Daniel Boulud — at the Marriott Marquis. Eric Ripert called him the first "celebrity chef," Charlie Palmer said there will probably never be anyone as influential as Bocuse, and Boulud said, well, that Paul Bocuse was responsible for getting him drunk in the kitchen at age 14 (from a blanc-cassis, if you're wondering), so he will always hold a special reverence for him. We caught up with everyone and got their takes on Bocuse, their own culinary mentors, and, of course, the truly memorable meals they've had over the years.
Let's talk about Paul Bocuse …
Daniel Boulud: I grew up with Paul Bocuse. I started cooking at the age of 14, and the first week I was working I met Paul Bocuse. That was a while ago, in Lyon. The restaurant I was working for was next to Les Halles and every morning my responsibility as the young apprentice was to go and pick up the freshest vegetables, fish, meat from Les Halles and carry it to the restaurant. And Paul Bocuse was there every morning, also, buying his own food and sitting down with my boss and having coffee. And every morning they would gather around to have coffee after they chose their selection of food, so at 14 you look at all these big chefs and Paul being at the center of all of the; it's incredible.
Jacques Pépin: I've known Paul for 50 years, maybe, or more. I am from Lyon, too. Certainly he did more than any other chef in the world that I can think of to bring the chefs in the dining room and to make the profession respectable and to make us who we are now. Now the chefs are stars and it's because of Paul Bocuse … we are indebted to him for them.
Michael Chiarello: Paul made this all possible for each and every chef today, whether it's chefs coming out of the kitchen and getting recognized in the front for going from a trade to a profession or all of the other opportunities that each and every one of us has today, we all owe to Paul Bocuse.
Thomas Keller: How can you describe Paul Bocuse except as a legend or an icon? He's somebody who's really exemplified the modern chef and I think that pretty much encapsulates what my feelings on Paul Bocuse are without going into a whole hour and a half narrative telling you how much I appreciate that man.
Eric Ripert: When I was young, he was my idol as a chef at the time, because he was the first chef to come out of the kitchen and become basically what we call today a celebrity chef, and when my parents were asking me, where do you want to go to eat for your birthday or what would you like for a Christmas gift, it was like, please take me to Paul Bocuse. And then when I was 13 I got Cuisine du Marché, which is his book, and I was flipping the pages and flipping the pages and looking at it, and never studying in school, and therefore at age 15 the principal called my mom and said it's time for him to get out of here. And that's when I started culinary school. So Paul Bocuse is responsible for me not studying, not going to school, and ending up in the kitchen!
Charlie Palmer: He's probably the most transitional person that's practiced our craft. He took what was once considered a job and really made it a profession, made it relevant to the way people thought about food and chefs in general. There probably will never be someone that influential as one single person. It's amazing that starting 45, 50 years ago he was able to sustain that and really be an idol to people like me.
Whom did you look up to in the culinary world?
Boulud: Michel Guérard, Roger Vergé, George Blanc, Gaston LeNotre, the pastry chef, was quite a mentor. I had a chance to learn cooking in the seventies when everything was changing and Paul Bocuse was changing the face of French cuisine at the time. He was definitely exporting French cuisine globally.
Pépin: He would be one of them, certainly. Craig Claiborne, the food critic for the New York Times, was a friend of mine. James Beard. And I worked with Julia [Child] for many years. Julia was a great friend and a great influence.
Chiarello: That gang of Frenchman: Bocuse, LeNotre — these were legends to me in my early beginning and all of the other French chefs that came up behind them. They set the foundation that we use in the kitchen every day, so I think … they really set the bar for excellence and we've been chasing that bar ever since.
Keller: You looked up to all those icons and for me, one of the books that changed my life was a book called the Great Chefs of France, and of course Paul Bocuse is in there and his entire group of great French chefs. And for me it wasn't about their recipes, it wasn't about their restaurants — it was really about a lifestyle, and it was the lifestyle of those chefs that really resonated with me and put me on track to become a chef.
Ripert: At that time it was Michel Guérard, Gaston LeNotre, Paul Bocuse, Roger Vergé — those gentlemen were really like the first wave of artist chefs who were representing cooking and getting attention from the media and therefore were inspiring down the line young people like me and my parents and so on.
Palmer: I think we all have mentors. But I think Paul Bocuse was much more than that. He was something to aspire to, something to think if we could ever come close to that. He's the chef of the century and there won't be more of those, if ever, in the next century.
What were some of the truly transformative meals you had when you were younger?
Boulud: I think it was certainly my first meal in Lyon at Paul Bocuse, at Alan Chapel … and then of course after Alain Ducasse gave me some amazing meals, Guy Savoy. I think what makes an amazing meal is the great moment you share having this great meal.
Pépin: Not one. The transformative food for me was the food that I had as a kid. If I could have the greatest bread in the world and the greatest butter in the world, it's hard to beat bread and butter.
Chiarello: As I was waiting outside Paul Bocuse hoping for just a glimpse of chef Bocuse — I couldn't afford the meal. I was working in the south of France at the time. I just made the pilgrimage to Lyon and was kind of out by the Dumpster as he was outside checking in some produce and noticed that there was a young cuisinier nearby. He was nice enough not only to come over and say hello but bring me in and treat me to an unbelievable dinner of my lifetime at no charge.
Keller: There's lots of meals that are transformative for me. You think of the great dining experiences that you've had, but you also think of the In-n-Out Burger, so meals that are transformative for me aren't necessarily meals at a three-star restaurant, although three-star restaurant meals have been transformative as well.
Ripert: I was lucky, my parents took me at a young age to those restaurants. And sometimes it was about only the food, sometimes it was about seeing the chef, sometimes it was about the entire experience and so on. I remember going to a restaurant and then, you know the dessert cart, I decided to have all the desserts from the cart, which was three carts! So the chef came out and said, "It's fine, but you have to eat all of them." And I ate all of them and of course I got sick.
Palmer: At a young age, I began working in Europe as much as I could. I worked around Lyon. I worked at Alain Chapel and I remember my first meal at Bocuse, which was groundbreaking last night. Growing up, to me, it was Johnny Unitas, Mickey Mantle, and then there was Paul Bocuse, so as an American kid you can just imagine where I put him.