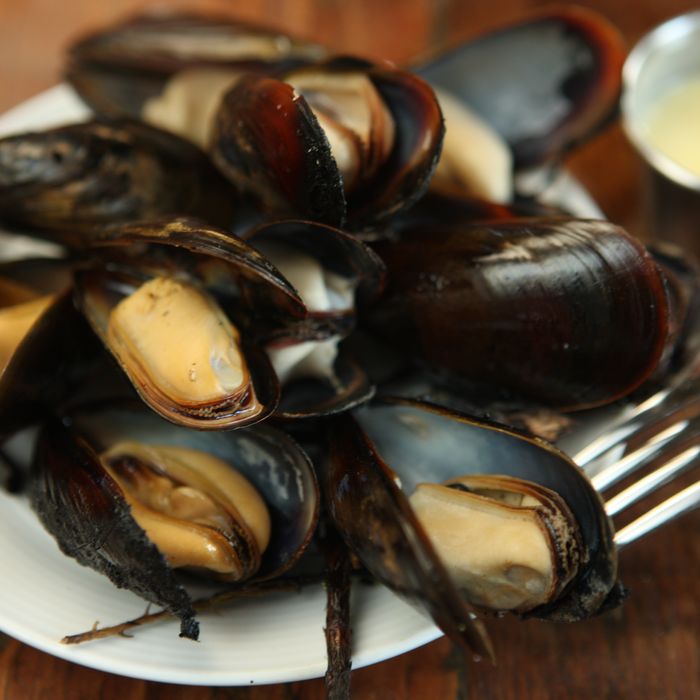 Grilled mussels at Roebling Tea Room.
Photo: Melissa Hom
Each week on the Food Chain, we ask a chef to describe a dish he or she recently enjoyed. The chef who prepared the dish responds and then picks his or her own memorable meal. On and on it goes. Last week, La Superior owner Felipe Mendez praised the Scuttlebutt sandwich at Saltie in Brooklyn. Now we want to hear from Saltie co-owner Caroline Fidanza. Take it away.
Who: Caroline Fidanza, co-owner of Saltie, Brooklyn
What: Grilled mussels
Where: Roebling Tea Room, Brooklyn
I love everything Dennis Spina does at Roebling Tea Room. But recently I had a dish of mussels that he grilled over pine needles that was extraordinary. It tasted like the forest and the ocean.
Roebling Tea Room chef Dennis Spina responds.
We get the pine needles from upstate, from Guy Jones [at Blooming Hill Farm]. You just take the pine needles, you soak them and throw them on the grill and then you throw the mussels on top — nice Bouchon mussels. Then we just hit them with a little bit of olive oil and cover it and let it steam open. There's an old Paula Wolfert cookbook — World of Food — they call for steaming them on a plank of wood underneath pine needles; we couldn't do that so we just smoked them open. We used to do it because we didn't have any money, so we've been doing it for a few years.