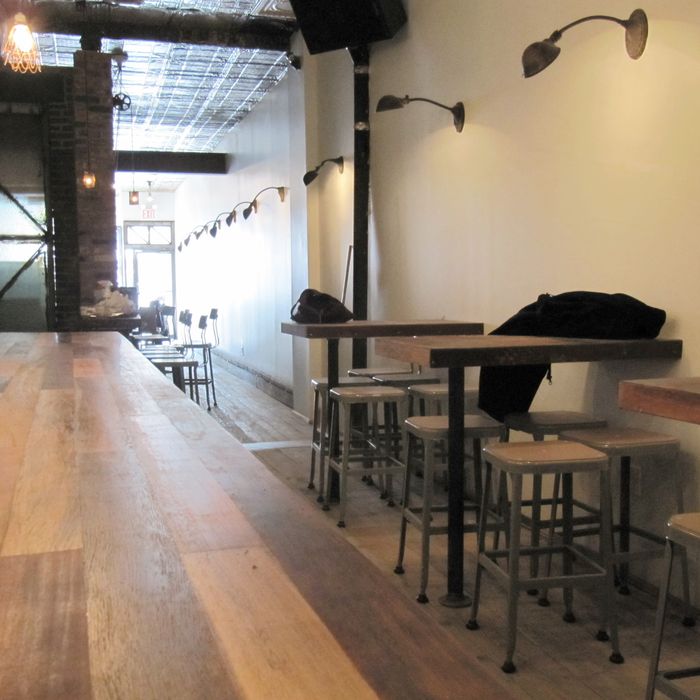 Photo: Jeff Orlick/Staff or Contracted
When the Queens Kickshaw opens on Sunday, Astoria is poised to gain some cred in the coffee and sandwich game. Tarrytown's Coffee Labs Roasters provides the grind-to-order, pour-over coffee while a La Marzocco Strada machine takes care of the harder stuff. Edibles are focused on grilled cheese sandwiches made with curds sourced from nearby Greek, Italian, and Mediterranean shops, and there's an egg sandwich topped with maple hot sauce tucked inside pandebono, the Colombian cheese bread. For now, hours are Monday through Friday 7:30 a.m. to 4:30p.m. and Saturday through Sunday, 9 a.m. to 4:30 p.m. Wait for the summer for evening hours and five changing draft beers, aimed to satisfy co-owner Ben Sandler's esoteric, attention-deficit tastes.
Last year, Sandler and co-owner Jennifer Lim stripped the space down to the original flooring from the late 1800s. Antique coils hold the lights and an antique carpenter's level serves as the edge of the bar. In the rear room is communal seating with one 16-foot long table and a series of wide four-tops. Frames around the bathroom doors were salvaged from a neglected ladder. See all that in our slideshow, and check out the opening menu below.
Our sample grilled cheese menu –
- Cheddar and Mozzarella on Brioche with Tomato Soup

- Gruyere Pickled & Caramelized Onions on Rye with Cabbage Caraway Slaw

- Manchego & Ricotta, Minted Eggplant, Capers on Multigrain with Green Salad & Pickled Golden Raisins

- Gouda Black Bean Hummus, Guava Jam and Pickled Jalapenos on Brioche with Green Salad & Jalapeno Vinaigrette

- Feta, Roasted Red Pepper and Dill on Focaccia with Green Salad and Olive Vinaigrette

- Fontina, Marinated Mushrooms and Basil Pesto on Focaccia with Green Salad and Toasted Pine Nuts

- Great Hill Blue, Prune Jam and Pear on Cranberry Walnut Bread with Green Salad and Pickled Blueberries

- Egg and Cheese on a Pandebono, Maple Hot Sauce

We are also serving:
- Specialty coffee with beans from Coffee Labs Roasters, espressos pulled on a La Marzocco Strada, hand-pulled coffee with V60
- Pastries from Balthazar
- Small tea selection including hand-whisked matcha
- Brooklyn Kombucha, and seltzer water on tap with P&H; Soda Co. syrups
- Craft beer and wine starting this summer


Queens Kickshaw, 40-17 Broadway, nr. 41st St., Astoria