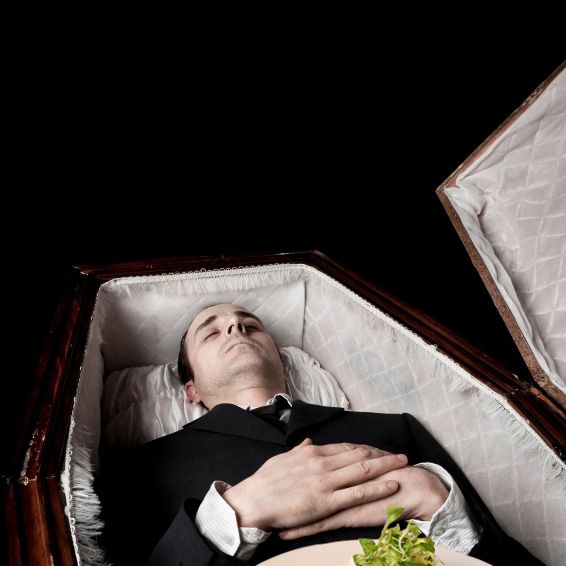 Photo: Jed Egan Photo: iStockphoto
Angel food cake, anyone? Many states frown upon funeral-home feasting, thanks to niggling things like health-department stickiness and, um, ick factor. But ever-progressive Massachusetts seeks to change all that with a new bill that would allow munching mourners at services. (Don't get any vending ideas, Food Network.) How better to say so long to granny than with a steak dinner, casket-side?
The Boston Herald reports that the "controversial" bill goes before the Massachusetts state legislature today. It will contemplate lifting the ban that prevents funeral directors and embalmers from serving food at wakes, services, and burials. "Funeral feeding stations could become de rigueur," the article notes.
Some funeral directors, meanwhile, wish the bill would die. "Who wants to serve bologna sandwiches during calling hours?" asks parlor owner Peter Stefan. Stefan gruesomely recalls snacking snafus at services past, including "half-eaten doughnuts found stuffed between sofa cushions and the time a family lit up a wok to cook a chicken next to the dearly departed," burning a hole in his carpet.
Others disagree, stating without irony that "finger sandwiches" could be a nice touch, not to mention a revenue driver for funeral homes. (Etiquette expert Jodi R.R. Smith does suggest that refreshments be kept "well out of view of the body," however.)
Kind of gives new meaning to the term "death warmed over"!
Bill Would Allow Munchies at Funerals [Boston Herald]