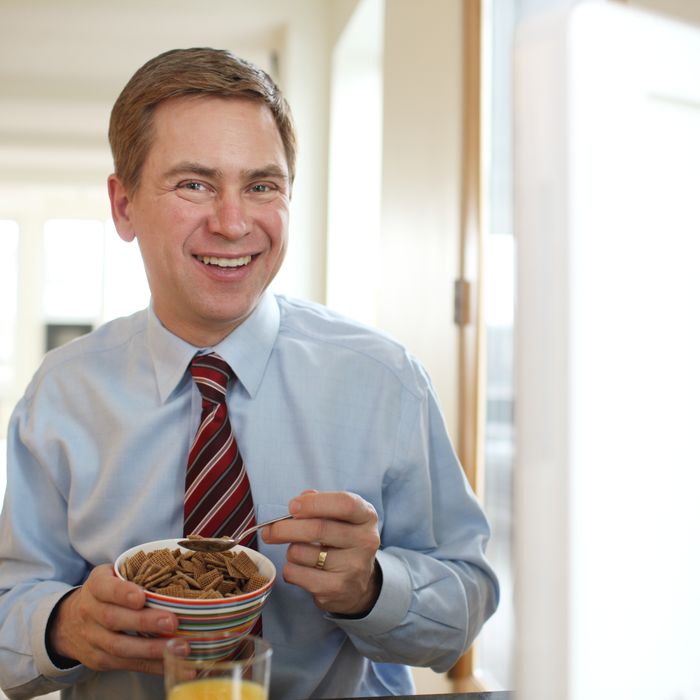 "Anything to declare, sir?" "Well, I have eighteen boxes of Shreddies."
Photo: Melissa Hom
NY1 morning anchor Pat Kiernan is committed to Shreddies. "Whenever I'm in Canada," where he grew up, "I try to leave extra room in my suitcase, and whenever family visits me, they're under clear instructions that, if they have room in their suitcase, they should bring a few bags." This side of the border, Kiernan is probably best known as the morning anchor of NY1 and host of the network's beloved "In the Papers" segment. Two years ago, he took the segment online and launched Pat's Papers, doing for the nation what he's done for New York since 1997. Read on for a week of Trader Joe's prepared foods, cranberry-apple pie, and of course, Shreddies, in this week's New York Diet.
Friday, March 11
Breakfast is usually about 3:30 a.m. There are some people who work the early shift who come in and they'll have something for breakfast at a more typical breakfast time. I can't do that. Having something of some substance for breakfast is kind of part of my wake-up. I don't have to just drag my butt in there; I have to drag my butt in there and be awake. I had a bowl of Shreddies with one percent milk. I find I can't be healthy to the point of skim milk. Then I had a splash of OJ with my cereal.
If I am totally in control of my destiny on a particular day, I'll eat lunch at like 10:30, 11. I'm reluctant to do one o'clock lunches that are favored by many New Yorkers. On Friday I got a Chipotle salad with chicken, fresh tomatoes, corn, shredded cheese, and some sort of cilantro-lime dressing.
There was a bag of dried mango in the pantry, and I grabbed a few slices on my way out the door at about three o'clock. Probably 90 percent of my meals are at home: I eat at home before I leave for New York 1, and usually I'm home for lunch. I probably should be some sort of big chef or foodie and cook elaborate meals myself, but more often it's a utilitarian, "food is fuel" sort of meal.
I had to pick my daughter up at an after-school thing on the east side, and we drove past a 7-11 on the way home and agreed that a Slurpee was an appropriate Friday afternoon treat.
My wife was away for the weekend on a trip with her girlfriends, but I had our babysitter there on Friday night, so I snuck away to see Cedar Rapids by myself and had some popcorn. I was walking home past the new Trader Joe's on 72nd and Broadway, and there was a street vendor selling potstickers. I think they were about to shut down for the night, and he was very outgoing about, "Would you like to try a sample?" There was some meat inside … I think it was pork? I picked up a cranberry-apple pie at Trader Joe's, which I immediately cut into when I got home. You're cutting the pie yourself, so you're the governor of how big the piece is. It was a substantial piece.
Saturday, March 12
I had Maple Pecan Clusters cereal, which was a Trader Joe's purchase as well. Then I had half of a ham-and-cheese croissant, also from Trader Joe's. We're always looking for pre-fab breakfast solutions that my wife can serve to the kids on weekday mornings, and it had the makings of something that might work. But it wasn't well-received.
I was on my way out with the girls and stopped at Freddie and Pepper's, a very well-known Upper West Side pizza place with a fantastic special pizza: bacon, spinach, and tomato. It's one of their standard offerings. So I had a plain slice, and we moved on with our day.
In the afternoon, I was down to one girl and we were killing time between appointments, working our way over to a birthday party, so we split a McDonald's shake. It was a party at the bowling alley at Chelsea Piers, so the parents were kind of hanging out at the back, and I had half a beer and a chocolate-chocolate cupcake. Whenever there's a choice in cupcake matters, I choose chocolate icing and chocolate cake.
For dinner, we were with another father who was left on his own by this weekend girls trip to Miami. Their kids are on a gluten-free diet, so we had gluten-free pasta with tomato sauce and chicken. I had two glasses of Chardonnay, and vanilla ice cream for dessert. I have a total sweet tooth. I try to have just a small dessert, but I always need to finish a meal with something sweet.
Sunday, March 13
The beginning of last week was Shrove Tuesday, and there's a great Canadian and British tradition that Shrove Tuesday is Pancake Tuesday, so we had whole-wheat pancakes. We also had back bacon — Canadian bacon is probably the more common American term for that. You can't really call it Canadian bacon in Canada.
In the afternoon, I had a peanut-butter-and-banana sandwich on whole wheat and a glass of milk. Peanut butter is straight-up smooth, either Skippy or Jif. Not crunchy, and not any of the modified versions. No organic peanut butter. I hate it. It's horrible.
Later we were at my daughter's swimming lesson and everyone was thirsty, so we got a Vitaminwater Zero from the vending machine. Dinner was part of the Trader Joe's run on Friday night: a bag of mandarin-orange-flavored chicken. It was a home run with one of my daughters and a moderate success with the other. We had a basmati rice of some sort with that, and I had another slice of pie.
Monday, March 14
I had Honey Nut Cheerios this morning. I would actually get tired of Shreddies after 35 years if I ate them every morning, and the sheer effort of importing enough Shreddies for seven days a week would be tricky, too, so I try to ration them by occasionally throwing another cereal into the mix.
I deliberately put a little more of the orange chicken to heat up the night before so that I could have a small portion the next day for lunch, and I had a Dare chocolate-fudge cookie. Upon departure for a meeting at the kids' school, I had a slice of Colby jack cheese, and while I was stuck in transit I had a Snapple lemon iced tea. Then I got there and, not knowing when I was going to be eating next, I had a chocolate-chip cookie.
That would have been an unusually late dinner for me — I think it was pushing nine o'clock by the time I got back to my neighborhood — so I wheeled into Chipotle and had half a salad with chicken. I think I finished off the pie.
Tuesday, March 15
Shreddies with milk. Then for lunch I had the remaining half of the chicken salad. When I know that I'm saving the salad, I have them put the cheese and the dressing both on the side so that I can apply those at the appropriate leftover moment the next day. I also had a glass of milk.
Evening was a homemade pork tenderloin with broccoli and orzo and bread. We marinated it in teriyaki for a few hours prior to it going into the oven. The kids like it and it's easy to make, so it's definitely in the regular rotation. After dinner I had one Dare fudge cookie.
Wednesday, March 16
Shreddies again, with milk. If I'm having a rough or unenergetic morning, I'm not a coffee drinker, which surprises a lot of people given my shift, but if I need a caffeine hit it'll come in the form of a trip to the Coke machine, which I did this morning.
For lunch, I had a six-inch Subway club on honey-oat bread with honey mustard. This is a bit of a weakness: When I was going to college in Canada, they opened the first Subway ever in Edmonton, Alberta, and it was mere blocks from where I lived on campus, so sometimes when I pass a Subway I have this nostalgia moment where I want to order a Subway club. It's lettuce, tomato, pickles, and green peppers always, because that's how I ordered it when I was 19 years old.
For dinner, we had Trader Joe's pre-seasoned rack of lamb, with salt, rosemary, thyme, and black pepper, rice, and a tossed salad, and I had a small bowl of chocolate ice cream. It's going to seem like I eat 90 percent of my diet from Trader Joe's.